The Sikh Foundation was founded in 1967 to promote the heritage and future of Sikhism. It is a non-profit and non-political charitable organization.
Objectives
Pass on the Sikh heritage to the growing Sikh Diaspora in the West, particularly the youth
Introduce the world to the ethics, mysticism, arts, literature and heroism of the Sikhs
Contribute Sikh perspectives to issues of common human concern
Advance Sikh culture by advancing the tradition of critical and creative thinking that gave birth to the faith
Generate the highest quality resources for the study of Sikhism
Activities
Our projects, sponsorships and collaborations include:
Academic courses, conferences and chairs of Sikh studies at leading universities in the West
Sikh art exhibitions and establishing permanent Sikh art galleries at major museums worldwide.
Renovation and Conservation of Historical Sikh monuments.
Provide the community with highest quality of educational products on Sikhism such as books, journals, calendars, posters, displays, greeting cards, videos, CD's, tapes, DVD's and other Sikh pride building products.
Dr. Narinder Singh Kapany, Founder & Chairman (Father of Fiber Optics)
Mr. Molinder Singh Kohli, Trustee Emeritus
Prof. Mark Juergensmeyer, Trustee
(Chair, Global Studies Department, University of California, Santa Barbara)
Dr. Ratinder Paul Singh Ahuja, Trustee
Mr. Tejinder Singh Bindra, Trustee
Mr. Pritinder Singh Arora, Trustee
Mr. Gurdip Singh Malik, Trustee
Mr. Jasbir Singh Sethi, Trustee
Mr. Sardool Samra, Trustee
Mr. Paul Singh Sabharwal, Trustee
Dr. Guneeta Singh Bhalla, Trustee
Staff:
Prof. Gopal Singh, Marketing & Office Manager
Sonia Dhami,Consultant
Sukhvinder Singh,Consultant
From our Trustees:
Dr. Narinder Singh Kapany, (Father of Fiber Optics) – Founder & Chairman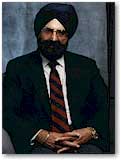 "On the threshold of the twenty-first century, it is the destiny of the Sikh people to be a thriving and contributing international community. The teachings and exemplary lives of the ten Sikh Gurus from Nanak to Gobind Singh are our beacons. We inherit the martydoms of Guru Arjan, Guru Tegh Bahadur, his disciples and the four sons of Guru Gobind Singh. Guru Tegh Bahadur set the supreme secular example in human history when he laid down his life for the freedom of other religions.
We are further inspired by five centuries of artistic and intellectual achievements and by our forefathers who came to the West as poor farm laborers, yet in the midst of their struggle for survival still found resources to lead the international movement for India's independence. Today their descendants can be found at the top of professions from agriculture to medicine, from law to literature, from art to music and from design to hi-technology.
We must learn to celebrate the success of our community members. We must give all the tools necessary to our children to be good Sikhs as well as successful and contributing members of their society. It lies with those of us in the elder generations to pass to them and their descendants the essence of our heritage—its most sophisticated expression—to serve as the basis of a modern global Sikh culture. We also need to ensure that our friends of other faiths, races and cultures understand who and what we are. We must present the beauty of our heritage without chauvism. The wisdom, philosophy and arts of the Sikh faith belong to the world and it is time now to bring them into the light."
Mr. Molinder Singh Kohli, Trustee
"I retired from the Indian Posts and Telegraphs Department as Assistant Director General and later migrated to the United States in October 1986. Professor Ranjit Singh Sabharwal introduced me to the Sikh Foundation. Since then I have remained closely associated with the organization.
It has, and continues to do extremely important and valuable work for the Sikh community in general and Sikh youth in particular by organizing conferences, retreats and seminars to disseminate Sikh values and culture at local, national and international levels in which Sikh scholars, Sikh youth at high school, college and university levels participate enthusiastically. We have imported and distributed thousands of books for personal libraries, public and children¹s libraries all over North America and Europe.
The Sikh Foundation has invested millions of dollars to establish Sikh and Punjabi studies programs and permanent Chairs in several prestigious universities and is expecting to establish many more in the future. It has also made arrangements for a permanent Sikh Arts exhibit in the Asian Art Museum of San Francisco and is negotiating similar arrangements with the Smithsonian at Washington, D.C. and possibly in a museum in Canada.
In order to continue the wonderful and laudable work it does, we seek support and help from various Sikh communities across the world."
Mr. Jasbir Singh Sethi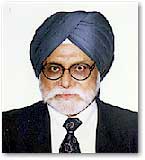 "Khalsa, the Saint-Soldier, came to existence in Almighty's exuberance." Guru Gobind Singh.
UNESCO considers Guru Granth Sahib a common heritage for the whole humanity.
"Sikhism is THE religion for the mankind???" Prof. Bradshaw
"We the Sikh Diaspora, individually and collectively, owe it to our GURU JI, our posterity and to the whole humanity to preserve, present, portray and promulgate the pristine beauty and universality of Sikhism, so that the entire mankind can live in peace and with dignity. The 35-year-old, Sikh Foundation is a unique Sikh Institution in North America. It has been preserving the Sikh heritage (Architectural project with UNESCO and many more all over the world), presenting and portraying the rich Sikh heritage to the world (Finest Sikh Art exhibitions, Permanent Sikh Art Galleries, Sikh Art Calendars, Par Excellent books and superb magazines) and empowering the Sikh Youth through Academics (Sikh Study Chairs, Seminars, Retreats, Punjabi Language Programs, School and Scholarships) to take a legitimate leadership position in the comity of world religions and nations. We invite you to be part of this global movement by extending your wholehearted support to numerous Sikh Foundation Projects. The Sikh Foundation is holding 3 Aces (Art, Architecture and Academics). YOU be the FOURTH ACE and make it a winning hand."
Prof. Mark Juergensmeyer, Trustee Chair, Global Studies Department, University of California, Santa Barbara

Dr. Ratinder Paul Singh Ahuja