Sustainable Development of Environment: Evidence from Sikh Religion
Pic. Courtesy: Sikhnet
By Dr. Charan Singh
In Sikh religion, according to the Sri Guru Granth Ji (SGGJ), word-Guru (spiritual teacher) of the Sikhs, God resides in creation. The exact term used in the very first line of SGGJ is Karta-Purukh meaning that one God is the resident-creator of the universe. Therefore, Sikhs believe that visible form of God is nature or environment itself, similar to the concept of mind and matter.
Sustainable development of environment in this brief article is considered not only in terms of flora, fauna and basic elements of nature but also the general environment.
General Philosophy of Sikh Religion
Sarbat da Bhalla2 meaning 'prosperity and peace for everything in the world' is a statement that a Sikh utters at least two times a day, on completing the morning and evening prayers.3 This "everything" includes all the living and non-living as well as visible and invisible things in the universe.
Sikh philosophy believes that everything operates under principles set by God and the most basic principle that has regularly been stressed in the SGGJ is

Therefore, it is in the interest of everybody that no harm is done to anything in the universe and it is this context that many Sikhs prefer vegetarian diet, as prescribed in community Kitchen or Guru ka Langar, served in every Gurudwara or a Sikh Temple.
As Sikhs believe that all things are created and inhabited by God, there is no scope for exploiting the environment or other individuals.4 Illustratively, Sikh gurus were particular in raising the status of women in society and prohibited wearing of a veil, or practicing female infanticide and sati, and encouraged widow remarriage and a healthy family life; a male child was not considered a must. Therefore, an attempt was made to change social norms and raise self-esteem of female population that constitutes one-half of the human race.

The general advice for an individual is to plan on a long term basis.5 The Guru also guides that the intentions while pursing any activity should be pious otherwise the noose gets tightened around one's own neck itself.6 The emphasis is on developing harmonious relationship with natural surroundings.7 This would imply that nature and environment which is important for the survival of human race has to be nurtured.
A major emphasis is on truthful living. To quote

Truthful living is interpreted to imply environmentally conscious and responsible living. To attain spiritual bliss, an individual is advised to serve others in the following words

At other places, a similar viewpoint is stressed.8 The concept of service to others includes nature and environment too.
Compassion and contentment should be the guiding principle for any follower of dharma as mentioned in SGGJ

In general, greed is considered one of the five factors that negatively impact peace of mind.9 The Guru cautions that greed for wealth is not a good thing as wealth does not accompany a person after death.10 An individual is cautioned not even to trust a greedy person and therefore the implication is not to exploit the environment but lead a contented life.11
Sikhism believes that there is need to respect everything in the environment, as SGGJ observes that
Sikh Religion and Environment
Sikhism believes that God resides in the creation. To quote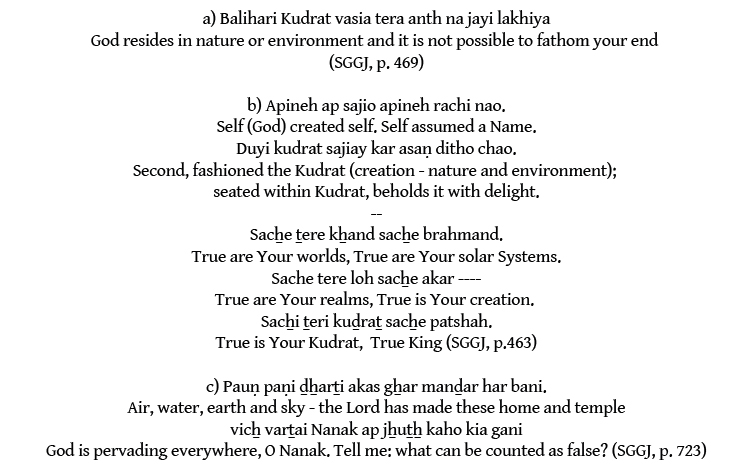 SGGJ also guides that first came air from God, and then from air comes water.12 Therefore, these elements directly represent God's presence in the environment. The environment and nature is explained in a very important way in Sikhism. It is observed in the very first hymn of SGGJ that all the basic elements sing the praises of God, like we humans are expected to do. To quote

Thus, SGGJ mentions that natural resources like water, earth, and air are sacred and therefore, should be respected. SGGJ speaks of water as the father, earth the mother and air the guru. To quote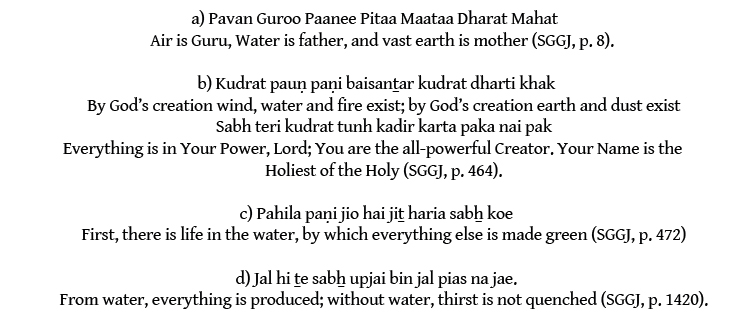 And nature and environment are so intricately woven into Gurbani (compositions included in SGGJ) that for followers of dharma, kudrat is jus
t an extension of God and we living beings are a component therein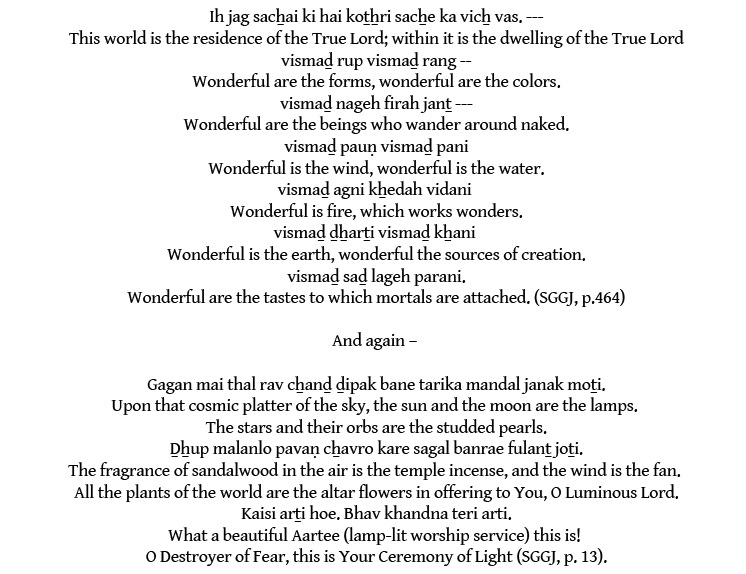 In numerous compositions of SGGJ, examples of nature and its different aspects have been captured to convey simple messages. To illustrate, some excerpts from a composition which is based on months and seasons in North India (SGGJ, p. 1107)13

According to SGGJ, human beings have evolved from various stages and traversed the path of plant and animal life, and that human form, an ultimate gift, is a unique opportunity to self-realise.14 Therefore, the guidance is to identify with flora and fauna and take care of the environment.
The Sikh Gurus generally had a tradition of establishing new cities and in planning of those, environmental concerns were given utmost importance. The cities established by the Sikh Gurus are Amritsar,15Anandpur Sahib,16Goindwal,17 Kartarpur,18 Kiratpur,19 Paonta Sahib,20 and Tarn Taran.21In all these cities, environment concerns like adequate development of water sources and drainage of waste water, gardens and open spaces were accorded special place.
An Evaluation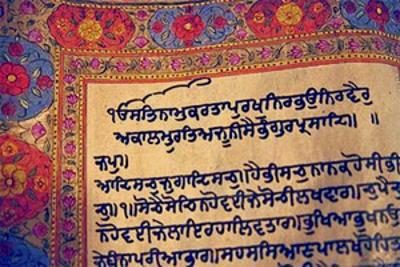 In evaluating the performance of Sikhs on environmental issues given the benchmark of Gurbani, then we may not achieve high performance. Sikhs, after the times of Gurus, have contributed to degradation of environment as much as any other individual. To illustrate, in our historical Gurudwaras, almost during all major Gurpurabs, fireworks are organised, polluting the environment. Similarly, crackers and fireworks at home on all happy occasions is a regular practice.
Historically, many of our Gurudwaras have been named after trees like Gurudwara Amb Sahib. In recent years, except the name, mango tress and other green coverage has been removed from the site. In Punjab, water table has been depleting rapidly, as also the quality of water, mainly because of excessive utilisation of fertilizers. Similarly, forest cover in Punjab, where majority of Sikhs live, is less compared to other States in India.
On noise pollution, Sikhs also regularly use the loud speakers, as others, without any consideration of the timings, comfort of the elderly, or examination period of our young population.
On status of women, including instances of female infanticide and foeticide, Sikhs, despite the prodding by Gurus, have a dismal record. The performance on indicators like crime against women, Sikhs do not have a graceful record, either.
Conclusion
As the emphasis is on house-holders life and long term view of life, Sikhism encourages active participation in economic and social activities without exploiting others, including natural resources, nature and environment. As many of the above compositions in the text are part of daily prayers, respect for environment is inculcated in the psyche of the individual. For a practicing Sikh, a quote from SGGJ sums up the attitude towards nature and environment.

The whole universe seems a part of one continuity with nothing alien in it. That is the main motivation in conserving and caring for environment, according to Sikhism. However, much desires to be done, on sustainability of environment, by Sikhs, if empirical evidence is examined.
Dr. Charan Singh (Short Bio)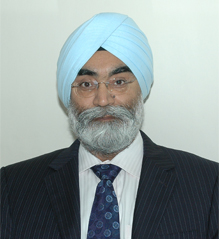 Dr. Charan Singh is a RBI Chair Professor at the Indian Institute of Management, Bangalore, India. Earlier, he was a Senior Economist at the International Monetary Fund (IMF), Washington DC from August 2009 to November 2012.
He has worked extensively for more than two decades in Reserve Bank of India where he joined as a Research Officer in 1984. His extensive career in the Reserve Bank, where he worked from 1984 to 2009, included many assignments in operational and research departments. Prior to joining the Reserve Bank, Singh worked, for a short period, as a Lecturer in Economics at Doaba College, Jullundur in Punjab; and Management Trainee in Punjab National Bank.
Singh earned his doctorate in Economics from the University of New South Wales, Sydney, Australia and was a visiting scholar (post-doctorate) for more than a year each at Department of Economics, Harvard University and the Stanford Center for International Development, Stanford University.
His current policy interests include international economics, monetary policy, fiscal policy and debt management.
Extra resources to download

Sustainable Development of Environment Guru Har Rai Ji – Feb 1 – Click the PPT Icon to download.

Sustainable Development of Environment and Sikh Religion – Feb 1 – Click the Doc Icon to download.
---
[1] Charansingh60@gmail.com. The author wishes to thank Chiranjeev Singh, Harpal Singh, Ghara Singh, Gurmeet Singh, Mohinderpal Singh and Sandeep Singh for helpful discussions in finalizing this article.
[2] The transliteration is that of the author as also the meanings in English. This method has been adopted because of lack of availability of authentic translation of SGGJ in English.
[3] These words have to be uttered after every formal prayer – individual or collective.
[4]In every particle of creation, God resides (SGGJ, p.1427). From one source has all the creation been created, so who can be called noble or inferior (SGGJ, p.1349). The sense of high and low and of caste and colour are illusions (SGGJ, p.1243). All creatures are noble, none are low – one maker has fashioned all of them (SGGJ, p.62).
[5] Aagha Koo Thraag Pishaa Faer Na Muhaddarra, Nanak Sijh Eivah Var Bahur Na Hovi Janamadaha – Look ahead and don't turn backwards. Oh Nanak, be successful this time, not to be born again (SGGJ, p.1096).
[6]

[7] Mith Bolada Je Har Sajjan Soami Mora, Honh Sambhal Takhee Ji O Kadhe Na Bole Kodha – Sweet spoken is my noble-hearted master – never within my recall has Master uttered a harsh word (SGGJ, p. 784).
[8] Sewa Karat Hoay Nihkaami Tis Kao Haut Parapat Suamee – One who performs selfless service, without thought of reward, shall attain Master (SGGJ, p. 286).
[9] Others are ego, lust, anger and attachment.
[10] Papa Bajhahu Hovai Nahi Muia Sath Na Jaaeh – Does not come without wrong methods and does not accompany on death (SGGJ, p. 417)
[11] Lobhee Ka Vaysaho Na Kejai Jay Ka Par Vasay Ant Kal Tithai Dhuhai Jithai Hath Na Pay – Do not trust greedy people, if you can avoid doing so. At the very last moment, they will deceive you there, where no one will be able to lend a helping hand (SGGJ, p. 1417).
[12] Saachay Tay Pavnaa Bhaia Pavnai Tay Jal Hoy (SGGJ, p. 19).
[13]

[14]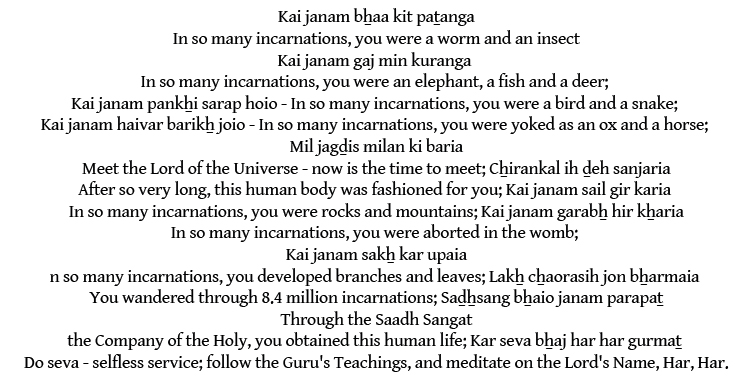 [15] Foundation stone was laid in 1577 A.D. by the fourth Guru.
[16] Foundation stone was laid in 1665A.D. by the ninth Guru.
[17] The city was popularized by the third Guru.
[18] Founded by the fifth Guru in 1594 A.D.
[19] Founded by son of the sixth Guru on May 1, 1626 A.,D.
[20] Founded by the tenth Guru in 1685 A.D.
[21] Founded by the Fifth Guru in 1596 A.D.