An Inspiring Afternoon with Young Sikh Artists
By Pamela Wilson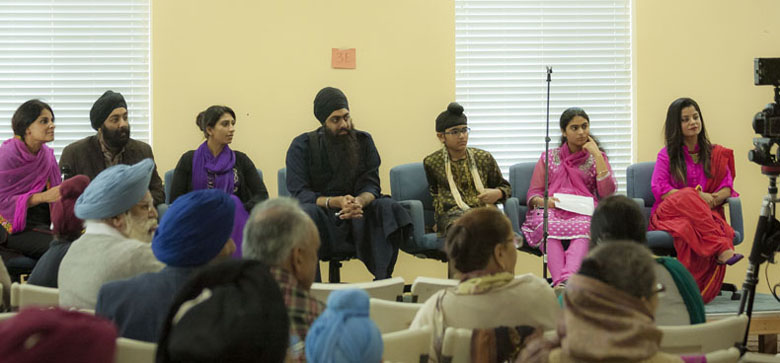 Artists panel with Meeta Kaur
The Sikh Foundation gathered community members at the Guru Nanak Khalsa School Complex at Gurdwara Sahib San José on Saturday, December 6, 2014, for a captivating afternoon with a panel of young Sikh Americans who are meeting with success pursuing a variety of art forms. Writer Meeta Kaur, editor of Her Name is Kaur: Sikh American Women Write About Love, Courage, and Faith, engaged participants and audience members alike as mistress of ceremonies. There were many opportunities for audience participation and interaction, which allowed everyone present to benefit from the atmosphere of creativity and inspiration.
Meeta suggested that for the duration of the program, audience members put aside their adult concerns and connect with the child within each of us. She asked how many of us were artists—and, tellingly, she asked how many of us were "wannabe" artists. Indeed, many present seemed to struggle to make creative work a part of our daily lives. Meeta's questions to the panelists teased out advice that every "wannabe" artist could apply.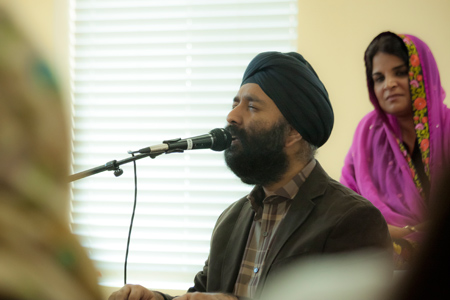 Shivpreet Singh
Shivpreet Singh kicked off the proceedings by performing his fusion version of the shabad "Bhinni Rainariye Chamkan Tare," accompanying himself on electronic keyboard. Shiv, a former Wall Street analyst, delivered his heartfelt message: that the meaning of life is to sing. He clarified, "You don't necessarily need a voice to sing. You just need a heart."
Shiv urged everyone to find their song, whether, like his fellow panelists, we sing, dance, write poetry, or make films—or whether we do something completely different. Shiv shared his view that everything he does comes from Guru Nanak, who said that everything—from the smallest elements to the planets to the universe—sings, so why shouldn't he?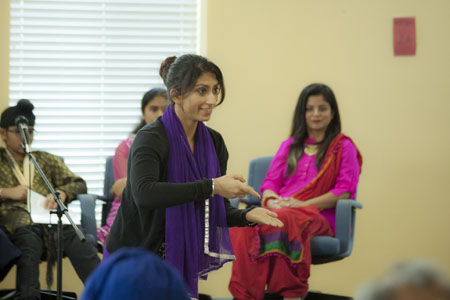 Sanya Bhavi Vohra
Sanya Bhavi Vohra presented a video of her performing with the University of California, Berkeley, Bhangra team and talked about how the members of the team are not all Sikhs, not all Punjabi, and not even all Indian. She tied this tolerant worldview to her own study of Bharat Natyam, a south Indian classical dance tradition. Sanya credits Sikhism for giving her the confidence to delve into other arts and other cultures with not just tolerance but with interest.
Sanya first demonstrated facial expressions that we all use every day—including those conveying fear, anger, distrust, and tranquility—as well as gestures, which are some of the building blocks of Bharat Natyam. She then acted out a scenario using only these expressions and gestures and asked members of the audience to interpret her actions. A lesson emerged: even though Bharat Natyam conveys stories about Hindu deities, these tales are also universal stories that can be applied to all of our lives. Sanya urged those assembled to try out different forms of expression.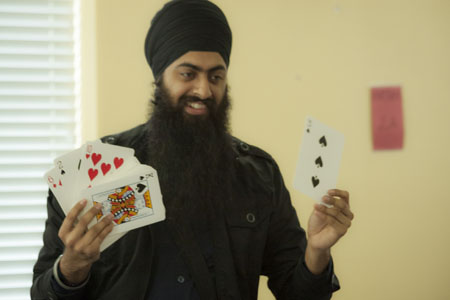 Vikram Singh Khalsa
Vikram Singh Khalsa, an engineer, inventor, graphic designer, and magician, prefaced his magic show with an unusual confession: that his aim was to deceive the audience and that our job was to decide what was real and what was illusion. He pointed out that Gurbani teaches us that this world is a dream, or, in other words, a big magic show, so his purpose was to draw attention to the veil of illusion in our everyday lives. His magic tricks can thus be seen as a tool to make us question the very reality of the world around us. Vikram admitted that he was often asked, "If everything is an illusion, should we just stop worrying?" His answer was "Yes," but with the caveat that we should never stop making an effort.
After demonstrating a variety of rope and card tricks, Vikram recounted his introduction to magic. As a kindergarten student, he was called up as a volunteer in a magic show and was awestruck by the illusion he saw performed. He does magic today to pass along that sense of awe and wonderstruck happiness to his audience, especially children. After all, that's also what Sikhi is: we automatically say "Wah!" and when we are in the presence of Waheguru, the creative power that inspires us all.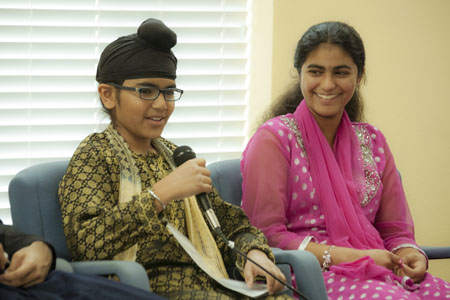 Amrita and Karan Bhasin
Amrita and Karan Bhasin shared the trailer for their short film, Basketball Singh, which was a runner-up in the 2014 Sikhnet Youth Online Film Festival. Amrita directed the film, which starred her brother, Karan. Before making the film, Amrita had learned how to use software to shoot and edit video in a filmmaking course at school.
Basketball Singh shows how one American Sikh boy successfully navigates and resolves a tension familiar to Sikh children growing up in the United States—the competing pull of spiritual and mainstream activities. The Bhasins stress that the message of the movie is that it's not necessary to choose one or the other. They wanted to show the protagonist doing both.
Authenticity and working with what is already available were important themes for this brother and sister team. They came up with the story based on Karan's own life experience, which they then fictionalized to make it more dramatic. Their parents played the parents in the film, and Karan's friends played his classmates.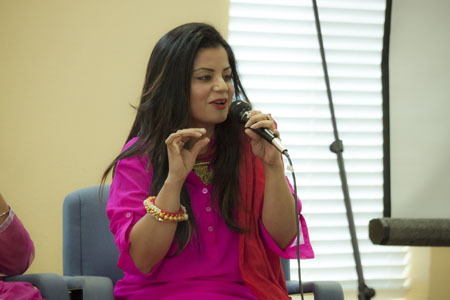 Ishmeet Narula
Ishmeet Narula grew up learning kirtan and sees Sikhi as the seed for the music she performs today all over the world. Ishmeet explained that rather than trying to please the audience when she sings, she tries to connect to Waheguru and trusts that her faith and her love will connect her to listeners. She pointed out that when we're doing what we love, this reflects on those around us, who will then naturally encourage our efforts.
Ishmeet performed the folk song "Mitti da Bawa" and surprised everyone with the power of her voice. She explained that when she did kirtan as a child, her voice always sounded open and strong. Her teacher explained that this was the right way to sing, and she never stopped. She encouraged the audience to be open to whatever comes our way that we enjoy. Academics are important, but so is doing what we love.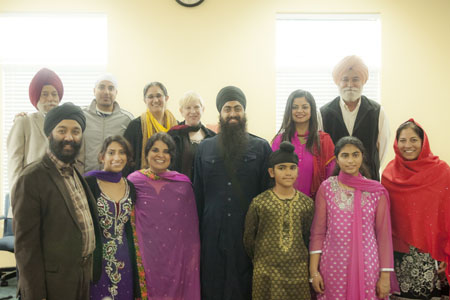 Artists with audence
Meeta Kaur began to wrap up the program by recommending that we—both members of the panel and the audience—work on trusting the voice inside us that tells us to do something different. She encouraged us to step out of our comfort zone because this can be the seed for creation.
In a brief Q&A session, one audience member asked how members of the panel managed their time in order to make art such an important part of their lives. Vikram pointed out that creative work can be an important break or release from our regular lives. He recommended replacing passive activities like watching television with spending time on pursuits we're passionate about.
Shiv pointed out that many people dream of having time to indulge their creativity once they retire, but he believes it's absolutely crucial for us to not wait but instead to begin living our dreams right now. He recommended beginning by dedicating small chunks of time to artistic expression. Early on, he made it a goal to record one shabad every month. This reasonable but ambitious objective helped him begin integrating music into his everyday life.
Community members left the program both more knowledgeable about each of the panelists' artistic pursuits and inspired by their success in incorporating artistic pursuits into our routines. We continued to discuss these themes over langar.