10 Amazing Years – Sri Dasmesh School, Kuala Lumpur
How do you take a school which began under humble circumstances catering to needs of a few pupils in the compound of a Community centre to on that is today among the top schools in the Mayasia with record 100% passes in all government exams and outstanding top performers in UPSR, PMR & SPM examinations. This vision could not have seen fruition without hours of toil and patience of a team effort. . At Sri Dasmesh School, the staff and students form such a team.
Each of the ten years of the school's existence has been marked by a leap of faith and tenacity, enabling the school to charter new territories in education and holistic growth. The school is maturing into a vibrant educational institution, with customized teacher training programs, character building camps, academic seminars and sports training schedules. Their achievements get better each year in both academics and sports.
The school will be commemorating its 10th anniversary celebration with a with a mesmerizing Choir presentation by the sweet angels from the lower primary classes. Subsequent performances include 4 short plays : 'Alice in Wonderland', 'The King & I', 'Ali Baba & the 40 Thieves' and the 'History of Malacca'. The Production Crew comprise almost wholly of staff, student-actors, parents and sponsors who are key stakeholders in making this event a memorable experience for all. This concert promises to be thoroughly entertaining and uplifting for all age groups.
The student Alumni body and the Dasmesh Band will also showcase their talents. Guests of Honour include Board Chairman Tan Sri Dato Ajit Singh, Datuk Dr Ghauth Jasmon, Vice Chancellor of University Malaya, and officials from the Ministry of Education.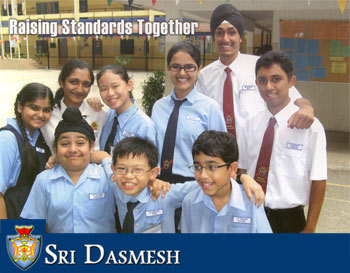 Many students have won government scholarships to study abroad and this trend continues to grow. During the celebrations outstanding students in the 2009 national examinations will be honored. In the recent 2009 SPM examinations, top student Kaveena Maniam scored 15As, putting her in the top1% bracket nationwide!
This celebration inevitably complements the school's wholesome holistic focus, providing an avenue for students to display creativity, teamwork and public speaking ability out of the classroom scene.
Here's looking forward to the next 10 years!