Army Major Urges Uniform Policy on Sikh Headgear, Beards
By Sunita Sohrabji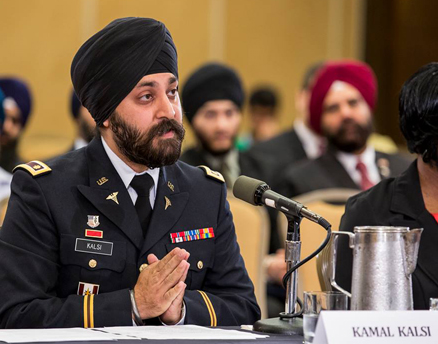 U.S. Army Major Kamaljit Kalsi testifies before the U.S. Civil Rights Commission. (Sikh Coalition photo)
U.S. Army Major Kamaljit Kalsi, who received the Bronze Star after serving two tours of duty in Afghanistan, testified before the U.S. Commission on Civil Rights May 31, recommending a complete and unimpeded policy change that would allow Sikh Americans to freely serve in all branches of the military.
"We are Americans, we make great soldiers, and we can serve in combat operations with our turbans and beards," Kalsi told India-West in an interview after the Commission hearing.
Kalsi is one of only three people in the U.S. military who is allowed to serve wearing his articles of faith. Since 1981, Sikhs have been disbarred from U.S. military services if they choose to serve wearing turbans and beards.
In 2009, the U.S. Army made a landmark decision, allowing Kalsi, an Army doctor, and Captain Tejdeep Singh Rattan to wear their turbans and beards while on duty. In a letter to Kalsi and Rattan written by Major General Gina Farisse, the Army stated the accommodation was not to be construed as a blanket policy, and that requests for such accommodation would be considered on a case by case basis.
In 2010, the Army accommodated Specialist Simran Preet Singh Lamba, who was the first Sikh American soldier to complete basic training whilst wearing a turban and beard. Lamba went on to serve in Afghanistan.
Kalsi, the recipient of several awards including the NATO Medal of Honor, noted that the U.S. military has still not yet established a blanket policy to accommodate Sikh American soldiers. "We have to reapply for accommodation every time we are moved to a new base," he said, additionally stating, "It's time to correct the rules."
"We can serve our country and be Sikhs at the same time," he noted.
In his moving testimony before the Commission – which also heard testimony from homeless female veterans, and advocates for victims of post-traumatic stress disorder – Kalsi noted an incident from his time serving as a doctor in the Helmand province, one of the bloodiest regions of Afghanistan. Medics had radioed into the makeshift hospital in a tent, saying they were bringing in a Marine who had been severely injured in a bomb blast nearby.
"We worked on him for two hours, removing shrapnel, suturing wounds, stabilizing vitals," said Kalsi. "When he was ready for transfer to the admitting wards, Joe grabbed my hand with tears in his eyes and said 'thank you, brother.' That is one of many moments in Afghanistan that I will never forget," said Kalsi, who is the fourth generation of soldiers in his family, many of whom fought for India's independence.
Kalsi provided several letters of support from commanding officers and others to the Commission and this newspaper. Kalsi later told India-West that one of several scenarios could occur to accommodate more Sikhs in the Armed Forces. A decision could come by an executive order from the president – not the easiest route, Kalsi noted. Congress could also create legislation that turbans and beards must be allowed by the military, but the Armed Forces may choose not to obey such a mandate, he said.
Kalsi said he would like to see the Defense Department sit down with Defense Secretary Chuck Hagel to establish a blanket policy allowing all Sikhs to function in the military. He noted that Navy SEALS are allowed to have beards.
In a press statement, the Sikh Coalition said it had spearheaded efforts since 2009 to end the presumptive ban on Sikhs serving in the military. The Coalition said it was calling on the U.S. military to eliminate the presumptive prohibition on Sikh service in U.S. military forces
"If our military needs 'proof of concept' that Sikhs can serve with excellence, it needs to look no further than Major Kalsi, Captain Rattan, and Specialist Lamba," said Amardeep Singh, Indian American program director of the Sikh Coalition. "In the last year we've thankfully seen the military end bans on openly gay service members and females in combat positions. It's time to end the Sikh ban as well," he said.
"It's critical that our military looks like the America it serves and that it embodies America's core founding principle that it matters not who you are but what you do," said Singh.
Courtesy of www.indiawest.com/news