First Sikh-American at the North Pole
Courtesy: http://salemnews.com/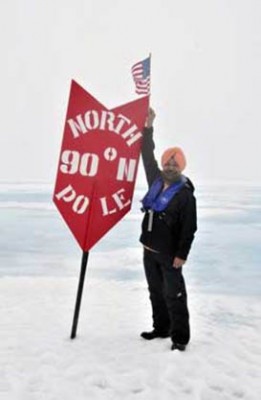 Arvinder Bahal has been on safaris in Africa, boat trips to Antarctica and explorations of the Galapagos Islands.
But even with that imaginative itinerary, it's hard to match the seal-eating polar bears and never-ending sunlight of his latest trip.
Last month, the 64-year-old Beverly man became one of the relatively few people ever to set foot on the North Pole. He got there as one of 128 paid passengers aboard a nuclear-powered Russian icebreaker called "50 Years of Victory."
Bahal, a native of India, celebrated with a cookout and Champagne atop the polar ice. He even removed his turban and took the ultimate polar plunge into the 23-degree arctic water.
"It was like standing on top of the world, literally," he said. "It's very exhilarating. It's almost like paradise."
Bahal has traveled so much he's starting to run out of countries. He's been to 147, almost the number that belong to the United Nations (192).
His wife, Pam, marvels at his thirst for knowledge and adventure. She accompanies him on the "luxury cruise ship" trips but takes a pass on the more exotic destinations.
When his two children were younger, Bahal took them one at a time on trips around the world during the February and April school vacations.
"When our daughter was in middle school, she got back from a trip to Egypt and her teacher said, 'Now we're going to learn about Egypt,'" Pam Bahal said. "My daughter turned in a report with a picture of herself on a camel in Egypt. It's such an education. It humbles them to see how people live."
Bahal was born in Agra, India, the city that is home to the Taj Mahal. He moved to the United States in 1975 and began his own import/export clothing business. He moved to Beverly in 1983, the same year he sold his business and began "dabbling in real estate."
Aboard Russian icebreaker
Bahal paid $30,000 for his trip to the North Pole. He flew to Murmansk, Russia, to board the nuclear-powered icebreaker, which takes one or two tourist trips per year to the North Pole in between its regular job patrolling the Northwest Passage.
During the six-day voyage, passengers could board helicopters and watch polar bears hunting seals. When they arrived at the North Pole, the passengers held hands and walked in a circle while observing a moment of silence for "world peace," Bahal said.
Bahal took more than 7,000 photos of his trip, including beautiful pictures of the glowing blue Arctic ice and a polar bear waiting patiently for a seal to pop out of an ice hole. It was summertime, so the air temperature was about freezing, 32 degrees Fahrenheit. There was also daylight 24 hours a day.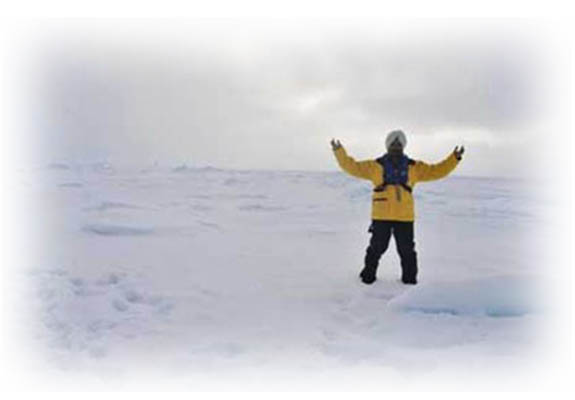 "There's no pollution," Bahal said. "Just fresh air."
Bahal explains his penchant for travel by calling it "my hobby, my passion."
"Some people play golf. Some people collect stamps. I like to travel," he said. "I want to do something that's unique and different. I don't stay in five-star hotels. I live with the people. I speak four or five languages.
"Traveling is like a book," he said. "If you don't travel, it's almost like you're looking at the cover and not reading the book."
As Bahal sat for an interview in his Cove neighborhood home, he was also preparing for his next trip, to Australia. After the reporter left his house, Bahal came running out the door, prompted by a reminder by his wife. "I forget to tell you about my next trip," he said. "I'm going to outer space."
Bahal said he has been booked for a 2010 trip into space offered by Richard Branson's Virgin Galactic company. The cost? $200,000. "I've been to 147 countries," Bahal said. "I figure I can see the whole world at once."
[nggallery id=4]
---