Class of 2010: Children of Destiny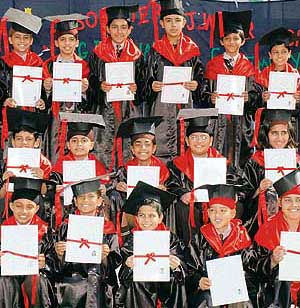 Address to new graduates with a Sikh Perspective
This time of the year (May to August), all over the globe, is an important land mark for young people and for their families, friends and peers. Thousands of young persons graduate from High Schools, Colleges, Universities, Technical and Professional colleges and institutes. They all are happy to have achieved a land mark in their lives. At the same time they are anxious, as they are going into THE REAL WORLD, an unknown phase of life. In USA, it is common practice that at commencements (graduation ceremonies) formal advice is dished out to the graduating class. Let us extend the same practice to all the Sikh Graduates – The Class of 2010, All over the world.
My Beloved ones, you all are children of Destiny, who will have to take the Message of Sikhism to the whole of humanity with Love, Dignity and Peace for ALL. Become worthy of that Destiny by being best in your chosen field and as a Sikh.
Firm Footing in Faith: Whenever you are trying to go into uncharted territories, it is always best to establish a "Lifeline" and hold on to it firmly and with full faith, that no matter what, this "Lifeline" will pull you through. So far, that lifeline was your "father & mother". It held on extremely well. So hold on to the same lifeline, but now also include your Guru.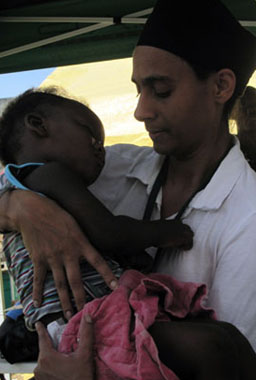 "Tu mera pita tu haen mera mata"
(You are my mother and you are my father)
"Life is a Play" : Guru Ji said it,
"Dekhan aayeo Jagat Tamasha"
(Come to see the drama of this world)
Shakespeare said it too. So play well; ethically, compassionately, giving it your best, but always keep in mind, that it is a "PLAY" – (with good and evil role players – and different outcomes, wins and losses). You must concentrate on your Destiny and on the good role assigned to you by AKAL PURAKH. Do your best. Don't judge and leave the rest to Him. The whole Drama of life is according to His will. Accepting and playing your role "cheerfully" (in Chardikala) is "HUKAM MANN NA". You sure will be blessed.
"Hukam Maneae hovae parwaan tan khasmae ka Mahal payesee"
(Accept and play your role cheerfully and you will be blessed)
Action and Practices: As for your worldly degree you became a student, worked through various grades and advanced, so should you as a SIKH (Student) start with mini steps and advance in grades. Since the Teacher is Gurbani, always do Paath/listen to Guru Granth Sahib (now even available on CDs and internet). Depending on your "Spiritual State", Guru ji will guide you. Keep your attitude of humility and stay as a SIKH (Seeker). Guru Ji says, it is the best trait
"Mithat neevi Nanka Gunn Changiyaen tat"
(An attitude of humility is the best trait)
Your attitude towards others and interpersonal relations: You will find ample guidance from Guru Granth Sahib. As a starter and equivalent of "Cliff Notes", you may read and always keep a copy of "How to Win Friends & Influence People" handy. Basically, in this book, I did not find any thing contrary to Sikh Beliefs. It is handy and available as "Paperback" all over the world.
Since, now the world has become a "Global Village", most of you will definitely come across persons of various religions and countries. Some will be definitely curious about your Sikh Faith and Khalsa appearance. Don't shrink. Politely, firmly and with a smile, give them a very quick perspective on Sikhism. Just say that my Guru, my religion, my scripture teaches me to…
"Sarab mae Pakhe Bhagwaan."
(Seek the God in everyone)
(You must say it in Punjabi to give it real authenticity and then explain it in English and other language as applicable that "Seek the God in Every One." Thereby, I have no option, but to LOVE AND BE AT PEACE WITH EVERY ONE. By so doing you would have demolished at least 50% of any prejudice, mis-information or even hidden hatred. If he drags you into a deeper discussion, and you feel uncomfortable, you can have a graceful exit by excusing with a smile, "As I said, I am a Sikh (Student), I will definitely explore your query and get back to you." This will be a happy, friendly closure.
Inculcate Reading Habits: To keep increasing your effectiveness both in your profession and as a Sikh: you must be pro-active in both, and also in your community. For increasing your general knowledge, "Readers Digest" is good and for Sikhism, you must read reputable publications like "The Sikh Review" – a 60 year old monthly journal carrying articles on various aspects of Sikhism. Even a one year's regular readership, will make a marked difference in you. After all as they say, by standing on the shoulders of the giants, you can reach much higher.
Lastly, but most importantly, always keep "Visual Picture of your Destiny" in your mind; specially, at night, just before sliding into sleep, request Almighty to give you the wisdom and lead you on to your Destiny.
Jasbir Singh Sethi*

May 17, 2010
* A semi-retired engineer living at 16410 Bluff Springs Dr. Houston, Texas USA; email: jssethi@sbec.com