Dheeyan Marjanian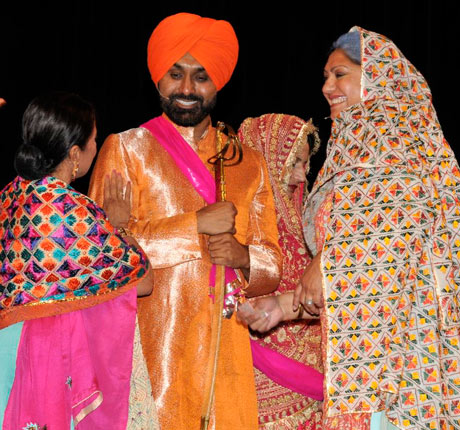 In the dead of the night an old woman walked resolutely carrying a bundle in her hand. Inside was a new born baby girl – her grandchild. The woman deftly opened the girl's mouth and inserted a finger laced with poison. The child suckled hungrily, and the woman placed a blanket over the child's face.
Centuries ago the founders of the Sikh faith had made female infanticide one of their main social reform thrusts. Yet as the 20th century dawned, the practice was still prevalent. The Singh Sabha movement renewed the reformist message of the Sikh Gurus with vigor. Today in the 21st, not much has changed except that the girl child now does not even see the light of the day: she is aborted while still in her mother's womb.
"Dheeyan Marjanian" is a play that compels us to acknowledge this uncomfortable reality happening in our society and deal with this issue in a decisive way. The play is written by Ajmer Singh Aulakh, a famous Punjabi play writer. The first show was staged at the Chabot College- Hayward, in the Bay Area in the summer of 2010, and the proceeds went to benefit the charity "Shahaita". Encouraged by the overwhelming response by the audience and supported by the local Gurudwaras, a second Bay Area show was performed at the "Center for Performing Arts" in San Jose. Both these shows ran to packed auditoriums. The seriousness of the subject was appropriately lightened by the satire and jokes performed by the characters of the "Marasi, Nain and the village drunkards". The audience was so engaged and mesmerized that no interval was needed in this 2 hour play. The talent and passion with which the actors played their roles was immense earning a standing ovation by the audience.
The future plans for this production includes shows in other cities in the USA and Canada, especially those having a large Punjabi population's e.g. Yuba City-CA and Vancouver –BC.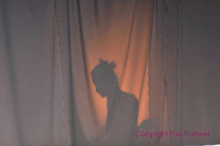 Click to Enlarge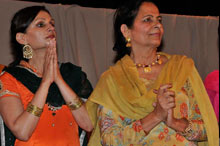 Click to Enlarge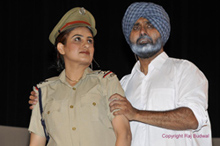 Click to Enlarge
Director :Ashok Tangri
Music : Parminder Guri
Artists: Jaswinder Beesla, Ruby Deol, Jasvir Gill, Kulvinder Walia, Ravinder Dhillon, Ray Walia, Dimple Bains, Harmesh Sidhu, Rana Atwal, Narinder Kaur, Simrin Sangha, Balvinder Mahey, Darshan Kehal, Abhuraj Tangri, Paul Deol, Satbir Kahlon, Devenderdeep and group