Elfins in San Francisco and Sarbjit Rai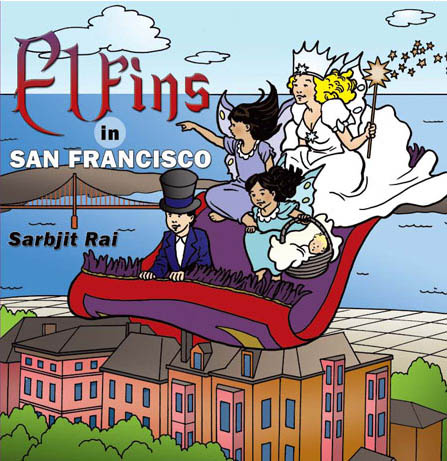 Sarbjit, a Sikh lady was born and raised in England. She comes from a large family spread over England, India and Singapore and has several nieces and nephews. A SAS professional, she moved to San Francisco in 2001 to work for Genentech, a leading Biotech company. Writing and the creative arts has always been an integral part of her life and moving to San Francisco allowed her to fully participate in the vibrant local arts scene.
The idea for her first book "Elfins in San Francisco" first came about during the summer of 2007 when Sarbjit was taking a sabbatical from work and visiting her family in England. She delighted her nieces with a fantasy fairy tale featuring the famous landmarks and local traditions of San Francisco. As a personal touch she included them all as characters in her story, changing some of the details based on what they liked and didn't like about each character. The resulting creation, Elfins in San Francisco, is a children's picture book that introduces young readers to Amrin, a lively elfin girl, and her younger sister, Jaya, who live in a beautiful house called the Red Poppy in the heart of San Francisco.
This was a great way for her to connect with her nieces and stay in touch with them while living in SF. It also gave them an opportunity to contribute to the story and plot development which created a fun exercise for everyone, as children have the biggest imagination on the planet, and really are honest when giving feedback.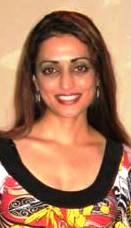 Soon her nieces started asking her about the book. After hearing the story several times they were eager to see the book and wanted pictures as well. So a year later, in 2008, she decided to publish the book. She attended the San Francisco Writers Conference to learn more about the publishing industry and joined the WNBA (Women's National Book Association) so that she could meet other writers, and is now its current secretary.
Sarbjit sincerely hopes that readers will enjoy this fantasy tale and that her nieces will learn through this shared experience – an important aspect of the Sikh tradition – community service and giving back. Towards this she has donated her books to various organizations including Pratham USA, India's largest educational non-profit, American India Foundation Bay Area Professionals and the Sikh Foundation, Palo Alto.
Sarbjit advice to all budding authors is "Keep your day job, join a writers group, and keep on writing."
The book is available free* at our online store on request and can also be purchased at Amazon, Book Passage in the Ferry Building at San Francisco and at www.elfins.vpweb.com
* The book is free,while stocks last,
on orders over $10 for childrens books.
About the Book
Set in a parallel fairy-world that coexists alongside modern-day San Francisco, Elfins in San Francisco is a children's picture book that introduces young readers to Amrin, a happy and lively young elfin girl, and her younger sister, Jaya, who live in a beautiful house called the Red Poppy. Their lives at the Red Poppy are full of music and dancing, and the two young sisters cannot imagine a happier place on Earth to live than among their fairy and elfin friends.
Their adventures begin the day that Amrin decides that she will paint a picture using her magical paint brush. At once, Amrin realizes that the only way she can use her magical brush is with magical paint, so she sets off for the little shop of rainbows owned by her good friend fairy Rhianne. Inside the shop fairy Rhianne creates her magical paints using enchanted leaves that she finds at the Golden Gate Park.
Once at the shop, Amrin comes across a very excited Rhianne who explains, "Talvin the magician is flying in from Singapore on his magical rug tomorrow!" Talvin was planning to compete in the San Francisco air show, an annual event for all the flying magicians across the land. Now equally excited, Amrin rushes out of the shop without her paints!
Amrin and her sister decide that they will go back to Rhianne's shop the next day, but as they are strolling through the Japanese Tea Garden, they come across the most unexpected of things – a baby! As it would turn out, this is a very special baby that will lead Amrin, Jaya, Rhianne and Talvin on an adventure through the enchanted city of San Francisco to the Palace of Fine Arts. Embark on their magical quest with them in the pages of Elfins in San Francisco.
Colorful and sure to entertain all young readers with its imaginative story, Elfins in San Francisco is also a treat for children and their parents to read about some of the more famous traditions and landmarks of the real San Francisco amidst a fairytale adventure.