'Forgotten Citizen' Justice Campaign for 1984 Oct. 21-Nov. 3, 2012
It is an established fact, with the Indian Government records to prove that 28 years ago, around 3000 Sikhs were killed in 48 hours during 1984 violence against Sikhs which counts to one killing in less than a minute but culprits are roaming free for last 28 years, without being held responsible.
In the case of Gujarat genocide of 2002 there have been 10 deaths sentences, 131 life imprisonments and a Minister has got 28 years in jail. But in the case of 1984, with thrice the number killed (in Delhi alone official figures are 3003) hardly any convictions have happened.
Fighting for the widows cases since many years. I decided to start the campaign 'Forgotten Citizens' where many organizations pledged to fight for the injustice done to Sikhs." reads a press statement issued in this regard by the organizers of "Forgotten citizens" movement.
This campaign will be the first major public protest to make the Government of India take responsibility and provide justice to those who lost their families in the Delhi 1984 massacres. It has taken hard work to gather print and mount so many old images of 1984 from several sources.
The Sikh Foundation along with other organizations including Sikh Forum, SikhiSidak, Gyan SewaTrust, Better Sikh School, Bibek Trust, Lok Raj Sangthan, Bachpan Bachao Andolan, ASYO, YSL, Akal Network, Vismaad, had joined hands together to show support and unity against justice denied to Sikhs for 1984 Delhi Carnage.
Starting from the Jallianwallan Bagh in Amritsar on October 21, 2012, the campaign will travel through the cities of Sultanpur Lodhi, Jalandhar, Ludhiana, and Chandigarh displaying a mobile picture exhibition on 1984 Carnage with 60 images, affidavits of widows and 'official' names of 3000 killed. .
The campaign along with the photo exhibit will reach Delhi on October 28, 2012. The exhibit will be travel for a week to the major Gurudwaras in the city with a final display at Gurudwara Bangla Sahib.
On 3rd November, 3pm protests are planned at Jantar Mantar followed by a public march to the Parliament House.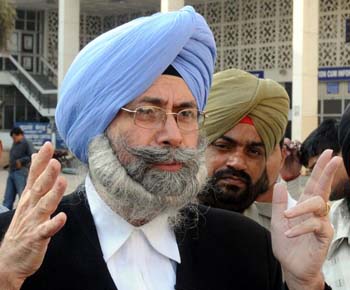 Even after 28 years of November 1984 Genocide, no progress has been made to secure punishment for the guilty. The Civil Society rights group and some prominent citizens have chalked out a detailed programme to stir this Government which is completely oblivious to the issue. A petition to the Prime Minister has been signed by many prominent citizens, including Hon'ble Mr. Justice Krishna Iyer. It will be released online for obtaining signatures in support thereof. This petition will be sent to the Prime Minister. A photo-exhibition depicting the gruesome and barbaric nature of the crimes committed will be in display for the first time ever. Finally, a protest and candle light vigil will be organized on 3rd November. 
H S Phoolka
Senior Advocate Supreme Court of India
Twitter: Twitter.com/hsphoolka
Blog : phoolka.net