Harmeet Dhillon Re-Elected Vice Chair of California Republican Party
By Sunita Sohrabji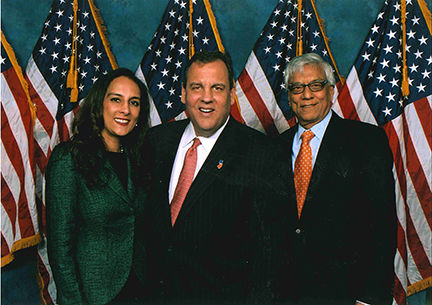 San Francisco attorney Harmeet Dhillon (left) was re-elected to a two-year term as vice-chair of the California Republican Party. The Indian American lawyer is shown here with New Jersey Governor Chris Christie (center) and her husband, Sarvjit Randhawa (right). (photo courtesy of Harmeet Dhillon)
San Francisco attorney Harmeet Dhillon was re-elected to serve a two-year term as vice chair of the California Republican Party, on a unanimous vote Mar. 1 at the party's three-day Spring Convention in Sacramento.
"It is very gratifying that my years of service to the party were recognized," Dhillon told India-West. "This is not a glamorous job," said the Indian American lawyer. "But it is my main avenue to give back to a country that has given so much to me."
The CRP's challenge is to build up a presence amongst California's largely Democratic voters. Registered Republicans represent 28 percent of the state's voting bloc, while Democrats clock in with 43 percent.
California Sen. Barbara Boxer's soon to be vacated seat presents a potential opportunity for Republicans to pick up their presence in the state. Boxer, a Democrat who has served in the Senate since 1992, has announced she will retire at the end of 2016. California state Attorney General Kamala Harris, a popular Democrat who handily won her second term in office last November, has announced her intent to run for Boxer's seat.
Two former CRP chairmen – Tom del Becarro and Duf Sundheim – have announced their intentions to also run for the Senate seat. California state Assemblyman Rocky Chavez, a moderate Republican from Oceanside, Calif., is expected to announce his bid Mar. 4, said Dhillon, who questioned whether any of the three Republican challengers could raise the funds necessary to pose a significant challenge to Harris.
"The bar has been set very high. A lot of good people decline public service because they don't have the personal wealth or the stomach for heavy fundraising," said Dhillon, who nevertheless supports the 2010 Supreme Court decision known as Citizens United, which ruled that restricting political expenditures violates freedom of speech protected by the First Amendment.
Critics say the ruling has allowed corporate interests to "buy" candidates for office. Dhillon said she supports the ruling, and noted that little has changed in campaign financing since the decision. She pointed to former Hewlett-Packard CEO Carly Fiorina, who raised more than $21 million to run against Boxer in 2010, but lost by a wide margin with 42 percent of the vote. Fiorina, a Republican, is rumored to be considering a 2016 presidential bid.
Dhillon also pointed to Hewlett-Packard CEO Meg Whitman, who spent an estimated $150 million of her personal wealth in 2010 to challenge California Governor Jerry Brown. Whitman also lost by a wide margin, garnering 43 percent of the vote.
"Money is no substitute for a good candidate," Dhillon told India-West.
Courtsey of www.indiawest.com/