Holiday Spirit Sikh Style
Khalsa Care Foundation Carnival: Pacoima, California
By Bhajneet Singh
A line began forming outside the Gurdwara Khalsa Care Foundation (KCF) starting at 8:00 am.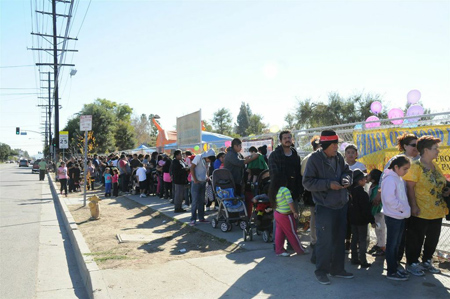 The holiday event was not going to start for another 3 ½ hours, but people were excited and the entire community of Pacoima, California had been talking about this program for weeks.
The Sikh community in the United States has done an amazing job at sustaining the core Sikh institution of langar. Across many gurdwaras of the US, sevadars prepare langar on a daily or weekly basis, and everyone who comes is able to partake in pangat and sangat.
However, about 10 years ago, a group of sevadars at KCF began to question the reach of our langar. It dawned on us that 99.9% of the people eating langar were Sikhs. And none of them were 'needy', in the truest sense of the term.
Were other people not welcome at the gurdwara? Were they not invited? Do they even know we exist in the community?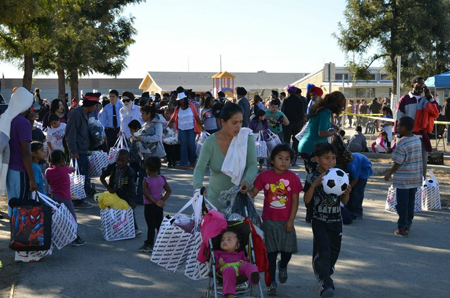 The answers to these questions made us realize that our current langar is not really feeding the hungry, but rather feeding the well-fed!
As a result, about a decade ago, the Sikh Community of Los Angeles began participating in toy and food giveaway programs in downtown Los Angeles' Skid Row. It was an eye-opening experience to see the desperate conditions of the homeless and to hear their stories. It was an annual reminder to be thankful for all that we are given, of our duty to share our gifts, and a reminder about what is really important in life.
Many Sikh children who participated were moved by the experience. Some even wrote school essays and blog articles about the inspiring day.
Despite all of the outreach we Sikhs have done, we continue to face hate crimes, school bullying, and other harassment. For example, just over a year ago, an individual full of hatred entered into a gurdwara in Oak Creek, Wisconsin and fatally shot six members of the sangat and wounded four others. Much of this hatred comes from their not knowing who we are.
We began brainstorming, how can we make people aware that our doors are open. How can we have people of the community get to know us as the fun-loving, seva-oriented Americans that we are? How can we break the ice so that they are comfortable asking us questions about our identity?
KCF came up with an amazing solution.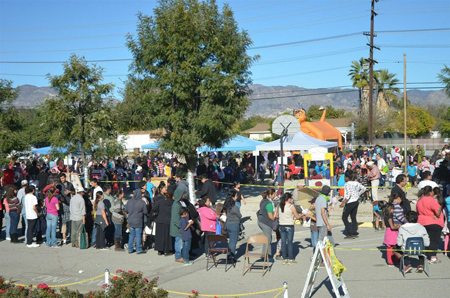 On Saturday, December 14, , 2013, with over 1,000 people in line outside the gurdwara, the gates were opened, and everyone was met with a smile and welcomed to the Khalsa Care Foundation Carnival. Over 150 sevadars ranging from age four to 80 stood by, ready and prepared to host as many as 1500 guests.
In the weeks leading up, these sevadars had worked tirelessly contacting neighboring food pantries, homeless shelters, and schools to realistically identify those families who needed some extra help this holiday season.
The guests were served popcorn, cotton candy, pizza, pasta, subway, and ice cream, all while their children also enjoyed the bouncy house, basketball shootout game, football toss game, ring toss, face painting, and many more games and activities.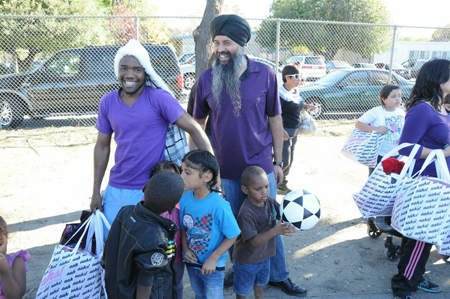 Some of our guests came in wheel-chairs, some walked hours to get to the carnival, and others took the bus. Towards the end of the evening, we held a raffle for a $250 Target gift card and we gave each family a toy bag, a food bag, and a winter warmth bag.
As our guests looked into their bags to find blankets, socks, gloves, beanies, soccer balls, stuffed animals, a remote control car, canned foods, toothbrushes, toothpaste, and many more items, they were speechless. Some of the guests cried, some hugged us, and some stayed to help clean up afterwards.
Everyone, sevadars and guests, left with huge smiles on their faces.
Khalsa Care Foundation is a Gurdwara located in Pacoima, California, USA. The sevadars at KCF organize weekly Punjabi school classes, kirtan/tabla classes, stringed instrument (tanthi saaz) classes, computer classes, adult gurmat veechar classes, weekly youth Asa di Vaar divans, annual nagar kirtan float preparation, gardening camps, and home to the Khalsa Food Pantry. For more information on these programs or how to implement these programs in your own local gurdwara, please contact bhajneetsingh@gmail.com