In Memory of Ajeet Singh Matharu
The Sikh Foundation is deeply saddened by the sudden loss of such a promising young man who impressed us immensely with his calm demeanour and depth of thoughts. He most graciously wrote a memorable piece for our website sharing his thoughts on the challenges and opportunites in the field of sikh studies and his personal experiences in this journey. Our heartfelt condolences to his family and friends.
Ajeet Singh Matharu was born in Reedley, California on February 7, 1983, and passed away on Sunday, July 25, 2010. He was a loving son, brother, nephew and friend. He had an insatiable thirst for knowledge and a deep-seated passion for the career path he chose.
He had recently completed his first year as a PhD student in history at Columbia University in New York, where he was a dedicated and disciplined scholar focusing on South Asian history. He attended Clovis Unified public schools until he matriculated at Phillips Exeter Academy in Exeter, New Hampshire, graduating in 2001. At the University of Southern California, he double majored in history and economics and spent a year studying abroad at the London School of Economics, sparking a lifelong love of travel. After graduating from the University of Southern California in 2005, with honors in history, he spent two years teaching history in Brooklyn, New York public schools as a Teach for America fellow. At the same time, he completed a Master's degree in education from Pace University in New York.
As a child, Ajeet was well known for the mischievous twinkle in his eye. His sense of humor was widely appreciated; he was always quick to smile and share a witty remark. He was an innately curious person – a voracious reader, a seasoned traveler, and a keen observer of life through his photography. He loved spending time with his family and friends, often organizing activities that brought everyone together. Ajeet radiated a calm energy and his gentle nature put everyone at ease. He saw and drew out the strength and goodness in people. He firmly believed in the power of education to uplift humanity. His experience teaching in the Brooklyn public schools reaffirmed his belief that every individual deserves an equal chance for a quality education. Ajeet was a Gursikh and an activist, utterly devoted to his community. He played a leadership role in the Jakara Movement, a Sikh youth organization, leading youth discussions and performing seva, or community service. His commitment to Sikhi was an inspiration to many young Sikhs.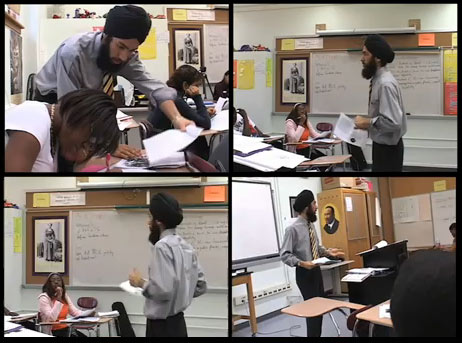 Ajeet met the true definition of being a Sikh – a seeker of truth and all that life has to offer. He is deeply loved and will always be in our hearts. Ajeet is survived by his parents, Drs. Joginder Singh and Jaswant Kaur Matharu; and his sister, Amandeep Kaur Matharu. He is also survived by his grandfather, Kartar Singh Chahal; and many aunts, uncles and cousins.