In Remembrance of Dr. Atamjit Singh Ji – by Jasmit Singh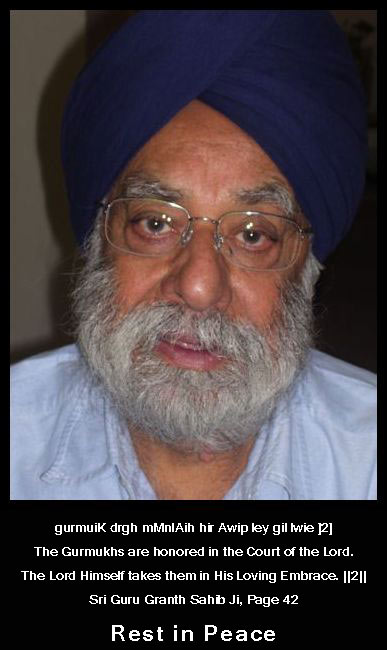 Obituary
Professor Atamjit Singh, an eminent academic, a distinguished professor, and a literary scholar, who worked tirelessly in his life to promote Punjabi around the world, passed away in San Jose on November 12, 2010. He was 76.
He was born in Muktsar, District Ferozepur, Punjab, in August 1934 to Professor Kesar Singh Uberoi and Sardarni Balbir Kaur. Raised in an academic family, Atamjit Singh graduated from C.B. High School, Ambala Cantonment, and pursued further education in at G.M.N. College, Ambala, as well as Government Colleges in Ludhiana and Patiala. He received his Ph.D. from the University of Delhi under the guidance of the Punjabi poet-scholar, Dr. Harbhajan Singh. His doctoral work was on the Concept of Shringhar (Divine Beauty) in the compositions of the fifth Sikh Guru, Guru Arjun Dev.
At age 20, Dr Singh began his first job as a lecturer at Mukand Lal National College, Yamunanagar. He went on to distinguish himself as a teacher-scholar at Khalsa College and Arts Faculty, University of Delhi, as well as at Guru Nanak Dev University, Amritsar. He served as a Professor and Chair of the School of Punjabi Studies at Guru Nanak Dev University, Amritsar. He also taught courses in Punjabi language at Tokyo University of Foreign Languages, and gave seminars and workshops at the Osaka University of Foreign Studies. His other diaspora experience included conducting courses in Punjabi and Sikh Studies in Thailand, United Kingdom, and United States. He was also twice the Director of Punjab State Text Book Board, where he led the development of curriculum and textbooks for use in the Indian state of Punjab at K-12 and college levels. While he was primarily a scholar of Punjabi Language and Literature, he knew many other languages such as Urdu, Persian, Hindi, Sanskrit and Bengali.
In August 1993, he joined the UC Berkeley's Department of South and Southeast Asian Studies and established the first-ever Punjabi Language Program on a California campus. In 1998, he moved to San Jose State University and helped create a successful Punjabi Language Program and established Guru Nanak Heritage Institute for Punjabi Studies in 2007. He worked with volunteers from the community, high schools in Bay Area, and other academic bodies to establish a solid program for Punjabi studies. With the support of the funding committee spearheaded by Dr. Mahinder Singh Madan and Dr. Inder Mohan Singh of Chardi Kala Foundation, he organized five major conferences on Sikhism and Punjabi Literature. These included the conference on Sikh Studies, Globalization of Sufism, the Eternal Message of Guru Granth Sahib Ji and a special conference on the life and writings of Guru Arjan Dev Ji. He was involved in numerous Interfaith events in the Bay Area; helped organize different literary symposiums including several honoring the Punjabi Poets from across South Asia; and in different cultural events in the local community. He was a beloved teacher and mentor to literally thousands of students in the Bay Area, including many at the San Jose Gurdwara, where he taught Punjabi along with Sardar Malvinder Singh Kohli and Sardarni Pushpinder Kaur Singh for many years.
Both in India and the United States, Professor Atamjit Singh worked with a number of academic organizations such as the Punjabi Sahit Akademi (the Punjabi Literary Academy) in India and the Punjabi Writers Associations in U.S. and Canada.
While highly respected as a scholar and teacher, Professor Singh's most endearing qualities were his humanity, gentle humor, and forgiveness. He was gentle, sweet and generous in his ways. His brilliant intellect did not come in the way of his tolerance for human foibles or his respect for religious and cultural diversity. He combined his soft-spoken ways with strong progressive values for all men and women of all castes, classes and races. Amritjit Singh, an eminent professor of English and African American Studies at Ohio University, recalled his beloved older brother as "a gentle lion, whose rib-cage was made of steel-like values." He added, "Atamjit was both Blake's Lamb and Tiger."
Dr. Atamjit Singh leaves behind his wife Swaranjit Kaur, his son Colonel Pankaj Punit Singh of San Jose, his wife Deepinder Kaur, and their daughter Punnya Kaur. He also leaves behind five younger sisters and brothers in various parts of the United States as well as eleven nephews and nieces as well as seventeen grandnephews, who are all contributing members of the communities they live and work in. Dr. Atamjit Singh will be missed greatly by his students, friends and family members alike. He was an inspiration for many of them and will be long remembered as an amazing and giving human being. A Memorial Page has been setup on Facebook for his family, friends and students to post messages to pay tribute to him or share memories from his life. A Memorial Bhog Ceremony will take place at the San Jose Gurdwara on Saturday, November 20, at 2 PM followed by the Congregational Meal, Guru Ka Langar.
By: by Jasmit Singh – Courtesy of www.sikhnet.com
November 18th, 2010
2:00 p.m.
Aarambh Akhand Path, Sri Guru Granth Sahib Ji

Gurdwara Sahib – San Jose
3636 Murillo Ave
San Jose , CA 95148
Tel# (408)274-9373

November 20th, 2010

10:00 a.m. to 12:40 p.m.

Cremation Ceremony

Spangler Mortuaries
Sunnyvale Chapel
174 North Sunnyvale Ave, Sunnyvale, CA 94086
Tel # (408)736-6294

After the Cremation Ceremony we proceed to Gurudwara Sahib – San Jose. Sangat to partake Langar/Refreshments on arrival.

November 20th, 2010
2:00 p.m. to 4:00 p.m.
Bhog Akhand Path, Sri Guru Granth Sahib Ji followed by Shabad Kirtan and Tributes

Gurdwara Sahib – San Jose
3636 Murillo Ave
San Jose , CA 95148
Tel# (408)274-9373

After the prayers, the sangat is requested to partake Guru Ka Langar.
Directions to Spangler Mortuaries, 174 North Sunnyvale Ave, Sunnyvale, CA 94086
From the South, take CA-17 NORTH approx 26 miles to exit onto I-280 NORTH toward San Francisco. Take the De Anza Blvd exit; turn right at N De Anza Blvd (signs for Sunnyvale.) Continue on Sunnyvale Saratoga Rd, make slight right toward Sunnyvale Saratoga Rd, and continue on S Sunnyvale Ave to arrive at destination, Sunnyvale Chapel and Crematory.
From North (Fremont area) take I-880 SOUTH via the ramp to San Jose; take exit onto CA-237 WEST toward Mountain View approx 8.7 miles. Take the Mathilda Ave exit toward US-101 SOUTH/Sunnyvale, keep left at the fork, and follow signs for Downtown Sunnyvale. Turn left at N Mathilda Ave, left at W California Ave, then right at N Sunnyvale Ave to arrive at destination, Sunnyvale Chapel and Crematory on left.
From the West, take I-101 approx 5.8 miles to exit onto N Mathilda Ave toward Sunnyvale. Turn left at W California Ave, right at N Sunnyvale Ave to arrive at destination, Sunnyvale Chapel and Crematory on left.
Directions from Spangler Mortuaries to Gurudwara Sahib – San Jose, 3636 Murillo Ave, San Jose, CA 95148
Head north on N Sunnyvale Ave toward Berkeley Terrace. Turn right at E Maude Ave for half a mile. Turn left at N Fair Oaks Ave and then Merge onto US-101 S via the ramp to San Jose. Continue on 101 S for about 13 miles. Take exit 382 for Yerba Buena Rd. Follow signs for Capitol Expy and merge onto E Capitol Expy. In a mile or so, turn right at Aborn Rd. Continue on Aborn for about 2.7 miles. Turn left at Murillo Ave. The destination will be on the right.