Isn't Blue Star a Bus Stop on 7F Route?
This is the 28th anniversary of "Operation Bluestar" the attack launched by the Indian Government on the Golden Temple in Amritsar along with scores of other gurudwaras in Punjab. While this infamous event is painfully remembered by the Sikh community, it is fast disappearing from the national memory of its other citizens. This article published in a leading daily of India, brings this point home.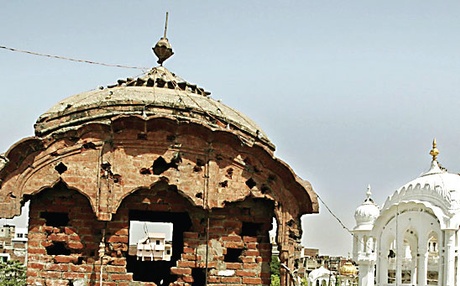 The dome of the Golden Temple damaged during Operation Blue Star.
Barely two weeks after Sreesanth's towel stuffing antics kicked off the IPL fixing scandal, the country's real cricket buffs have honestly moved on to watching Team India's journey in the ICC Champion's Trophy. Public memory is short, indeed. While that is a given, City Express decided to find out whether any of the city's young and ostensibly erudite populace had heard of an army offensive launched 29 years ago in Amritsar, called Operation Blue Star. This is what we found — most people immediately connected it with a popular air-conditioner manufacturer and the bus stop in Anna Nagar, but not with the shocking attack that shook the nation in '84.
Despite the incident having caused Sikhs' resentment against the Indian government, most youth seemed clueless about it. "I don't know the details, but I know that there were separatists in Punjab at the time who were plotting an attack and that is why the operation was launched," said Sandhya, a 26-year-old housewife who lives in Anna Nagar.
Naveen Kumar, a software engineer, said, "Yeah, I have heard this term. I don't have all the details, but I think it had something to do with the Golden Temple." It sure did. Acting on Indira Gandhi's orders, the Indian Armed Forces forcibly entered the Sikhs' holy place and fought for two whole days to oust the 'fundamentalists' with weapons inside.
A few even believed that it was the 1980's version of the 'war on terror'. Shankar A, a 32-year-old software engineer from Triplicane, told City Express that he was not completely aware of why Operation Blue Star was launched by the government, but recalled that it led to the assassination of Prime Minister Indira Gandhi in 1984. "I have read about the incident. It was a movement launched against terrorists in Punjab who were waging a war against the country," he added. Take that Osama.
M Siva Sankaran, trainer, said, "The operation was intended to eliminate Jarnail Singh Bhindranwale from the Golden Temple, thereby killing him, since he was accused of stocking weapons inside the temple. In that operation more than 1,200 civilians were killed though the official accounts restricted only to some 490. I think, the bloody massacre had no effects since today we have a Sikh as a PM."
Courtesy of www.newindianexpress.com/