Past's Future Tense
By Jasmine Singh
Conservation & preservation is a painstaking work, especially when a govt doesn't have enough funds to spare. In heritage-rich Punjab, there are renewed attempts to regain the glory linked with some of the monuments. A status report from Kapurthala and Amritsar.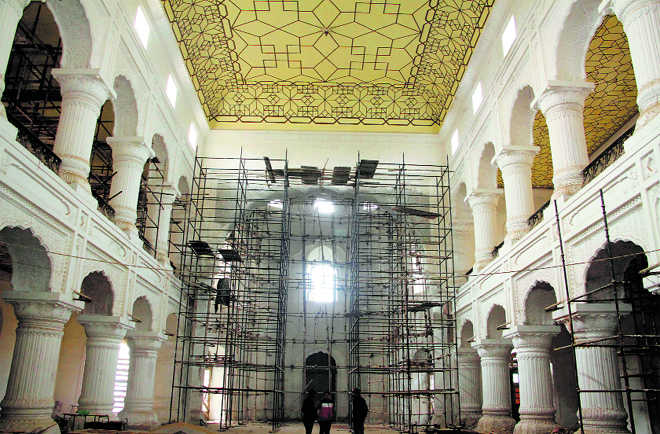 THE WAY AHEAD: The restoration work of the 125-year-old Darbar Hall, Kapurthala, in progress. Photo: Sarabjit Singh
Conservation & preservation is a painstaking work, especially when a govt doesn't have enough funds to spare. In heritage-rich Punjab, there are renewed attempts to regain the glory linked with some of the monuments. A status report from Kapurthala and Amritsar.
Each day as he walks to his office, Mohammad Tayyab, deputy commissioner, Kapurthala, sets his mind on an off-duty assignment: take a good look at the length and breadth of the 125-year-old Darbar Hall located within his office compound. Riveted at the Hall's majestic walls, and unmindful of the din of the restoration work, he asks: what if these come back to life to tell stories about the structure built by Maharaja Jagatjit Singh of Kapurthala? "Look at the intricate carvings, the old wooden flooring… this place is less of a building and more of a story about the rich cultural heritage," says Tayyab.
The restoration work of Darbar Hall started in 2015 and is being handled by a private firm, Rajputana Construction Private Ltd. The Rs 4.98-crore project was to be completed within 18 months. Rahul Mulya, spot engineer, Punjab Tourism, says his team has been given an extension till June next year.
The Maharaja of the erstwhile Kapurthala princely state held his court in this 330-sq-mt hall twice a year. General public would also participate in the court. The place became a government property after the Partition, and was converted into a court complex.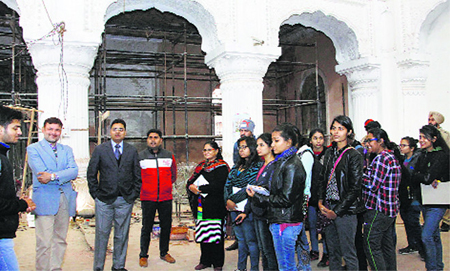 Officials apprise students of the rich heritage of the hall Photo: Sarabjit Singh
Skilled labourers from Madhya Pradesh and Jaipur work each day in and around the hall repairing and mending the damage. The original yellow colour on walls of the hall has been scrapped; the old wooden flooring made of the finest wood of apricot and deodar trees is being replaced by a new one.
The intricate carvings are being restored using special material such as surkhi. Parvati, a labourer from MP, tells you how she makes surkhi, a material used in restoration: it is mixture of redbrick dust, jaggery, bel (stone apple) and various natural ingredients known for their cementing properties. "Surkhi was used in most heritage buildings, the material adds another 100 years to a building's longevity," says Rajwinder Singh, contractor and engineer, who is supervising the project in Kapurthala. "This is a time-consuming project that cannot be completed in a rush; we are trying to retain the original. All this requires precision."
Specialized restoration tools and instruments and material are being used in the restoration work. "Recreating a masterpiece is impossible. Nevertheless, understanding and knowledge of old construction methods will help in developing sensitivity towards the building, helping it regain its glory," says Tayyab.
"We are not waiting for the structure to get completed, for, we are selling stories to the rest of the world and we have got a great response from people ," says Harry Randhawa, president Kapurthala Heritage Celebrations.
Randhawa, whose forefathers served the Kapurthala state at senior positions, sheds light on the heritage complex. "Work on this entire complex started in 1882 and was completed in 1890. British engineer JOS Elmore, who was chief engineer of the Kapurthala state, designed the building in Indo-Saracenic style".
The restoration of total five heritage buildings in Kapurthala has been conceived. These include Moorish Mosque, Darbar Hall, Bughi Khana, Goal Kothi and Bhoot Bangla. Out of these, the restoration of Moorish Mosque is complete. The work on Gol Kothi will start as soon as the private company receives drawing and other instructions from the department. The rest of the building has offices of government departments. These have to be vacated before the restoration work starts.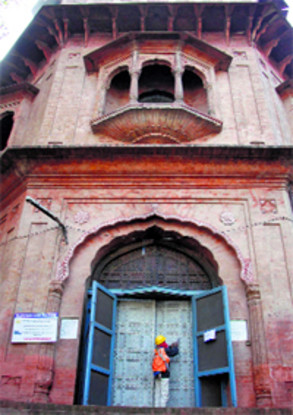 But Rahul Chaba, additional deputy commissioner, is hopeful of an increase in tourist footfalls once the restoration is complete. Rahul along with the DC has prepared a vision document (2017-2022) for the restoration of heritage buildings.
"Kapurthala district has immense historical and religious importance. While Kapurthala town is known for its structures built by the Ahluwalia dynasty, Sultanpur Lodhi has a great importance in history. It is the lack of awareness about our rich heritage, which had disrupted the tourist flow in Kapurthala. Most domestic tourists come to Jalandhar and return after seeing Pushpa Gujral Science City, the ones who come to Kapurthala turn towards Sultanpur Lodhi, without touching the municipal limits of Kapurthala town.
"Rahul is surprised that most residents of Kapurthala are unaware about its glorious heritage. "Not many people know about the Moorish mosque that has been modeled on the Grand Mosque on Marakesh in Morocco."
The restoration work of heritage buildings in Kapurthala is not only designed for the promotion of tourism, it also aims to connect the city with Amritsar tourism circuit. "We would want educational institutions in the region to organize educational tours to Kapurthala. In the later stage, we would liaison with tour and travel operators and also with the hoteliers in order to know what all it takes to pull tourists," Tayyab shares one of the points from his Vision Document.
Tourism and Culture Minister Navjot Singh Sidhu says nearly 25 heritage sites such as serais in Doraha and Shambu will be converted into wedding destinations. "Why should a Punjabi who wants to wed in style have to travel to Rajasthan or other states?"
In fact, it was his idea to include Kapurthala in the proposed 'maharaja & spiritual circuit.' The entire proposal is intended to interconnect various religious places like Sultanpur Lodhi gurdwaras with the Takhts and Rauza Sharif Dargah in Fatehgarh Sahib. "In all these places, we will have good landscaping, cafeteria and other facilities so that tourists can relax and spend some time there," says the minister who feels that tourism has not been marketed well in Punjab.
Courtesy of www.tribuneindia.com