Punjabi by Design
By Ashima Batish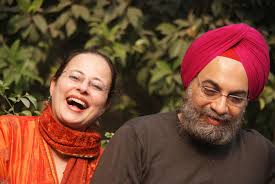 Harinder Singh and Kirandeep Kaur
Harinder Singh and Kirandeep Kaur's brainchild 1469, a brand that stands for Punjabi faith, language and humour, aims at connecting Punjabi youth to their culture
The brand 1469 stemmed from an unpleasant experience which Harjinder Singh, founder of the brand, also terms as life-changing. Had he not been mistaken for one of the Bin Laden clan, he wouldn't have thought of taking his heritage and culture to the world. Today, seven years down the line, 1469 stands for everything Punjabi–language, faith, art, humour and objects. Likewise, the merchandise under the brand name comprises much that promotes Punjabi culture and appeals to the youth.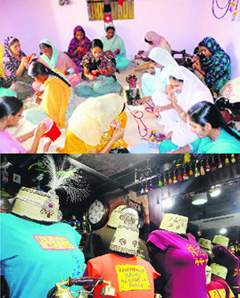 Taking a step forward, the brand has now started selling their merchandise through their online store. "Another achievement for us is that now we have centres run by women in villages of Sangrur district, which were earlier only in Samana," shares Harinder, who started with a trial run of 200 tees, which were sold out in no time, indicating the commercial potential of the product.
Harinder's partner in this venture is his wife, Kirandeep Kaur, who told him that designs on T-shirts alone were not enough to promote Punjabi culture. The obvious inclusion was then phulkari. From the staple bagh, the traditional stitch was replicated on stoles, waistcoats, handbags, folders, key chains and potli bags. "We diversified with phulkari to reach out to youth and at the same time to generate more employment for women. A tie-up with the NGO, Building Bridges India, helps us in our cause," says Kirandeep.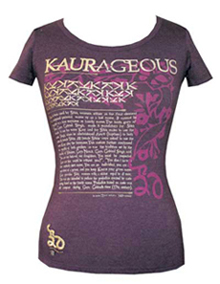 It gives a feel-good-factor to Punjabis settled abroad for sure, who takes pride in associating themselves with the Punjabi culture through such merchandise. The online store has increased the brand's accessibility. Looking back, in the first year itself, the brand boasted of a turnover of Rs 1crore. And it increased with every passing year and even when the economy is going through the slump, it touched Rs 10 crore in the last financial year. Harinder informs, "Almost 300 t-shirts are sold every day besides the very popular phulkari objects. People relate to 1469, its ideology and humour."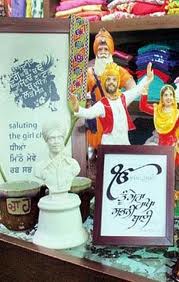 Talking of humour, the popular Punjabi maxims are used and printed both in English and Gurmukhi. Karlo Jo Karna Hai, Kidaan, Kaurageous, Soorma breaks the monotony of T-shirt designs that are common with other brands. As much importance is given to serious subjects. Till date, a favourite among youth are the Bhagat Singh tees. Chips in Kirandeep, "We gave equal importance to all categories. For that matter even art designs, which comprised tumbi, sarangi, rabab, the long forgotten musical instruments of Punjab, all in the hope that we will be able to make some difference."
Their merchandise now includes t-shirts, men's kurta pyjama, jutties, artifacts, books on Sikh history and much more. And what came as help was the couple's experience at manufacturing clothes for other brands like Marks & Spencer, Paul Smith and Whistles at their export house. As Harinder says, "We realised that people, at the most, know about bhangra and Punjabi music when it comes to our culture. There was a void, which we tried to fill with 1469," the name they chose because it was the birth year of Guru Nanak Dev and reflected their objective better. Now, with an online store, they hope to take the Punjabi culture and heritage to the world.
Courtesy of www.tribuneindia.com