Raising Our Voices: In the Indian Parliament
Speech by Sardar Tarlochan Singh, Member of Parliament, on the killing of
Sikhs in 1984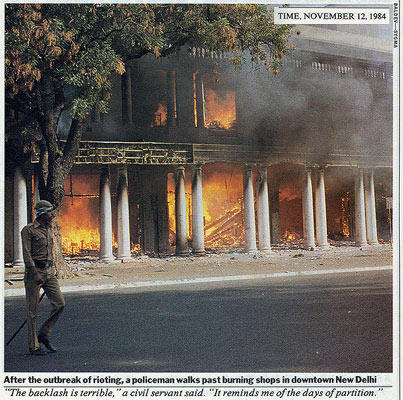 25 years ago in Delhi, the Capital of India, a great cruelty was done on the Sikhs. But the greatest amazing fact is that it happened in broad day light. During the times of Nadar Shah, for three days, a massacre took place in Delhi and then next it was in the year 1984 when it was repeated. People remember Nadar Shah till date. Whenever oppression takes place and moreover when it takes place against a minority community, all forget and tend to make excuses. When ever we try to speak our speech is interrupted in between; why it didn't happen in a particular regime? Why you didn't do then? For this these people are responsible.
In this august gathering I am here to tell what not the Sikhs have done for this country?
Guru Nanak Dev ji founded Sikhism and our present appearance is a boon from Guru Gobind Singh ji. Our history is evidence of the fact where ever oppression took place we stood with the oppressed. We have never fought a war against any religion, never were we anti Muslim, never were we anti or pro Hindu, we fought only against oppression. In history when ever India faced any distress what not the Sikhs did for it. From where did the attacks which happened against India come from? These attacks came via Punjab. Who stood against these invaders? We stood against them. For saving the country we gave our blood. About 35,000 Sikhs were massacred during the attack of Abdali, we call this incident as Holocaust. During such incidents time came that once it was declared that in India from today Sikhs have been finished; about one month after this incident, Sikhs rose again. We went to Rajasthan, Himachal and lived in forests, but when ever we were required, we fought a guerrilla war, our ladies also made sacrifices.
See the history of our sacrifices displayed in the Lahore Museum. When India's independence dawned everybody was aware of the fact that Punjab came under British rule 100 years after rest of India was occupied. Till 1849 our country Punjab was independent, whereas the rest of the country was under British rule. In the year 1849 British entered in Punjab. The first war of independence was fought by us. Not only this but those Punjabis who went to Canada, they started a revolution for independence of India as Babbar Akalis and about 25 of Babbar Akalis embraced the gallows.
There is no such movement where we have not contributed. I will give an example. In the year 1941 Badshah Khan had done agitation in Peshawar, bullets were fired. Till date the chowk is named as "Khooni chownk". The whole country was scared and an Akali Jatha went on train from Amritsar to Peshawar and stood beside Badshah Khan. From where did Shahid Bhagat Singh rise from? Where did Jallianwala Bagh happen? Give one example where we haven't sacrificed for the country?
When the country got the independence, we were offered a Sikh state. By Jinnah, all this is in records, that we will get all the rights if we join Pakistan. We would get autonomy and other regulations. This offer of Jinnah is in the records, books have been published on this. But our leader, Master Tara Singh said that what ever happens we will join India. We left Pakistan, even the birth place of, Nankana Sahib and came along with you, but what have you given to us? When the Constitution was formed our members didn't sign on it. Sardar Hukam Singh became speaker but didn't sign the Constitution. We protested, that what ever rights were promised to us by Pandit Jawahar Lal Nehru have not been included in the Constitution.
All this is in records. What ever I am saying if it turns out to be factually incorrect, I am ready to apologies for that and would correct it. What happened in the country, the whole country was reorganized on linguistic basis, but not Punjab. The movement for Punjabi Suba began. Numbers of people were martyred. About one lakh people went to jail. After lot of sacrifices, in the year 1966 Punjabi Suba came into being. Whether it was the attack of Pakistan on India or on Kashmir, it was the army of Patiala which reached Kashmir in 1948. Then the wars of 1965 & 1971 took place. Tell us what is the amount of our sacrifices in proportion to our population of 2% in Army? Count our sacrifices in the war of independence. See the plaque in Kaala Paani, about 90% Sikhs were imprisoned in the jail in Andaman & Nicobar, out of the total population of the people who were hanged in India about 80% were Sikhs. All this is one record but we are not putting values of our sacrifices. We are not asking for anything. We just want to tell that we have been patriots. We have been living for this country. But what happened to us? About 25 years ago, in the history of the world such an incident has not happened that the most sacred place of a religion was defiled by armies. Who went into the Golden Temple at Amritsar? The army of India went inside with an excuse to catch a person.
To catch one person the Indian Army was sent inside. Thousands of people in Amritsar were killed. Akal Takhat Sahib was demolished, this is in records Is this not the fact that Golden Temple Complex was demolished on the pretext of capturing a militant? In the Golden Temple complex Akal Takhat is as important to us as the Golden Temple. You demolished Akal Takhat as if you were demolishing an illegal building in Delhi city. How many people died in this? So many travelers died. The Sarovar which is our water of life was full of blood. The people of the world watched it. Curfew was imposed in Punjab which was called Operation Wood Rose. Earlier it was named Blue Star but now it was Wood Rose. In operation Wood Rose how many Sikhs youth were killed? In this house I had earlier said that there are such villages in Punjab where no wedding has taken place for last twenty years, because all the youth have been killed. No marriage party has ever gone there. So much oppression happened then. I am leaving the issue for now because the issue today is what you did in Delhi after this? On 1st, 2nd, & 3rd November, 2973 people were murdered in Delhi. The murder was of about 5000 people, but you know about Govt. figures. This happened not only in Delhi but in the whole of India
My first objection is to calling this as riots by the Minister. What are riots? Home Minister himself a lawyer. Riots take place when there is fight between two groups. Our was not a riot. Ours was what happened in case of Jews by Hitler in 1942-43 i.e. genocide, massacre, holocaust. Then it was to catch hold of Jews kill them; same thing was done against Sikhs. People were sitting inside their houses; where were the riots taking place? You got the houses marked, got hold of the voter lists, traced the houses of the Sikhs in Delhi and got them marked during night and sent goons there in the morning, did arson and burnt the houses. What has Nanavati written, about which the Home Minister has described? He said " I go on record that Sikhs were congregated at a place firstly then Police come along with goons. They beat the Sikhs, then put tires in their necks and after putting kerosene burnt them alive ". The record about which I am speaking has been corroborated by Mr. Shekhar Gupta the then correspondent, Mr. Rahul Bedi a correspondent, and by Madhu Kishwar a women leader; they have said on record that type of cruelty infected on Sikhs in Delhi has not happened not only in India but also anywhere in the world.
We speak about Bosnia: When about 8000 Bosnian Serb Muslims were killed. What happened to the President of Serbia? He is an accused in the world court? The people who had killed Bosnian Serb Muslims, the then President is an accused in the Hague court, he has been given an exemplary punishment but what have we gained? You have said that three people have been named by the Home Minister, who are political leaders? We want to get out of the rut of Tytler, Sajjan Kumar, etc. I want to state it clearly that whatever has happened in Delhi, it was with the connivance of the police. I blame the Judiciary for their silence. The amount of failure of Judiciary that has happened in case of Sikhs has not happened anywhere in the world. There is activism of Judiciary in every case, but when the Sikhs are killed then the judiciary goes silent. There is also discrimination against us. If they account the amount of killings in all the riots which had happened in India till date, our number would be double. The number of Sikhs killed would be more than any community.
Leave everything, even a gallantry awarder who fought in 1971 war, when his house was attacked, then he has to defend his house stood there with his revolver. What happened next? Then under the command of Amod Kant D C. P. the Police attacked his house, arrested him and put him in jail for defending himself. The whole of his family was murdered and Amod Kant was given a Gallantry Award by the Government. You also gave Amod Kant a Congress ticket for Assembly. Now against him Nanavati and Mittal Committee has said "he is unfit to be in the police '. He was promoted, was given a gallantry award, why was the award given? How many Sikhs were killed? In the area of a D. C. P. where maximum Sikhs were killed he was awarded. I have a report of Commissioner of Police in these riots. I had asked one question, to which answer the Home Minister had replied last week. A committee was constituted of Retd. Chief Justice Dalip Kapoor and Kusum Lata former Secretary, Govt. of India. Though 9 Committees and Commissions were constituted. The Committee gave a factual report that 52 Police officers and SHO/s were responsible. The law of the land is that if under the jurisdictional area a murder takes place then the SHO, DCP and Deputy Commissioner are responsible. Nobody has been held responsible when in East Delhi 4000 to 5000 people were killed. This report was given by Justice Dalip Kapoor and Kusam Lata Committee.; I have a copy of this report. They had recommended that there was connivance of 52 police officers of Delhi who were responsible for riots. In this report was named 4 DCP/s, one Police Commissioners Mr. Tondon, and one additional Police Commissioner Mr.Jatav. He had praised two Police officers i.e. Mr. Maxwell Pareira and Gautam Kaul for their exemplary work. I have all the names with recommendations given against them. When I had asked the Home Minister what was the out come of Kusam Lata Committee. In reply he had read the report. This is the justice we had got. 39 inquiries were conducted by the department and police, out of these in 36 accused were exonerated. Warnings were issued to three, only three persons and 13 officers who have since they have retired the murder cases are closed against retired in this country! The law of India says since the person has retired no action can be taken against him; this is what was in the written reply given by the Home Minister. This means all the Police officers who were conniving with culprits, were not only witnesses but supporters in our massacre in Delhi. They used to take the mob in government owned DTC buses and they used to watch mutely. You gave warning to the three Police officers. They are now giving answer that as they have retired, there is no law to prosecute them. Brothers I am stating before you, we are all from villages. It is clearly stated what would be the role of Police administration and under IPC where crime takes place. But when the turn of the Sikhs came all the law finished. I have brought articles written by Mr. Vir Singhvi and Khushwant Singh, the two eminent journalists of the country. My Yechury is sitting here; I have also brought an article written by him. They have written that what ever happened during that period, the Government and the ruling party of that period were fully involved in it, Brothers, may the then Prime Minister who resides in heavens, when complaints were made to him he said "When a Big tree falls the earth is bound to shake". Why didn't this earth shake when Mahatma Gandhi was murdered, how many Mahatmas were murdered in the country. Because the murderer was a Marathi? When Rajiv Gandhi was killed, how many Tamils were killed? Why were the Sikhs victimized? Why the tree had to fall only on Sikhs?
Numbers of Members have still to speak on this issue. Last week the Speaker had allowed this issue to be raised in the Lok Sabha. Harsimrit Badal had told the details in that house. I am thankful to Chairman and Deputy Chairman for allowing the discussion for the first time after 25 years in this house. We were not allowed to discuss the issue earlier and even a motion on this was dissuaded in the Parliament.
Today we have been allowed and all the members will put their views across. Our only appeal before you is that what was the fault of the Sikhs? Why have you targeted a community who is wearing turban? Turban wearing Sikhs who were in Army were taken out of trains and killed. I asked a question from the Government on this but was told as it was a serious matter we can not tell you. How many people serving in the Defense services were killed after being dragged out of trains? No figures were given. Sikhs were put in the furnaces of Steal plants, how many were killed? 300 Sikhs were killed in Kanpur, also in Ranchi; the list of the Sikhs killed in the whole of the country was not given by the Government of India. Leave this aside, why the trains were stopped in the outskirts of Delhi? 46 trains were stopped to search for Sikhs. The Sikhs were taken out and killed. All the trains from Ghaziabad to Delhi had blood of Sikhs on them. Nobody stopped this killing nor was any Police force sent there. The forces were not made available. Nobody considered about sending a force and rescuing the Sikhs.
I remember that the leaders of Delhi, Air Chief Marshall Arjun Singh and Gen. Arora went running to the office of Home Minister and urged him to rescue the Sikhs as they were being killed in trains. But he said he was busy, as they were busy with the funeral of Mrs. Indira Gandhi. For these days the preparations of funeral went on and the Sikhs were being killed. Nobody was sent for rescuing and securing them. Why the army was not sent? There is Delhi cantonment area about one lakh army is stationed here, army can't come to Delhi from there; the army would be called from Meerut. But when the army came it was given order not to shoot. They were ordered to hold flag march and not to shoot. Brothers, check the records, not one bullet was shot by Police or the Army. Tell us if you have killed any murderer. Then they say what could they do, what all is being done, is done by the courts.
Nobody was hanged for the murder of 6,000 Sikhs. You have not held responsible but have absolved the Lt. Governor, Police Commissioner, Dy. Commissioner, DCP and all the leaders. Delhi was controlled by Central Government it is your territory. The Government of India was responsible not the State Govt. We have been told that the President and Prime Minister of Serbia are accused in the Hague court. Who has been made accused in the courts of law of our country? We are not interested that the constabulary be sent to jail. We want a clear answer who conspired for the killings and where was it done? Who gave the slogan "Blood for Blood"? Our sister Hon'ble Minister for information is present here, the radio was broadcasting every day that Sikh guards have killed Mrs. Indira Gandhi. Everyday it was said that Sikhs have killed Mrs. Indira Gandhi. It was as surprising that the Radio which was under Government was encouraging. It was encouraging that people should rise and kill the Sikhs. Our only fault is that after leaving Pakistan we have come to you. Today in the court of world our appeal is that there is a convention of U.N.O., our demand is that the Supreme Court should set up a mechanism under Article 2 of the UNO convention on genocide and Article 7 of International criminal court of crimes against humanity. The Supreme Court of India should come forward under this Act; otherwise the judiciary would be equally responsible. Today standing here I am saying that we don't have faith in judiciary.
If similar incident happens in another State then everybody is discussing about the activism shown by judiciary, but what has happened in our case? For one encounter an I.G. of Police has been sent to jail, but here 6,000 Sikhs were killed but not even a DCP has been jailed. Please tell us for how long we have to wait? Recently the govt. of the country had said that as 25 years have passed, forget it.
Brothers, in Sikh religion in our daily prayer and Ardas we read our historical record. In our Ardas we mention about all the atrocities committed against us when and where. This is the part of the Ardas which we memorize. It has become deeply embossed in our hearts that the government has not done justice with us for all the atrocities of 1984 at Darbar Sahib and in Delhi. We ask for justice. In the other house, Hon'ble Advani ji had given a proposal that a Parliamentary Committee be constituted which would look at all the lapses. When the Police has not written F.I.R's then which court would give us justice? All the Parties are represented here, I appeal to all the Parties that you all constitute the committee. The whole of the House is assembled, I want to make this clear that even if it takes 100 years the Sikhs will not forget this, please listen to our appeal. We are ready to do anything for the sake of the country and sacrifice our lives for the country. Wherever you send us we go; I ask for justice from you. That is why I am standing here.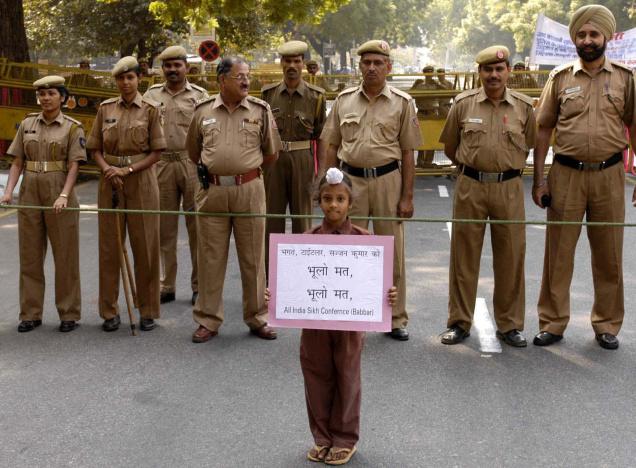 We are not against any individual; lot of people of Delhi helped us. There are stories of how neighbors helped us. Your people also helped us. I say that we got lots of individual help but who brought the goons? Organized gangs came, who brought the kerosene, who gave them all these things? I am clear, still you have time, you should take this in seriousness about who supplied the material assistance to the gangs. The CBI has asked permission from the government for Sajjan Kumar, but the government is not giving permission for prosecution so that the trial should start. I am surprised you have made an accused a Minister. It is all in history how those who were involved were given tickets and how they were cancelled. The Home Minister is witness to it as to why tickets were withdrawn against those culprits, to whom the Congress Party had given tickets but were cancelled in the evening; as such an incident happened about which I don't want to elaborate here. Do you listen only after such incidents? Do we do such things? No we are peaceful and live peacefully. We demand justice.
I am sincerely thankful to you for the time given to me to speak. The rest of the things would be told by my colleagues. I again appeal to you that this issue will not die. If you think we would forget; we are not going to forget. This is above party lines; this is not an issue of one community. This issue concerns all peace loving people in the world. This is a humanitarian question. This should be dealt in the way as I have explained.
Thank you!
Note: translated from Original Speech in Hindi