Remembering Khushwant Singh – Rare Pictures and Tributes
Khushwant Singh – A Celebration in Delhi
By Dr. Mohinder Singh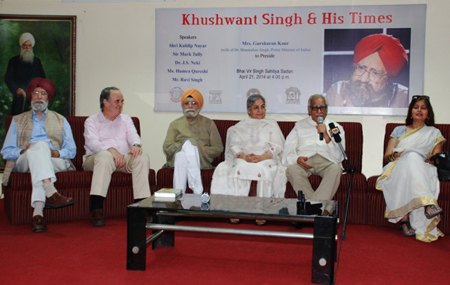 Bhai Vir Singh Sahitya Sadan, New Delhi, a premier literary and cultural centre in the national capital, Delhi, organized a function to honour the memory of S. Khushwant Singh. Mrs. Gursharan Kaur, wife of Prime Minister Dr. Manmohan Singh, Khushwant Singh's journalist friends Sir Mark Tully, Sh. Kuldip Nayar, Ms. Humra Quraishi, eminent Sikh scholars Dr.J.S.Neki, Dr. Raghbir Singh and Dr.Mohinder Singh, S.Jatinder Bir Singh Randhawa, Chairman of the Punjab & Sind Bank, S.K.T.S.Tulsi, Member of the Upper House of the Indian Parliament, and others shared their reminiscences about Khushwant Singh. Describing her family's long association with S. Khushwant Singh Mrs. Gursharan Kaur mentioned how he had become a legend in his own life-time. During the memorial function which was joined organized by the Sadan, Punjabi Academy, Urdu Academy and the National Institute of Panjab Studies, was attended by academics from different parts of the country, friends and admirers of Khushwant Singh, messages from his old friends Dr. N.S. Kapany, Syed F.S. Aijazuddin and Dr .I.J. Singh were also read during the function.
Tributes to Khushwant Singh:
Remembering Khushwant

By Dr. N.S Kapany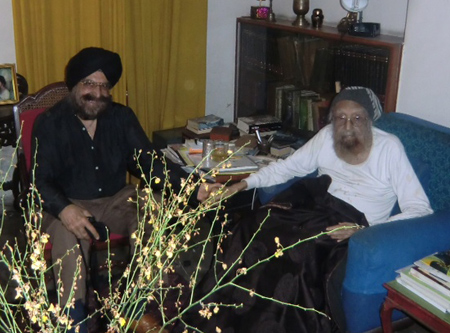 Khushwant Singh at his home with Dr Narinder Kapany 2012
Khushwant Singh was a genius and when a 99 year old friend expires, then with deep sorrow one must be thankful for his blessed existence. We should always remember his numerous contributions, be thankful for his humanity and laugh at his humor -which is priceless.
His contributions to our community are outstanding. His return of the Padma Bhushan (India's highest civil award) to the Government of India, after the 1984 attack on the Golden Temple at Amritsar, is an example of this commitment to the Sikh community. His outstanding translations of Sikh scriptures and his numerous books including – The History of the Sikhs, Train to Pakistan and How the Sikhs Lost their Empire will live forever. His major contributions to the Pingalwara Society run by Bhagat Puran Singh at Amritsar show his commitment to the upliftment of humanity.

Dr. N.S Kapany
I first met Khushwant Singh in the 1950's when he was at the Indian Embassy in London and I was working on my PhD. at Imperial College. In 1967 I received the Watumull Award given by Indira Gandhi in Delhi and Khushwant's parents gave a dinner for us. I also met Khushwant when he was the editor of The Illustrated Weekly in Bombay. In the last number of years, at the behest of Arpana Caur and Rahul Singh, I have visited Khushwant on every visit to Delhi for a couple of drinks. On my last visit with him in March 2013, as always, we exchanged views and indulged in hilarity. He strongly recommended that I should write my biography – something that one day I will seriously think about.
But dear Khushwant, we shall always admire you and cherish our long association with you. You are blessed for the beautiful person you were.
---
Remembering Khushwant Uncle

By Arpana Caur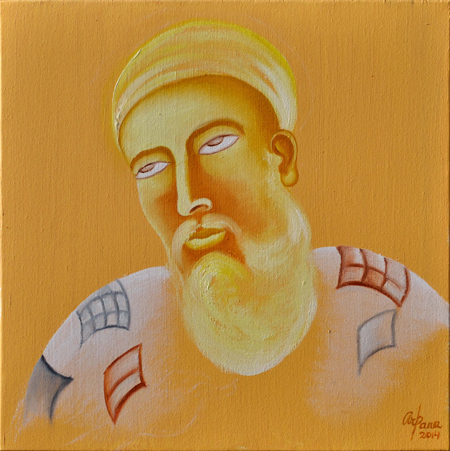 Guru Nanak Oil on Canvas by Arpana Caur
Uncle Khushwant went yesterday after a friendship of 4 decades with my mother who made him President of her Academy and consulted him frequently except in the last 2 or 3 years, not wanting to trouble him with our troubles. I knew he loved us, missed us when there were gaps in the visit, allowed us to come in the forenoon knowing we hardly step out in the evening in his 7 to 8 slot. Every 2 or 3 months he and Kanwal Aunty came for a meal 'with only 2 things' leaving at sharp 9 and always the bones taken away for his cats, never once did he forget them. Such was his generosity that 34 years ago when he heard I was showing in Bombay for the first time he quietly shot off letters to all the journalists he know (Busybee, Shobha De etc) that Arpana who was like his daughter was showing. I had an avalanche of write ups including the cover story of 'Bombay' magazine. Coverage for the arts was so scanty that I did not know what had happened till one of those journalists told me. At the release of 'Hymns of the Sikh Gurus' at the Meridian — years ago, he said from the stage 'Call her, she must be hiding at the back, this is her book not mine'. That was the kind of grace he was endowed with like our Ramuji. Two feet above his head hung the Nanak that Mala had asked me to do for his surprise birthday present last month as he lay perfectly peacefully, with his usual glow and innocence and as I lifted his head from his pillow for the last turban to be tied I knew that was one of the most precious heads (and hearts) of our century.

Arpana Caur
Never will I be able to pass Sujan Singh Park easily without a void in my heart.
Arpana Caur
Click here for Arpana Caur's Biography.
---
99 – NOT OUT

By F.S. Aijazuddin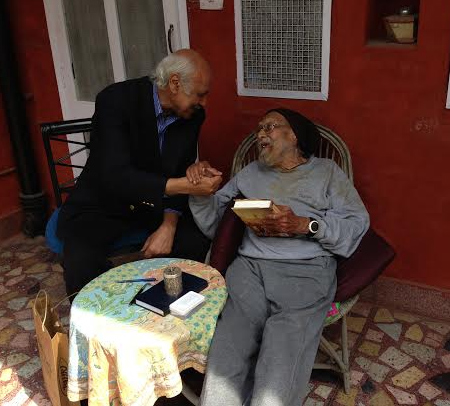 F.S. Aijazuddin with Khrushwant Singh together on 4th March
To get a measure of Khushwant Singh's life (he died on 20 March 2014, at the age of 99), one needs to remember that when he was born in 1915, the First World War had just begun. And if one goes back another 99 years, to 1816, Maharaja Ranjit Singh was still on the throne of Lahore. Khushwant Singh managed to telescope through his writings that two hundred year gap into one seamless narrative of Punjabiat.
Throughout his life he regarded his birth-village of Hadali (now part of Pakistan's Punjab) with inordinate affection. He felt it qualified him to be a Pakistani. When we last met on 4 March, a fortnight before he died, he told me: 'You know that I am a Pakistani by birth and at heart.' I replied: 'You are a better Pakistani than most of us.' He laughed: 'I have told them I want to be buried in Hadali.'
I had gone to see him, as I tried to do whenever I was in New Delhi, in his ground-floor flat in Sujan Singh Park, near Lodhi Gardens. This time, it was to present him with a copy of my latest book The Resourceful Fakirs: Three Muslim brothers at the Sikh Court of Lahore. His attendant Bahadur told me that Khushwant was resting but if I was to leave my telephone number, he would call me and let me know if Khushwant could receive me.
The next day, rather than waiting for the call, I went to the flat of his daughter Mala Dayal (she lives in one opposite) and had coffee with her. Just after midday, Bahadur rang. Mala led me across the hallway into Khushwant's flat, through the dining room into the rear verandah. Khushwant sat in a wicker chair, his legs outstretched in the sun, the rest of his body in the shade. He wore a grey track suit and had a black woollen cap on his head. I noticed some biscuit crumbs caught in his beard.
Mala reminded him who I was. He recognized me within a second. I gave him my book. 'Inscribe it for me,' he said, adding after I had done so: 'Now write it in Urdu.' He demonstrated (as if I could ever forget) his mastery of Urdu and Persian by reciting a couplet of Iqbal's. 'You know that I am 99 years old.' I replied: 'May my years be added to yours.' He looked up at me with the softest expression, and said: 'No, but may you live as long as I have.'
I held his hand, the hand that had spent a lifetime writing books and inimitable articles, and kissed it. He brushed his cheek with mine. Both of us knew that it was a farewell. I left and stood on the gravel outside, recalling our first meeting on 21 August 1978.
I had gone to show him my first book – Pahari Paintings and Sikh Portraits in the Lahore Museum – which had just been published, and to discuss my second Sikh Portraits by European Artists, still in the press. Khushwant Singh gave me his study on The Fall of the Kingdom of the Punjab which covered the same period. He inscribed it 'with much affection'. That affection remained undiluted and undiminished throughout the ensuing 35 years of our association.
For me as a student of Sikh history, Khushwant Singh's academic achievements stand like some Uluru/Ayers Rock in the landscape of his life. His more popular works – his articles, short stories, novels, compendia of jokes – gained him more fame, hopefully fortune, certainly notoriety, but none yielded him the stature that I believe he deserved as a serious writer.
The opening lines of arguably his most famous novel – Train to Pakistan – reveal Khushwant's Singh's formidable powers of description and at another level the intensity of his feeling for rural roots. This bonding revealed itself in many ways, often unexpectedly. On one occasion, he stunned his Pakistani audience during a Manzur Qadir Memorial lecture at Lahore in 1989 by declaring that before Mohammed Ali Jinnah became the Father of Pakistan, he was the Son of India. No one but Khushwant Singh would have shown such provocative mischievousness, and no one else would have been able to calm and then conciliate his audience with the fire-extinguishing speech that followed.

F.S. Aijazuddin
After my last meeting with Khushwant Singh, Mala called to say that he wanted to write on my book in his next column. That explains why many mourners noticed the copy I had given him lying by his bedside.
He has been cremated in New Delhi. His family has agreed that some of his ashes may be brought to Pakistan, for burial as he wished in his birth-village Hadali. The son of Punjab will be returned to its soil. © F.S. Aijazuddin
---
Khushwant Singh : Cassandra With News Good & Bad

By I.J. Singh
Khushwant Singh, modern India's defining man of letters has never been easy to define.
Was he a good Sikhs deeply steeped in its tradition, history and literature as many Sikhs and non-Sikhs think of him or was he more in league with the devil, or at the least a self-hating delusional man not on the side of the Sikhs?
Was Khushwant Singh a political opportunist? Was he the sycophant of Indira Gandhi and her son Rajiv Gandhi that he often appeared to be? (The son succeeded the mother after her assassination in 1984 and was soon assassinated himself, but not by Sikhs.) Khushwant spent many a gallon of printing ink in his feckless defense of Indira Gandhi and her demonic policies against Sikhs around 1984 and earlier when she suspended the Indian Parliament and ruled by fiat.
Or was Khushwant Singh the rare but independent minded and fearless representative of the fourth estate? He returned the honors bestowed on him by the Indian government in protest of its genocidal anti-Sikh program. And he equated the position of a Sikh in the India of 1984 to that of a Jew in Nazi Germany. And yet he continued to defend Indira Gandhi and her warped view of power and its rampant misuse.
He was all these things and more.
Khushwant Singh was neither a theologian nor an academically trained historian. Trained as a lawyer in Britain, he abandoned the pursuit of law after a brief uneventful stint and earned his stripes as a journalist and popular writer.
Yet his two volume history of the Sikhs won deserved kudos and international academic recognition.
His translations of selections from the Guru Granth rank among the best, as does his 2-volume History of the Sikhs, and yet he has continued to flout Sikh norms and practices publicly.
Countless Sikhs, including this author, found inspiration in his writings and just as many castigated him and refused to even list him among the Sikhs. Yet, I cringed at some of his pronouncements.
About 40 years ago he had caustically suggested that by the turn of the century there would be no Sikhs left in their present form. Was it blasphemy, stupidity, callousness, or merely a slip of his eternally and thoughtlessly wagging tongue? Or was it a deft challenge to Sikhs worldwide to explore their beliefs and practices, delineate them, and make them their own. Was he daring Sikhs to do what the Gurus had dared many other non-Sikhs of the day to do – examine the self. What are we, who are we and why are we the way we are?
If it was Cassandra's call it worked as intended for Sikhs are still here – almost in better shape than they were in then, and marking their presence all over the globe.
Khushwant Singh took over the stewardship of The Illustrated Weekly of India, as its Editor, at a time when the venerable magazine was floundering and its readers were abandoning it in droves, faster than rats desert a sinking ship. But magically in a trice he had transformed the staid weekly into a glorious, trendy magazine with a come- hither look. It highlighted serious analysis, political news from the around the world, pictures galore, games and humor – a collection that few could resist. It became India's most popular weekly in English for which readers waited anxiously.
A widely read man who became India's preeminent voice in English literature, Khushwant Singh produced erudite commentary and insightful prose but one finds his stamp on the bawdiest humor as well. His output of publications – books and essays – is staggering and he remained, commercially, perhaps the most successful Indian who chose to write in English. He authored 85 books.
Of the many imageries of death that Guru Granth provides the one that I believe fits Khushwant Singh to a "t" is of death as the completion of a mission and of life's work.
Khushwant Singh lived a full life, productive and intense. His body of work is beyond impressive. It encompassed gurbani translation, Sikh history, critical essays on Indian and global politics, fiction and what I would charitably label adolescent humor. For years he wrote five columns a week that were syndicated widely throughout the vast land that is India.
His widely circulated column With malice Towards One and All remains a marker of his puckish humor, laser like sharp vision and insight into human and societal foibles. If words can cut then his were sharper than a lancet.
Soon after the cataclysmic partition of India into the two free nations of India and Pakistan, Khushwant Singh produced the classic novel Train to Pakistan that still remains a moving, poignant testimony to the brutality of the partition and its impact on the lives of millions of Hindus, Sikhs and Muslims. Sixty years later the gut wrenching appeal of this classic novel remains undiminished. It was and is a benchmark.
His relationship with all things Sikh or of Sikhi remained that of an adolescent – of boundless love and energy but when on display that connection to Sikhi was unmistakably leavened by an ocean of angst and mistrust.
From the Sikh point of view his translation of the foundational scriptural writings in Guru Granth – Japji Sahib – remains his cardinal achievement. He also collaborated with four other lamplighters of Sikhi – Tarlochan Singh, Jodh Singh, Bawa Harkishen Singh and Kapur Singh in assembling and creating an English translation — the UNESCO sponsored Sacred Writings of the Sikhs. Widely reprinted since its original publication in 1966, it remains the gold standard of translation that captures both the poetic genius of the writings but also their import and meaning. Admittedly its language appears somewhat dated but even now almost half a century later this small book conveys the magic and the majesty of Guru Granth as none other.
Khushwant Singh remained a man of many parts, some at war with each other. Walt Whitman framed the question directly, "Do I contradict myself" and the only possible answer lay in the next words, "Very well, then I contradict myself." This to me was the spirit of Khushwant Singh.
Khushwant Singh died at 99; well beyond the four score that are theoretically promised us.
Shooting from the hip a la cowboys seemed to be his style. But his words were well honed and sharpened weapons, carefully chosen for the duel at hand.
The man is silenced by time but his work remains. He will be missed and he will be celebrated. Warts and contradictions all.

I.J. Singh
The Internet offers a complete listing of Khushwant Singh's major writings.
Dr. I. J. Singh has written a thoughtful series of essays on issues and problems confronting Sikhs at the turn of the millennium. He has published five books. I. J. Singh was born in Gujranwala, and educated in India at Simla and Amritsar and in the United States at the University of Oregon Medical School and Columbia University. At present he is Professor Emeritus of Anatomy at New York University.
Read more about Khushwant Singh
How To Live & Die by Khushwant Singh
Sikhs Today by Khushwant Singh – Feedback from Khushwant in our Opportunities & Challenges for Sikh Academics Series