Rubbing Shoulders With a Lord by Dr. Gurnam S.S Brard
My impressions of meeting Lord Indarjit Singh of Wimbledon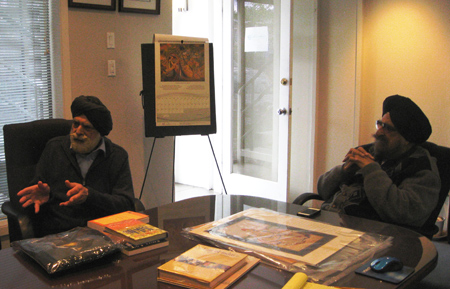 Lord Indarjit Singh making a point with Dr. N.S Kapany
A commoner may not have the opportunity in a lifetime to meet even someone merely knighted, whose title is "Sir", but the title of "LORD" is in entirely different dimension for my mind.
So, when Dr. Kapany invited me to the Sikh Foundation meeting and luncheon in Palo Alto to meet Lord Indarjit Singh of Wimbledon, U.K., I did not want to miss the experience.
Would I expect this lord to be perhaps pretentious, a show-off, with the tendency to look down on ordinary people?
What I found was a kind, concerned man of high principles and spiritual leanings, dedicated to promoting goodwill and understanding between people of various backgrounds and faiths.
The Sikh Foundation meeting that day involved explaining to Lord Singh the various activities of the Sikh Foundation ranging from setting up and supporting the several professorship Chairs in different universities; the exhibiting of Sikh art in museums in San Francisco, New York, Washington, D.C., Santa Barbara & Fresno; conservation projects like Guru ki Maseet; the annual calendars with various Sikh themes; the web page and the electronic newsletter;supporting Gurmat education for school children in Punjab; publications of numerous books on Sikh Art & Sikhism etc.
At the luncheon, we had the opportunity for other questions and answers, and to ask Lord Singh about his early life and the process by which he acquired his title.
We learned that Lord Singh was born in Rawalpindi, Punjab in 1932 and in 1933, he was brought by his parents to England because his father, a doctor, found it difficult to function in India because of his political activities for the freedom of India from the British rule.
Following his education in England, he became a mining engineer. He returned to India to work as an engineer. Later he came back to the U.K. and worked for the National Coal Board in mining and civil engineering and for other private enterprises.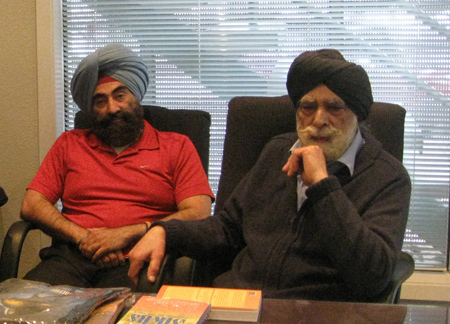 Lord Indarjit Singh with Dr. Ratinder Singh Ahuja
Apparently, it is his communication skills, journalistic abilities and his dedication to community service that determined his future course.
His ability to communicate thoughts and ideals, found an outlet through B.B.C. Radio broadcasts(for example, the frequent "thought for the day" broadcasts) and through British and overseas newspapers, including The Times, The Guardian, and The Independent.
He is the editor of the Sikh Messenger. His work in civic matters has been notable, not merely as a member of the Sikh community, but in interfaith service as well.
He served in the Commission for Racial equality, Home Secretary's Advisory Council on Race Relations, and as the Director of the Network of Sikh Organization.
As a mark of his prominence, he was invited to the wedding of Prince William and Kate Middleton as a representative of the Sikh community.
Of all the honors and titles he has received, the "Order of British Empire", "Commander of British Empire" and finally "Lord" in 2011 are particularly worth mentioning.
We asked him how he became the first Sikh with a turban to acquire the title of "LORD". He said he did not want to be beholden to any political party that could have sponsored his ascent, because that could involve some compromises. He went in as an independent (Crossbench in British parliamentary parlance) and there were other Lords who supported his candidacy.
We also asked him what actions are the highest needs for the Sikhs at this time. He said that it was important to make it easy for the Sikh youth to participate in the Sikh practices and activities.
He thought that the exclusive emphasis on Punjabi language may leave out many otherwise interested Sikh children, and the youth should be included with the best efforts and with the current conditions in mind.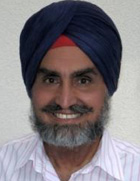 Dr. Gurnam S.S. Brard
Well, I was satisfied with my experience of meeting Lord Singh. He is a lord for the modern times and with the Sikh spirit of high ethics and selfless service to mankind.
Dr. Gurnam S.S. Brard is a nuclear physicist and the author of the book "EAST of INDUS", about life in old Punjab. He is an avid marathon runner & skier. He spends his time between Lake Tahoe and San Francisco. He can be reached at tel: (510)652-5150