Sikh Veteran Who Fought Legion Over Right to Wear Turban Laid to Rest in B.C.
Retired Lt.- Col. Pritam Singh Jauhal, a decorated Second World War veteran who also fought for the right of Sikhs to wear turbans inside Royal Canadian Legion halls, was laid to rest in Surrey, B.C.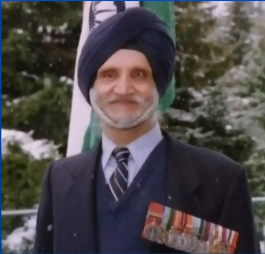 "I can assure you there is no way I would be the minister of national defense if it wasn't for Lt.-Col. Pritam Singh's education in Canada and around the world," Defense Minister Harjit Sajjan said at the funeral.
Jauhal, who served alongside Allied Forces in the Second World War as a member of the Indian Army, died on June 26. He was 95.
A fighter both on and off the battlefield, Jauhal made headlines in 1993 when he challenged a Royal Canadian Legion rule prohibiting the wearing of hats and headgear inside its halls.
A devout Sikh, it would have been sacrilege for Jauhal to remove his turban. In his fight – which saw the Legion issue a formal apology – Jauhal even sent a letter to the Queen.
"He was very resolute when it came to matters of principle and coming to the defense of the vulnerable," Ajit Mehat, Jauhal's son-in-law, told CTV Vancouver.
Born in Punjab, Jauhal moved to Canada with his wife in 1980 to join their children, who had immigrated earlier.
Courtesy of www.ctvnews.ca