Sikh Women's Conference at University of California Santa Cruz
By Pummy Dhanjal-Sehmbey, M.A.
UCSC campus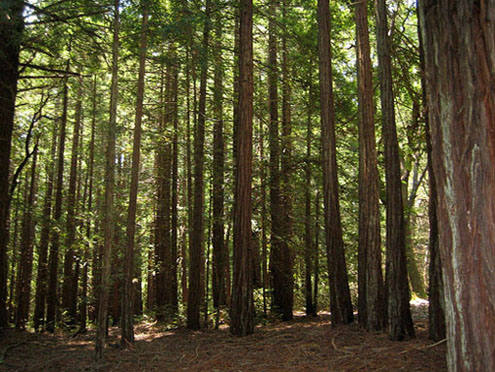 UCSC campus
Beneath the tall redwood trees at the UCSC campus on a warm Saturday morning in January, Sikh students held a conference on The Sikh: The Feminine, The Activist. The objective of this conference was to "present the Sikh perspective of these two themes, to discuss the Sikh tradition and perhaps even outline what a Sikh's role is as an activist, and what a woman's role is as a Sikh… the discussion focused on the Sikh perspective of the feminine and the feminine role in Sikh devotion, as well as what Sikh tradition exemplifies about the struggle for justice," says Japneet Kaur.
Members of the Sikh Student Association believe that "the reason these topics are so essential to an open, collaborative discussion is because many of the issues and personal struggles that plague Sikhs today, especially of the younger generation, center on these themes. Many young Sikhs face issues that can be classified as feminist struggles, or activist struggles – indeed, they identify more and more with such labels – and are often disappointed when they perceive that Sikhi does not have the answers they seek, that Sikhi is, perhaps, outdated, or not at all 'in line' with the themes vital to us."
Invited speakers included Dr. Nikky Guninder Kaur Singh, Dr. Jaideep Singh, and Dr. Seema Kaur Sidhu with her daughter Amrit Kaur Sidhu. Dr. Nirvikar Singh, Chair of Sikh and Punjabi Studies and Professor of Economics at UCSC was also in attendance.
Dr. Nikky Singh is the Chair and Crawford Family Professor of Religious Studies at Colby College in Maine. She has published expansively in the field of Sikhism and lectures worldwide. Her presentation focused on the feminist hermeneutics of Sikh scripture.
Dr. Jaideep Singh is Assistant Professor of Ethnic Studies at California State University, East Bay. He is also the co-founder of SALDEF, the Sikh American Legal Defense and Education Fund. Dr. Singh discussed issues facing the Sikh American community and presented his research on the racial and religious bigotry that followed the 9/11 attacks. He is an activist and focuses on community outreach.
Dr. Seema Kaur Sidhu is the United Sikhs Regional Director for Community Empowerment and Education and Business Development. She works with Sikh youth in promoting health awareness, empowering new youth leaders and engaging them in education and social justice initiatives. She is also a practicing obstetrician and gynecologist in San Jose. Her daughter, Amrit Kaur Sidhu is a United Sikhs intern and UCSC graduate. Together, they described the four dimensions of social justice in Sikhism. A vital question that highlighted their presentation was one that we should ask ourselves: "How am I, as a female Sikh, a continuation of the spiritual awakening and social revolution that began with Guru Nanak?"
The Sikh faith is "committed to the equality of women, and necessarily so, as it defines God as gender neutral, perhaps one of the few major world religions to do so. There is no activity in a gurdwara or within the community that is permitted to a man but not to a woman. There is no religious function from which women are barred at any time of their lives."i While this is the Sikh religious view, in the gurdwara, women are not allowed to become Granthis (priests) and are considered unclean to perform certain religious rituals. The practice of the Sikh religion appears to discriminate against women. A few of the students expressed that "it is hard for them to understand why our sons will be treated different from our daughters, how we feel about that, does it make sense, and do we agree with it?" We do not practice the equality that is at the heart of the Sikh faith.
The conference provided an in depth view of the role of Sikh women. Dr. Nikky Singh shared that quite often, we as women are told that it is "tradition" that women are allowed to certain things and not others. Dr. Singh challenges us to ask those that tell us otherwise to show us where it is written in scripture. "It is not written anywhere," Dr. Singh shares. This is important for all of us to know. The presentations were informative and provided students and attendees a chance to question the speakers and engage in progressive discussion.
Japneet Kaur says that the Sikh Student Association members "hope that people question their own understanding and behavior in relation to these themes – activism is not only becoming a martyr, but can even mean standing up in their own family's living room to contest misguided views held by one's own family, or reaching out and aiding another in a struggle for rights, for equality, for necessities, even if that person is not directly connected to oneself. Feminism is not just a woman's fight to secure alienated rights for herself, nor are women the only ones who can be or are feminists. It is also our hope that those young Sikhs who are growing more and more disappointed with 'Sikhi' may be able to question their own thought processes and come to the understanding that anything is open to a myriad of interpretations, and not every interpretation is right for everyone. That Sikhi has never become obsolete relative to our lives and struggles, that no matter what our struggle or our goal, the answer can always be found if we turn back to Guru Granth Sahib Ji. Perhaps the roop, or the face, of the struggle has changed over time, but the struggle itself remains constant across time. Our perspectives change, and another purpose of this conference is to bring to light different perspectives and challenge preconceptions and especially motivate youth to turn back to the Guru to find answers, to seek guidance, and for understanding, because our 'modern' struggles are not outside of the Guru's understanding or teaching."
According to Damanjit Singh, "This conference was a revolutionary event. The UCSC Sikh undergraduate students organized this event. We raised funds and invited scholars to have a dialogue that is relevant to Sikhs. The topics are very relevant through the Sikh tradition and are relevant to members of the Sikh Student Association today."
Another UCSC Sikh student, Harbir Mahal, shared, "I feel joy and happiness that we had this conference at UCSC which focused on women in the Sikh religion and addressed oppression. Dr. Nikky Singh's message was inspiring. The speakers shared similar ideas. The Sikh Student's Association at UCSC has a small presence, but I now feel we are being heard by the larger Sikh community."
Jonathan Cho, a UCSC undergraduate student "decided to attend this conference because it was about social justice. It addressed issues within the religion. There was an intersection of different issues/topics, idea of social justice within a community, immigration, race, and politics. The different speakers offered unique perspectives. It offered a cultural analysis as well as a cultural/religious perspective that touched the universal idea of creating social justice."
Navdeep Kaur, a member of the Sikh Student Association at UCSC, feels that the "Sikh youth and adult Sikhs need to pick up on their own words and put actions with them. The Sikh gurus emphasized us to do this. We are taking the Guru's principles only as words, but we are failing to live those principles. Let's understand our history and Gurbani so that we can start to live it as our Gurus did, and only then will others' know what Sikhi is."
Hip hop artist Mandeep Sethi's music and lyrics added an artistic dimension to the conference. He has a unique talent in connecting with the 'human community'. Although fast paced, the lyrics were well thought out and enjoyable. Mandeep's effort in producing meaningful pieces was creative and lively. He was later joined by Damanjit Singh on the dilruba musical instrument to merge their eastern and western musical talents. The music they chose to share happened to be in Raag Bhairavi, the Raag for the Goddess, which was a serendipitous selection for this Sikh women's conference.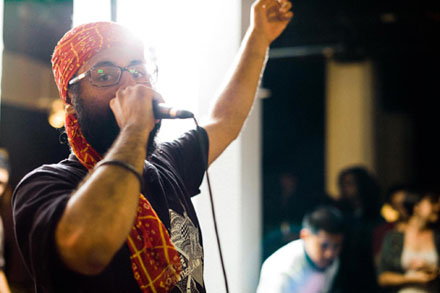 Mandeep Sethi, Hip Hop artist. Photo courtesy Made by KG
Mandeep shares "I have learned a lot at this conference. In my family, it was my mother who encouraged my brother and I to be active members of our cultural and religious community. My mother protected our culture by making sure her children were fully educated about our history and traditions. My father had to endure a border-crossing struggle that many immigrants of the 70s and 80s can relate to. I believe that it is the man's responsibility to stand beside the woman. In our culture and history the woman has protected her family, protected her community, and protected her religion just as much as any man has."
Nisha Sembi presented another creative facet for communication at the conference. Nisha states that "art can be used for social change". A piece, such as the painting of the Sikh woman Nisha painted during the conference, "serves as a voice and makes a silent statement" in a much louder manner. Nisha encourages us all to pick up a paint brush and create our own masterpiece and make a statement that is important to us.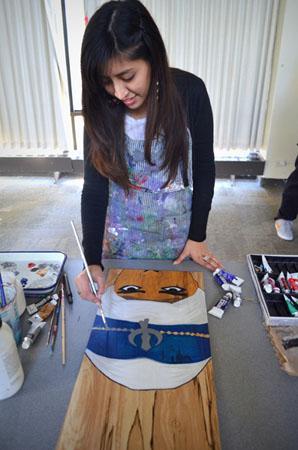 Nisha Sembi paints during the conference. Photo courtesy Komal Kaur
A member of the UCSC Sikh Student Association, Japneet Kaur, hopes "above all that the presentations (both the panel of speakers and the artists) will guide attendees toward introspection, toward inwardly and personally addressing their own ideas and responses to their surroundings. When it comes down to it, these two issues can be seen as foundations, as the roots of our spiritual growth – without this fierce feeling in our hearts that no one is above or below another, that everyone deserves an equal opportunity, equal respect, and that it is our duty if we place our faith in the all permeating divine, to join hands with and see ourselves in each other, the other necessary feelings of shardha, of humility, of devotion, of discipline, and of simplicity will be hard to come by."
The vision and organization of the Sikh students at UCSC is commendable. They took the initiative to bring attention to aspects of the religion that concern them and have addressed them with a larger audience of peers and mentors within the Sikh community. While the Sikh religion is dedicated to the equality of women, we often do not practice the equality that is at the heart of being a Sikh. It is through continual dialogue and reflection on our religious and social values that we can come to a better understanding of ourselves. In this manner, we can create a greater understanding of Sikhs by our global community. An evolution in the social interpretation and practice of the Sikh religion may be necessary in order to accommodate the diverse needs of our Sikh youth. It would serve us well to guide them in this transformational journey.
The students independently raised two-thirds of the funds required for this conference. They were graciously supported by their community. The Sikh Student Association would like to thank and acknowledge the following sponsors for this event: Sarabjit Singh Aurora Endowed Chair in Sikh & Punjabi Studies, Crown College, Stevenson College, Porter College, Oakes College, College Eight, College Nine, College Ten, Chardi Kalaa Foundation, Dr. Ajit Singh, Mr. Sukhdev Singh Bainiwal and Mrs. Sarabjit Kaur Cheema.
Mandeep Sethi can be reached at www.mandeepsethi.com
Nisha Sembi can be reached at www.kalakaricollective.com or www.nishasembi.com
i Quote by Dr. I.J. Singh adapted from "Sikhs and their Religion"