Sikhs' Contribution in World Wars on Display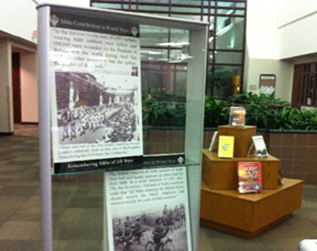 CHICAGO: Posters depicting contributions of Sikh soldiers in two World Wars is on display at the Palatine Public Library in the village of Palatine, a north side suburb of Chicago.
There are 12 posters but only eight carry quotations by renowned military officials of that time. It is the first time ever that a public library has allowed such a display. It will remain there during the month of February. The library also has a good collection of Punjabi, Hindi and Urdu books.
Palatine Library is open from 9am to 9pm during weekdays and 9am to 5pm Saturdays and noon to 5pm Sundays. The library also has rooms available for meetings, lectures etc.
The posters will also be displayed at Schaumburg Public Library during the month of September and also at Memorial Day celebrations. The American Sikh community is a participant with the city for Memorial Day and Americans appreciate it. People are surprised that Sikhs contributed with their lives for the victory in World Wars won by Allied forces. They are impressed when they read, "In the last two World Wars, 83,005 turban wearing Sikh soldiers died and 109,045 wounded for the freedom of Britain and the world during shell fire, with no other protection but the Turban, the symbol of their faith" a quote by General Sir Frank Meservy.
Sikhs are victims of mistaken identity and many Sikhs have been killed by strangers not knowing about Sikh faith and these posters help educate that Sikhs are not strangers but faithful allies. Young children proudly take these pictures on their I-phones and pass it on to their fellow students/ coworkers. Many Gurdawaras have also displayed these posters permanently and got positive feedback. Sikhs are encouraged to participate in their local civic body celebrating National Holidays.
Courtesy of
www.newindianexpress.com/