Sikhs Join White House in Celebrating 100th Anniversary of Pioneer Bhagat Singh Thind's Arrival in the US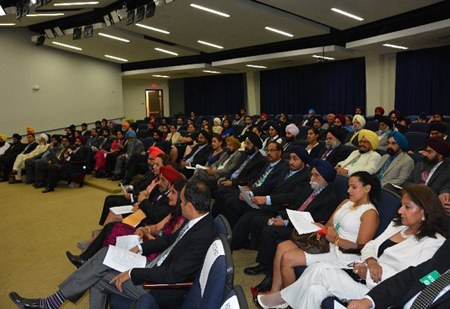 The White House hosted over 150 American Sikh business leaders, including CEOs of many companies.
The White House hosted over 150 American Sikh business leaders, including CEOs of many companies, at the weekend to mark the 100th anniversary of the arrival Sikh pioneer Bhagat Singh Thind in the US in July 1913 and celebrate achievements of the community over the past 100 years.
Thind came to the US from Amritsar for higher education in July 1913 and later went on to become the first turbaned Sikh to serve in US armed forces. However, he was denied US citizenship on the grounds that he was not "Caucasian enough'' to be eligible for it, forcing him to lead a life-long campaign to gain US citizenship.
"The goal of this event is to acknowledge the contributions this community has made to the country, celebrate 100 years of achievement, the immigrant success story in America and also to acknowledge the horrible tragedy of Oak Creek last year,'' said Paul Monteiro, associate director of the White House Office of Public Engagement, addressing the Sikh gathering at the White House.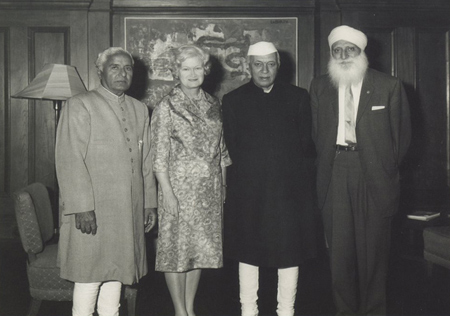 Sikh pioneer Bhagat Singh Thind (extreme right), who came to the US in July 1913, and his wife Vivian seen with Prime Minister Nehru in Delhi in June 1963. It was Thind's first visit to India after 50 years.
Admitting that negative perceptions about immigrants persisted, Monteiro said these perceptions have n grounds considering the accomplishments of immigrants, including Sikhs, in America.
"By working with all of you, who show that you've done nothing but contribute to this country, create opportunity and economic mobility, it shows that folks, no matter what their station, can achieve more and increase their station in life through hard work and responsible citizenship," he said.
Dr. Rajwant Singh, chairman of the Sikh Council on Religious Education (SCORE) which joined hands with the White House Office of Public Engagement to hold the event, said, "This is perhaps the first time that such a collection of prominent Sikh business leaders has gathered at one place. It shows that as a community, we have generated wealth and jobs and proved our vitality."
The White House event assumes significance for the Sikh community as it was held just three weeks before the first anniversary of the Oak Creek gurdwara shooting in which a white supremacist killed seven people. Speakers thanked the Obama administration for all the support to the Sikh community in the wake of the tragedy.
Sikhs presenting Punjabi phulkari to White House official Paul Monteiro at the event.
"At the end of the day, we are celebrating today our Sikh heritage and that identity is an identity this president truly does appreciate and respect in a lot of important ways," said Amar Singh, a member of the White House Commission on Asian American and Pacific Islanders.
He said it is for the first time in over 30 years that three turbaned Sikhs were allowed to serve in the US military under this administration.
"But the work is not over yet,'' said Singh.
Many Sikh business entrepreneurs narrated their American Dream to the audience.
Sunny Singh, president and CEO of Edifics, spoke about the challenges he faced as a businessman, going from near bankrupt to financial success. "We must persevere, we must show the tenacity, we will work hard and we will have to focus to weather the storm," he said.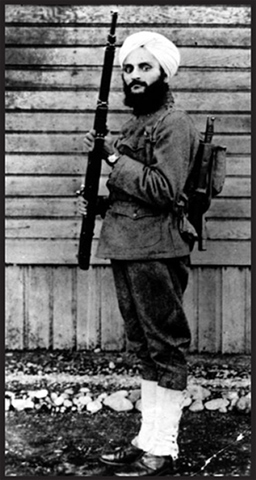 A file photo of Bhagat Singh Thind when he was in the US army.
"Those are the values this country cherishes, encapsulates, appreciates and rewards. Those are the same values our Sikh religion espouses, appreciates and rewards."
Said Kaval Kaur, CFO at Alert Enterprise, a security company in San Francisco, "For me the conference was a very positive one. The group had great positive energy and the take away was – how beautifully the community leaders are collaborating with the various agencies and government bodies to address the challenges, we as a community face. Collaboration to resolve issues, enable and empower the community.''
Savneet Singh, CEO of Gold Bullion, a leading precious metals distribution platform based in Manhattan, said, "Being in America is one of the biggest advantages he had always felt and circumstances created opportunities for me to succeed and many of us. We must make sure that such opportunities and circumstances for others as well."
Savneet is the founder and president of GBI, the first electronic platform that allows investors to buy, trade and store physical precious metals. He was recently named to the Forbes 30 under 30 list, Outstanding 50 Asian Americans in Business, in addition to the Empact 100 list of top 100 Entrepreneurs under 30.
Charanjeet Singh Minhas, CEO of Tekstrom , an IT company in Delaware, said, "The group of Sikh business leaders who met in the White House yesterday to discuss, evolve and improve the path of progress, equality and prosperity were left in no doubt that America is for You, Sikhs, and All."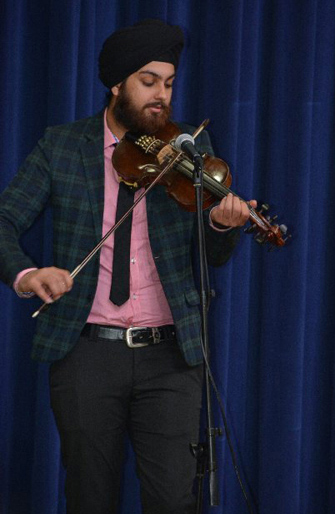 Rajinder "Violinder" Singh Momi performing at the White House event.
Rajinder "Violinder" Singh Momi and the University of Maryland Bhangra Team performed at the event. Sehejneet Kaur, college freshmen, sang in her melodious voice a Punjabi song, narrating the resilient spirit of Punjabis and Sikhs.
Prominent business leaders at the event included Tejinder Singh Bindra (NY); Lakhbir Singh (MD); Jasbir Singh (NC); Raminder Bindra (NJ); Harbinder Singh Sahni (NJ); Supreet Singh (IL); Billy Bath (CA); Harbir Bhatia (CA); Mayank Bawa (CA); Amitpal Singh (UT); Amarjit Singh (FL); Charanpreet Bagga and Darshan Singh Bagga (NY); Anita Gambhir (VA); Baldeep Dua (NJ); Baljeet Bath (CA); Balwinder Dhillon (TX); BJ Singh (CA); Bobby Saini (VA); Bobby Singh, Charanbir S. Mahal, Charanpreet Bagga and Chattar Singh Saini (all MD); Darshan Singh Bagga (NY); Davinder Khanna (VA); Davinder Sawhney and Devinder Singh (MD); Dickey Singh (CA); Dr. Darshan Singh Sehbi (OH); Gagandeep Bhalla and Gunvir S. Baveja (VA); Gurdarshan Singh Brar (TX); Gurmit Singh Bhatia (TX); Gurpreet Singh, Hardeep Singh Chadha & Ladi Chadha (all MD); Jack Singh, Jagwinder Singh Sikka, Jaswinder Singh Bindra Kanwal Taneja, Maninder Sethi, Mohinder Singh Taneja (NY); P. Singh Sandhu (VA); Paramjeet Nagpaul (PA); Ranbir Singh Bhai (CA); Ravi Singh (MD) and Sadhu Singh Rikhiraj (IL).
Courtesy of www.newseastwest.com