Sir Harpal Singh Kumar – Knighted by Queen Elizabeth II
The CEO of Cancer Research UK and UICC Board member was knighted for his "hugely influential" work on prevention and treatment of cancer
Sir Harpal said about the knighthood: "It was a huge surprise and a very big honour."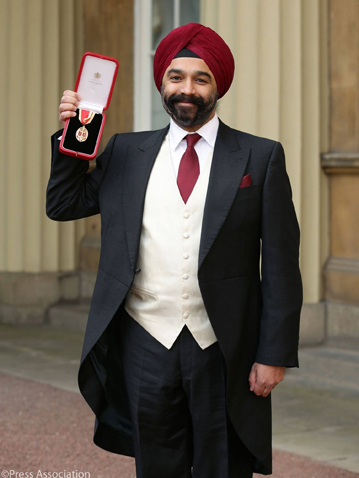 He added: "It's really a reflection of the very, very big team of people who make what we do possible, from the scientist to the doctors, to the volunteers to the staff and people around the world working to reduce the fear of cancer for people."
Sir Harpal went on say: "We're now at a point where as many people survive cancer as die from it, the first time in history we've been able to say that.
"Survival rates have doubled in the last 40 years and of course we want to see that progress increasing and want to see it accelerating."
Kumar's parents were both refugees. As Sikhs, they had to leave what was to become Pakistan and move to India, where they ended up in refugee camps. Later they moved to England, where his father was employed sweeping factory floors, before eventually starting his own grocery store.
Kumar attended St. John's College, University of Cambridge, where he gained an MEng degree and an MA degree and won the Mobil Prize, Metal Box Prize, and Hughes Prize. He subsequently gained an MBA degree with High Distinction as a Baker Scholar at Harvard Business School where he won the Ford Prize and the Wolfe Prize.
After training as a chemical engineer, Kumar worked as a research scientist with the UK Atomic Energy Authority, before joining McKinsey as a healthcare consultant.
In 1992 he was appointed chief executive of the disability charity the Papworth Trust. In 1997 he founded Nexan Group, a venture capital-backed medical devices company.
He joined Cancer Research Technology Limited as chief executive in 2002 and became chief operating officer of Cancer Research UK in 2004. He became chief executive officer in April 2007.
Among his other roles, Kumar is a trustee of the Francis Crick Institute and the Institute for Cancer Research, and chairman of the Board of the National Cancer Research Institute.
He is also chairman of the Cancer Outcomes Strategy Advisory Group in England and co-chair of the National Awareness and Early Diagnosis Initiative.
Kumar was knighted in the 2016 New Year Honours for services to cancer research.
The knighthood was bestowed upon him for his hugely influential work in promoting research into the prevention, early diagnosis and treatment of cancer, and cancer care.
CRUK's income and research spend are at an all-time high. Under his leadership, he has been instrumental in pushing the Government to take further measures to reduce smoking and to ban sun-beds for under-18s.
He also chaired the Independent Cancer Taskforce and authored the NHS Cancer Strategy "Achieving World Class Cancer Outcomes. A Strategy for England 2015-20", published in July 2015. He has been instrumental in setting up the Francis Crick Institute as a world-leading centre of biomedical research and innovation.
Kumar lists his recreations as theatre, opera and football.
Edited from http://www.uicc.org/knighthood-harpal-kumar-0