State of the World's Mother
Save the Children's 15th Annual Report

Motherhood is the toughest job in the world. With long hours, constant demands and no time off, caring for our children is an all-consuming task. But for women living in crisis, the challenges of being a mother are greater – and the stakes are so much higher.
Save the Children's 15th annual State of the World's Mothers report comes at a pivotal moment in history, when human- itarian crises have focused a spotlight as never before on the needs of mothers and children who are struggling to survive. With record numbers of people displaced by war and conflict, and increasingly severe natural disasters caus- ing unspeakable destruction, it is clear we must do more to help the world's poorest and most vulnerable families. We must give mothers the support they need to keep their children safe and healthy, even in the darkest times.
Any mother, anywhere – myself included – will do any- thing to protect her children. From their very first breath, we promise to keep our babies safe from harm – we tell them they can count on us. And when disaster strikes, it's more difficult and more important than ever to keep that promise.
Our 2014 research demonstrates how critical – and difficult – the mother-child connection is during a humanitarian crisis, when families' lives are thrown into turmoil. It's no surprise that the 10 toughest places to be a mother in this year's Mothers' Index all have a recent history of armed conflict and are considered to be fragile states. Six of the bottom 10 countries suffer from recurring natural disasters. And, as usual, the poorest mothers have it the hardest: the report once again points out the disheartening disparity between mothers in rich and poor countries.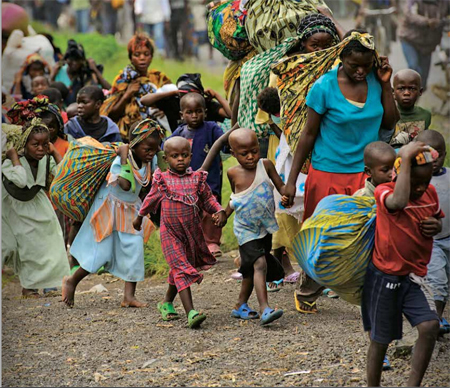 In humanitarian emergencies, when basic health services and livelihoods are disrupted, if not totally destroyed, mothers may find it impossible to adequately feed and support their families. They and their children also become more vulnerable to the risks of exploitation, sexual abuse and physical danger. So the tragedy of the crisis itself is compounded by fear and uncertainty, making mothers feel helpless.
Fortunately, mothers aren't alone. We can help mothers and children through programs that provide access to mater- nal and child health care services, protection from human rights violations, preservation of the education system – particularly for girls – and the means to maintain family
income. These programs empower mothers to protect and care for their children even in the middle of a hurricane, a civil war or any kind of humanitarian emergency. They must be expanded if we are to reduce the death tolls from emergencies and prevent further harm to families in the midst of crisis.
Save the Children responded to 119 humanitarian crises in 48 different countries last year. Since our founding in 1919 to help children in war-torn Europe after World War I, we have stopped at nothing to safeguard the well-being and the future of children around the world.
In my travels I've met with mothers recovering from the devastation of a typhoon, mothers trying to make a refugee camp feel like home, and mothers who fled from violence with their children on their backs. Despite the horrors of the past, every mother I meet is focused on the future and how to make it brighter for her children.
Just as children depend on their mothers to keep them safe, mothers are depending on us to build a better, more secure world for their families. We must make a promise to be there for mothers – even, and especially, when times are tough.
Carolyn Miles
President and CEO of Save the Children USA
Read the entire report here www.savethechildren.org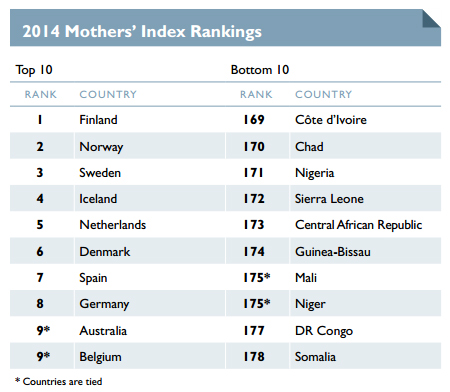 Save the Children's 15th annual Mothers' Index assesses the well-
being of mothers and children in 178 countries.
Finland, Norway and Sweden top the rankings this year.The United States ranks 31st. Somalia scores last among the countries surveyed. The 10 bottom-ranked countries – all but one of them from West and Central Africa – are a reverse image of the top 10, performing poorly on all indicators. Conditions for mothers and their children in the bottom countries are grim. On average, 1 woman in 27 dies from pregnancy-related causes and 1 child in 7 dies before his or her fifth birthday.