October 22nd, 2011 | Published in People & Events
by Ranjanpreet Nagra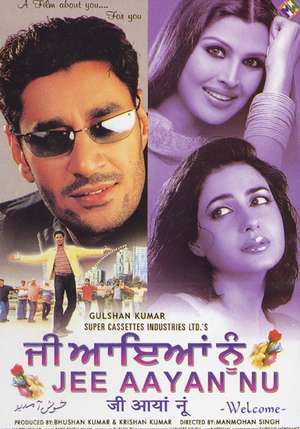 This paper is part of my thesis research conducted at the University of Michigan in 2010. My primary source for this paper is the film Jee Ayaan Nu, released in 2002. The film's central message is that the Punjabi diaspora truly belong to their homeland where their compatriots will always welcome them.
I will summarize the plot first. Simar, who grew up in Vancouver, goes to Punjab where she falls in love with Inder. On the day of their engagement, Inder reveals his assumption that Simar would live in Punjab after their marriage. Simar's mother objects to Simar living in Punjab after marriage. Simar returns to Canada heartbroken. Inder visits her in Vancouver and throughout the film tries to convince Simar to go back to Punjab with him while Simar tries to convince him to stay in Vancouver. At the end, Simar declares that she has found her love of her homeland, which she had forgotten while living in Canada. She decides to live in Punjab and marry Inder.
Today I will analyze two scenes from this film where Simar interacts with her lover Inder and her father Jasbir Singh Grewal. I will then analyze their dialogue to show that even diasporic Punjabi women like Simar are submissive to the masculine and chauvinist patriotism forced upon them.
Why did Simar come back to Punjab? Will she be able to adjust to life in the village? Is the love of her land enough for her to survive in Punjab? Will she be able to tolerate bureaucracy and corruption to salvage her corrupted identity? Isn't this too idealistic? Not according to the film. In Jee Ayaan Nu, we see that Punjab is a lush agricultural land with friendly, affluent people who live in mansions and have plenty of servants. Punjab is a desirable place with its charms of village life. The village has a Satth, a meeting place in a shady area of the village, where men sit all day and play cards.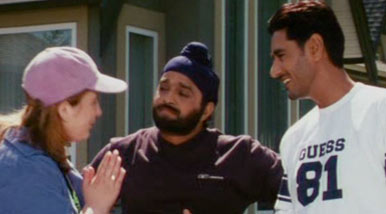 The men in the Satth tell the protagonist that Punjabi farmers feed the whole country even though they sit in the Satth and play cards all day. We have lazy and comical village bumpkins who also know that they grow food for the whole country. These men retain their moral core and identity because they live in Punjab; they are connected to their roots. These farmers know who they are, unlike the displaced diaspora who are depicted to be rootless. Therefore Simar as a diasporic is rootless.
Additionally, Jee Ayaan Nu does not address the dilemmas of diasporic youth, especially the freedom of women to choose their life partner. Inter-racial and inter-caste marriage is a major issue among the diaspora. One such study on inter-racial marriage is Nancy Netting's article "Two-Lives, One Partner: Indo-Canadian Youth between Love and Arranged Marriages". Netting tells us that young many South Asians are marrying outside their communities against their conservative parents and that many face resistance while others have parents who are gradually relenting to their children's choices. The film, however, depicts insular romantic alliances that are conveniently made within each caste and religious community. Inter-racial marriage might still be a crime for the conservative members of the community, but it is a pressing issue for the Punjabi Diaspora which demands attention, especially in popular media like Punjabi films.
Also, according to Indian and Punjabi traditions, Simar, because she is a female, should follow her husband and go to Punjab after marriage. The wife lives with her husband's family. But in this clip she protests this tradition. In an argument with Inder, she tells him that she wants Inder to live in Canada. She is Canadian and she wants to live in Canada. She does not want to follow her future husband to Punjab as the tradition prescribes. In this scene Simar takes Inder to a big house in Vancouver and tells him that it's a gift from her father and that's where they will live after marriage. Inder is upset and tells him he wants to take her back to Punjab: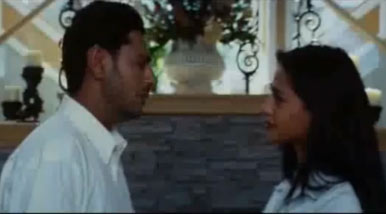 Inder: Simar, our real home is Mullapur village.
Simar: If that is the case then you will go back alone. I won't go with you. I belong here.
Inder: This is wrong Simar, even though you live here, but you belong to Punjab. And not just you, everyone living here belongs to Punjab and this is a fact that if forgotten, we will be severed from our roots and we will not be able to see what is ahead of us in the future.
This argument over Simar's identity is marked by language usage. Her identity comes through her language. Simar's pattern of code switching shows us the interesting relationship between the code and the content or the meaning of her speech.
She protests to Inder in English: 'I belong here'. Inder responds in Punjabi: "That is wrong, you live here, but you belong in Punjab. Not only you but every Punjabi who lives here belongs to Punjab". Simar tries to prove her Canadian identity in English; Inder negates her in Punjabi and reminds her of her Punjabi identity. He points out that she may live in Canada but she belongs to Punjab. Her identity is rooted in Punjab. Inder's reinforcement of Simar's Punjabi identity also reinforces her place in a patriarchal Punjabi society. The tradition of wife living with husband's family will follow her even in Canada. She cannot escape the tradition of the homeland even if she lives abroad. Inder, the male tells Simar, the female who she is and where she belongs. The male dictates the female her identity. Inder's message to the diasporic audience exemplifies the male chauvinism in the guise of patriotism and love of the homeland. Inder challenges Simar's authority of her own identity.
In the scene following their argument, Simar tells her father about her argument with Inder. Her father tells her that she cannot force Inder to live with her. She will have to live where Inder wishes to live: "How do I make you understand that a girl's real home is where her husband lives. But you want to pull him from his home and force him to live in your house. If he doesn't want to live here, we can't force him. You will live where Inder wants to live."
Women's role in forming national identity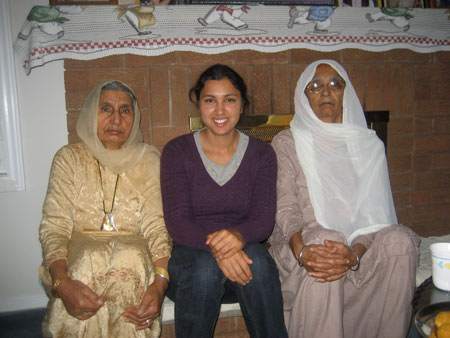 Scholar Patricia Uberoi explains that the crisis of Indian identity among diaspora community materializes when diasporic males control sexual behavior and marriage choices of first- and second-generation diasporic women. Indian family, kinship and marriage indicate authentic Indian identity. Therefore, in Dilwale Dulhanya Le Jayenge (DDLJ), Simran's father and her lover Raj guard her sexuality to protect the culture and tradition of homeland within the West. Purnima Mankekar also on DDLJ says that the Non Resident Indians like Raj return to the homeland to "consummate their desires within the confines of marriage" to safeguard themselves from the ambivalences of modernity, 'rampant sexuality and promiscuity' of the West (737). In this diasporic setting in the West, "the sexual purity of Indian women becomes iconic of the purity of national culture" (739). In essence, DDLJ portrays the West as a menace to Indian identity and the homeland represents a seemingly monolithic locus of tradition and identity. However, we must realize that such representations of the West and the homeland are monolithic and therefore contentious and problematic. Such dichotomous representations of the West and the homeland engender cultural chauvinism. As a result women become victims of their own culture when they are held responsible for continuation of the culture of the homeland in the West.
Similarly, Punjabi films create a Punjabi identity by imagining a Punjabi nation reinforced through and forced on the women. In Jee Ayaan Nu, Inder and Sardar Jasbir Singh Grewal become protectors Simar's sexuality. The story is not resolved until Simar follows the tradition of male patriarchy. In Jee Ayaan Nu, Simar and her mother initially try to coerce Inder to come and live in Vancouver, but at the end Simar has to give up her nationality and go back to Punjab. She gives up western values and feminist thinking and gives in to the male patriarchy disguised as her loyalty for her homeland.
She declares her loyalty to her motherland:
Simar: I had forgotten the fragrance of this soil and you all have familiarized me with this fragrance once again. Look, today your Simar has become Shamo again.
Inder: I had a message for Shamo: 'Canada is you maternal home and Punjab is you in-laws' home. Those here are your own and those over there are your own as well'.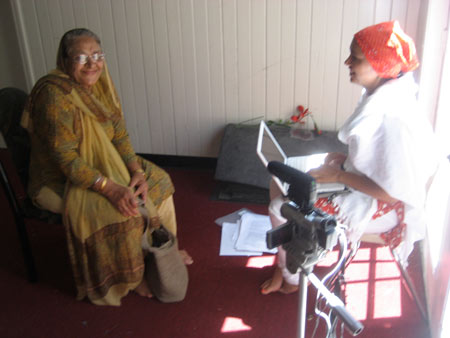 Simar follows the Punjabi tradition that women stay with husband's family and not vice versa. Simar becomes Shamo, which is her childhood name from when she lived in Punjab. Simar, a freethinking feminist, changes to Shamo, a loyal participant in Punjabi nationalism. As the female subject in the nation, she is responsible for carrying forth the traditional values of the homeland. She has to stay at home under the surveillance of her husband. Simar has to carry the tradition and purity of culture, for which, her demands for sexual and economic freedom from Punjabi patriarchy is muted. Simar's feminist voice is ultimately suppressed to establish male patriarchy and the national culture.
Now I want to discuss where this is relevant in my life. I am a volunteer interviewer for the 1947 Partition Archive project. I collect people's eyewitness accounts of Partition. Most often men sign up before the women do, and if I request the women their husband or son will snub them. The husbands discourage us from interviewing their wives: "What is she gonna tell you, she is illiterate, she wouldn't know anything about Partition. She stayed at home." And most women end up not telling us their story because they think they do not have anything of importance to say.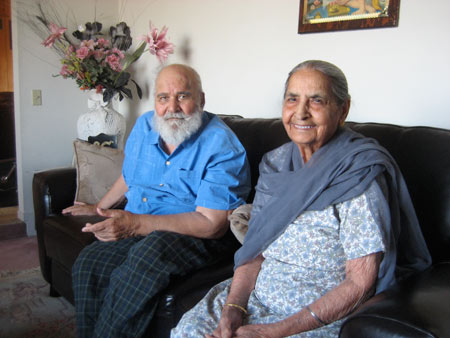 At a recent interview I interviewed an elderly man whose wife was present and seemed interested in talking about her pre-partition life. Initially, she was reluctant to interview, but we convinced her. Before the interview began, her husband told her not to mention the Anandpur Sahib incident. She had mentioned that the violence began there and spread to other places, but her husband did not want her to talk about it. During the interview I asked her about her grandparents. She said "I remember my grandmother. My grandmother was a beauty". "Meri dadi si gori- nichoh'' the husband interrupts, "Changi tarah dass ohna nu'- 'Give them proper information." The husband dictates the wife what to say and what not to say, if she can give interview or not. This happens often when the husband is present during the interview. Wives also interrupt their husbands, but women get interrupted more frequently and in a much more prohibitive way. If present, their husband or their son will try to control the interview. I am still working on how to be firm but respectful to the elderly men