Turban tales: Review of "Sikhs in Britain by Peter Bance"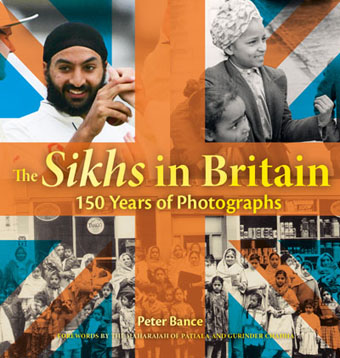 Sikhs in Britain: 150 Years of Photography by Peter Bance
By Shrabani Basu
A new book, Sikhs in Britain: 150 Years of Photography by Peter Bance, traces the history of the vibrant Sikh community in Britain over the last 150 years, says Shrabani Basu.
In 1973, a 55-year-old turbaned Sikh from Manchester bought himself a moped. Not that Giani Sundar Singh Sagar had got a sudden urge to ride one — he just wanted to make a point. The British government had ruled that Sikhs who did not wear helmets while riding two-wheelers would be fined, leading to an outcry in the Sikh community. The protests quickly came to be known as the "Turban-Helmet" case.
Almost four decades later, the story of Sundar Singh and the Manchester helmet protest is recounted in a new book — Sikhs in Britain, 150 Years of Photography — by Peter Bance. The book traces the history of the vibrant Sikh community in Britain over the last 150 years.
Sundar Singh's campaign is now a part of ethnic lore. He rode his moped without a helmet, was repeatedly fined by the police, and then finally sentenced to seven days' imprisonment.
On the day of his release the national and local media crowded outside the prison gates, along with the Manchester Sikh community and supporters of the National Turban Action Committee. Predictably, Sundar Singh had wanted to leave prison on his moped and his sons had brought it along. As the respected Sikh with the long-flowing white beard emerged from prison, he was garlanded with flowers. Then with the police watching him, he mounted his moped again. The gathered Sikhs cheered and walked alongside and photographers ran along the pavement. Sundar Singh was booked seven times on his ride home that day.
"I think it is important that the present generation knows the history of the early migrants, and knows how their elders found their feet here, their struggles, their successes and hardships," says Bance, who is himself a Sikh. "It is an important part of British migrant history."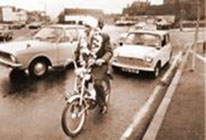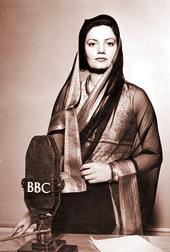 SIKH PRIDE: Sundar Singh on his moped with police cars following
Princess Indira of Kapurthala
The first recorded Sikh arrived in the British port of Southampton in 1854. It was none other than Maharaja Duleep Singh, the last ruler of Punjab. When the British annexed Punjab in 1848, the Maharaja — who was still a boy — was deposed, pensioned and eventually became a Christian. The Kohinoor from his treasury was sent to Queen Victoria. The Maharaja was brought to England in May 1854 and presented before the Queen who became protective of the young boy.
Duleep Singh was brought up in the Royal Palaces, led an indulgent life, and tried to return to Punjab later in his life. By then he'd turned against Queen Victoria and declared the British establishment his enemy. He later begged forgiveness from her and died a broken man in Paris. The British Sikh community commissioned a life-size statue of him aloft a horse, which was unveiled by Prince Charles in Thetford in 1999.
Bance traces the story of the Sikh immigrant in Britain in four main waves: those who came before or during World War I, those who arrived in the inter-war years, the post-Independence influx when Sikhs came as labourers to fill the factories which desperately needed workers, and the fourth wave of immigration when Idi Amin expelled Indians from Uganda in 1972.
The first Sikh gurdwara was established over a century ago in Shepherd's Bush in West London, with the help of Maharaja Bhupinder Singh. Called the Maharaja Bhupinder Singh Dharamshala, it became the focal point for Sikhs in London and often their first port of call for lodging. World War I saw Sikhs joining the British Army in the thousands. By the end of the war, at least 1,00,000 Sikhs had participated in it.
The inter-war years saw wealthy Sikhs, including journalist and author Khushwant Singh coming to Britain for higher studies. Khushwant Singh studied law at King's College and qualified as a barrister from the Inner Temple. Other Sikhs worked as tradesmen and peddlers. The door-to-door Sikh salesmen would always dress smartly in suits and ties so they could impress their white customers not used to seeing a turbaned man at their door.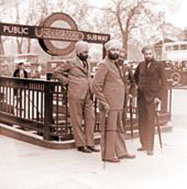 Sikh gentlemen in Central London c.1936
World War II once again saw Sikhs volunteering with many winning Victoria Crosses. Princess Indira of Kapurthala famously drove ambulances during the war and broadcast for the BBC. The Sikhs were also involved in India's freedom movement. In 1940 Udham Singh shot Sir Michael 'Dwyer in London's Caxton Hall. He was arrested, tried and hanged. In 1947, Sikhs marched to 10 Downing Street in protest against the Partition of India.
By the late Fifties and early Sixties, Southall in West London became the next hub for the Sikhs, and remains so till today. Factories started employing Indian labourers. Soon many brought their wives and settled down permanently in England. By 1961 there were 1,200 Indian men and 478 women living in Southall. Today the Sikh community includes celebrities such as filmmaker Gurinder Chadha, cricketer Monty Panesar and Adidas poster boy, Fauja Singh, the centenarian marathon runner. From maharajas to market traders, freedom fighters to factory workers, the book chronicles a community that arrived in Britain and made their mark.
Bance took four years to write the book, researching in the National Archives and Ealing Library and in record offices in areas such as Birmingham, Manchester and East London. "Most people opened up their archives, especially if they knew me or had an introduction," Bance says. "But others were reluctant and did not want to share their photos. I did not really chase anyone if they did not want to participate."
Bance would often make copies of old group photos and send them to the community asking them if they recognised anybody in the pictures. "It was very exciting. In 20 years, we will never know who is in the photos, if we don't record them now," he says.
Article & Picture Courtesy of www.telegraphindia.com
Visit the official site www.sikhsinbritain.com