Uncle Jolly: Having the Last Laugh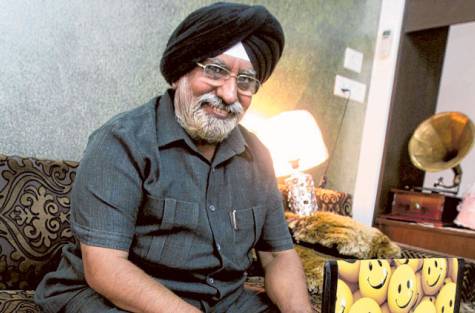 Jatinder Pal Singh, aka Jolly Uncle, is as popular in Patna as he is in Pennsylvania.
New Delhi's most famous jokes writer, Jolly has been regaling people with his short stories and snappy funny lines in Hindi for almost two decades. Writing for portals and newspapers, Jolly has a fan following from as far as the US, UK, Switzerland and Canada. And, almost all cars parked in west Delhi's Tilak Nagar colony, where he resides, have smiley stickers pasted on them!
The 59-year-old humorist says he was not always a jolly fellow. But diagnosed with Deep Vain Thrombosis that led to several heart attacks, which left him bedridden for several months, changed his entire life in 1994.
"I was devastated when doctors told me that there was no cure. Initially, it was very tough reconciling to the idea that I required total bed rest, but as time passed, I began feeling less depressed and made best of the time in hand."
Even while his social circle reduced and relatives maintained sombre faces and sympathised with him, Jolly did a total turnaround. He began cracking jokes first at his own predicament and then in general. Soon, people began enjoying his company and Jolly started living life to the hilt. He is now a role model to many. "Undaunted by restriction in my movement and having all the time in the world for myself, I began writing jokes and short stories and sent them to various newspapers," he recalls.
After a newspaper by mistake published his joke under the name 'Jolly Uncle', he became famous by this name. But maintained, "A lot of elderly people feel embarrassed referring to me as Uncle!" It is not all fun and games with him. Jolly runs a government approved cargo clearing agency under the name Aman Cargo, having establishments in Delhi and Mumbai and has been in the trade for the last 30 years.
He tasted success in writing a couple of years after newspapers began publishing his jokes. Initially, he sent the jokes to local newspapers of west Delhi, but soon flooded several portals with his humorous notes. Appreciation led to Jolly, an admirer of Charlie Chaplin movies, receiving fan mail and writing became a passion with him. He has written jokes for more than 100 newspapers across the country. For the last several years, he has been writing regularly for Punjab Kesari, the largest selling Hindi daily in India. A sample of his joke: Once Bollywood filmstar Mallika Sherawat was stopped by a beggar, who asked for money saying: "Behenji kuch dete jaiye" (Sister, please give me something). A beaming Sherawat handed him Rs500 note. Aghast, a friend who was with Sherawat asked her, "Why did you give him so much?" Sherawat responded, "You will not understand. Actually, no one has ever called me behenji (sister) before!" Jolly's most popular characters are Veeru and Basanti, from the Bollywood blockbuster Sholay. He has written a script for a movie starring veteran TV comedy couple Savita and Jaspal Bhatti. Titled Chadha Chadhi Te Nikke, the film has been in the making for some time.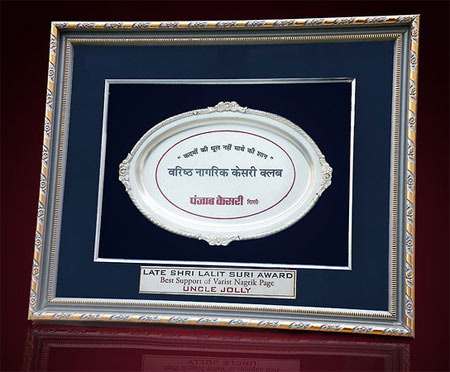 "It is a slapstick take on the state of affairs in the medical field. The protagonists are two government hospital doctors who misuse the facilities of the hospital they work in," he informs.
Besides that, Jolly has authored six books that comprise motivational stories. "My aim is to do good in life and I would feel blessed if I am able to motivate people into doing good for the society in any way."
He has been awarded by a number of institutions for his motivational writings. As for the jokes he writes, Jolly says, "There is humour all around and I draw inspiration from everyday life's happenings. People write to me from all over the world to inform that it is a ritual in the family to go through my Facebook page. And I ensure that my fans get their regular dose of humour and post jokes on the page every morning."
The jokes reflect social realities and deal with corruption, inflation and politics.
Writing has made Jolly's life easier. As he says, "It's not a joke that I am living and having fun despite suffering from a deadly disease."
Courtesy of www.gulfnews.com