Vigils Held Coast to Coast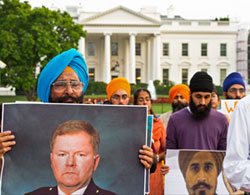 Sikhs gathered Aug. 8 in Washington, DC's Lafayette Park, across from the White House, for a 'Night of Remembrance of the Wisconsin Gurdwara Shootings.' The man at the left holds a poster of Oak Creek Police Officer Lt. Brian Murphy, who was shot at least 8 times as he pursued the gunman. (Getty Images)
More than 100 vigils were held across the country in the aftermath of the most deadly attack ever on U.S. Sikhs. Funeral services were held for the six victims on Aug. 10.
On the morning of Aug. 5, as women prepared langaar in the gurdwara's kitchen, alleged white supremacist Wade Michael Page attacked the temple, brandishing a nine millimeter shotgun. Temple president Satwant Singh Kaleka caught Page in the entryway of the temple, and stabbed him several times with his kirpan before Page managed to get away.
Kaleka was killed in the massacre, along with temple priest Parkash Singh, 39; brothers Sita Singh, 41, and Ranjit Singh, 49; Suveg Singh, 84; and Paramjit Toor Kaur, 41. Injured in the attack was Oak Creek police Lt. Brian Murphy, a first responder who was shot eight times by Page; and Santok and Punjab Singh.
U.S. Attorney General Eric Holder attended a morning service Aug. 10 at the Oak Creek High School in Wisconsin, along with Wisconsin Governor Scott Walker and Rep. Paul Ryan, R-Wisc., who represents the Oak Creek area in Congress. Republican presidential nominee Mitt Romney reportedly delayed announcing Ryan as his pick for his vice presidential running mate to pay homage to the victims of the massacre.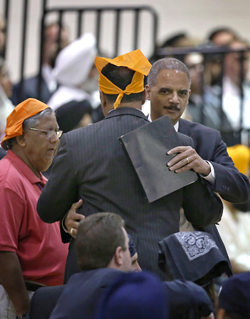 U.S. Attorney General Eric Holder attended a morning service
"Today, as we reflect on the lives and legacies of these six remarkable individuals, and keep in our hearts all those others harmed in the horrific attack, we also are reminded of the many other members of our family who have been taken from us far too suddenly – and far too soon – in other senseless acts of violence," said Holder at the service, attended by thousands who packed the high school gymnasium where the bodies of the six victims lay in funeral caskets.
"Unfortunately, for the Sikh community, this sort of violence has become all too common in recent years. In the recent past, too many Sikhs have been targeted and victimized simply because of who they are, how they look, and what they believe," he said.
Holder called the shootings "unacceptable," and commended Oak Creek police officers and gurdwara members for their bravery in the face of great danger. He pointed to the need for changing the nation's laws to prevent future acts of mass violence.
"For our nation's law enforcement community, our resolve to prevent acts of terrorism and combat crimes motivated by hatred has never been stronger. And that is precisely what happened here: an act of terrorism; an act of hatred; a crime that is anathema to the founding principles of our nation and to who we are as a people," said Holder.
"Today, we mourn with you, we pray with you and we support you," said Walker. "This week our friends and neighbors in the Sikh community have shown us that the best way to respond is with love," the governor said.
"No matter what country your ancestors came from, no matter where you worship, no matter what your background, as Americans, we are one," he said.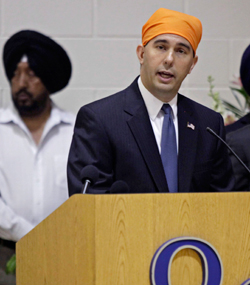 Pardeep Kaleka, one of the sons of slain temple president Satwant Kaleka, also spoke at the Friday morning vigil. "How can we look into the eye of a horrific tragedy like the Sikh temple shooting last Sunday and find a blessing?" he queried.
"We must not fight hate with hate. My father used to say you could not put out a fire by putting gasoline on it," said Kaleka.
In an interview with India-West last week, Kaleka said his father was a true hero, long before he attempted to intervene in Page's rampant attack.
"Early in his life, he just found his faith and it guided his life. He was brave, courageous and honest, as a Sikh should be," said Pardeep Kaleka in the interview.
Ryan, who also attended a vigil Aug. 8, told local reporters that Oak Creek was a very inclusive community. "Sometimes you just can't just explain these senseless acts of violence. This is just a horrendous act by a tormented individual and we're not going to let it get our community down. We're not going to let evil triumph. We're going to respond with solidarity," said the newly-minted Republican vice presidential nominee.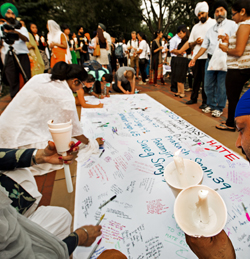 Lafayette Park in Washington, D.C
A similar vigil was held Aug. 8 at Lafayette Park in Washington, D.C. across the street from the White House. Attendees – some wearing t-shirts that read "United Against Hate" – signed a banner which will eventually be given to the victims' families. In the Sikh tradition of langaar, sweets and snacks were offered to observers of the rally.
In New York, more than 1,000 people attended a candlelight vigil in Union Square to pay their respects to those slain by Page. "Going into a temple attacking only one particular group of people of one community shows that there was hate definitely involved in this," Jejiemder Singh, of United Sikhs, told CBS2. The interfaith service was attended by several local political leaders and Muslims showed solidarity by breaking the Ramadan fast during the rally, reported the Huffington Post.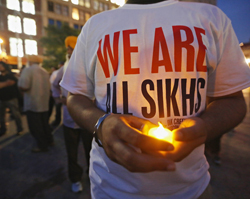 New York – Union Square
Rep. Joe Crowley, D-NY, addressing the crowd at the vigil, said that the issue of gun control was crucial. "We have to talk about limiting access of weapons for criminal use. Those people who were shot and killed in the gurdwara and their families need to hear answers about how a mentally unstable person like Page had easy access to guns," he said, adding, "What happened to the Sikh community can happen to anyone of us."
In Northern California, vigils were held across the state (see separate stories). In San Jose, vigils were held in front of the City Hall and at the gurdwara. The City Hall vigil was organized by Rep. Mike Honda, D-Calif., Santa Clara County Supervisor David Cortese, and San Jose City councilmember Ash Kalra.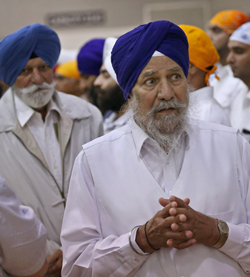 Northern California
"No community should have to be faced with such terrible violence, especially one that takes place in a serene and peaceful place like a house of worship," said Honda. "I have been proud to closely work with the Sikh community through my career and am horrified that such senseless violence would fall at their doorstep," he said.
Attorney Mohinder Mann, one of the Indian American organizers of the event, spoke of "the movement of hate" within U.S. society.
"There is a mixed message here for our children especially when we teach them about peace. We want to be one America against hate. We are all Americans but until we become one America, we are vulnerable to "domestic terrorism" crimes," he said.
PTI adds: In Chicago, a large number of Sikhs and members of the Indian American community gathered for two consecutive days for a candle light and peace vigil.
"As our nation still struggles to comprehend what happened and we continue to support the victims and their families, it's important to send a clear and unified message to those who attempt to divide us with these senseless acts of violence," said Satjeet Kaur of the Sikh Coalition.
"We will not be divided, we will find hope in a moment of great tragedy, and we will move forward in the belief that freedom of religion remains a fundamental tenet of our great democracy," she said.