What Prabhjot Singh's Attackers Didn't Know About Him
By Rahuldeep Singh Gill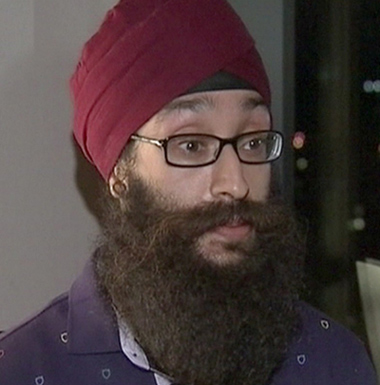 Prabhjot, a practicing Sikh who is using his elite education to help improve global health outcomes by intervening through health workers.
This summer, I walked through sweltering Harlem on a lazy, muggy afternoon to meet up with Prabhjot Singh. Friends at the University of Rochester, and separated at college graduation, we were reconnecting to catch up on our new roles as professionals and fathers, and because of my new academic interests. I have been trying to learn more about young Sikh-Americans who are engaging in social justice work in and beyond the Sikh community. For this, Prabhjot is the gold standard: a practicing Sikh who is using his elite education to help improve global health outcomes by intervening through health workers. His wife, Manmeet, leads a startup venture empowering health workers in Harlem.
Prabhjot met me on the street with his beautiful curly haired one-year-old son. Prabhjot's kind brown eyes greeted me and his long beard swayed in the breeze. We walked up to their apartment and enjoyed catching up over tea and cookies. This past Saturday night, on a street close to where Prabhjot and I met, hate-spewing attackers broke his jaw and left him bloodied on the sidewalk. The attack his being investigated as a hate crime.
In college we all knew Prabhjot was a super-genius. A very serious scholar, he started a national-level journal for undergraduate research, went on to earn a medical degree and a Ph.D. at the Rockefelller Institute where they only deal with super geniuses. But what we didn't know was that Prabhjot was superman, and he would use his super genius powers for good in God-forsaken parts of this world. He is interested in spreading health through organization, technology, and a great heart. But even Prabhjot was no match for hate in the very city he chose to call home, and that he and his wife chose to serve as their life's work. What if the people who assaulted Prabhjot Singh knew even a bit of what he is about? Is there hate so deep that they still would have done it? Is their own hurt so deep that they couldn't have helped themselves? What if they knew that the beard and turban that they couldn't see past are the very engine of Prabhjot's kind-hearted, sharp-minded quest for a better world?
You see, a lot of Sikhs today are convinced that the best way to spread awareness about our religion is through the altruistic acts that our faith's founders asked of us. This, we think, is God's true expression in this world. And this is how we want to live our lives.
I am not so naive to think that interfaith dialogue could have intervened in Prabhjot's attacker's hearts. I am not going to get on a plane tomorrow to bring inter-religious education to New York City. But neither am I resigned to the status quo that I will stand by while these kinds of attacks are accepted as normal.
If Prabhjot's story piques your compassion, then light your flame from his torch, and get inspired to act in your community on behalf of someone else, whether through your religious institution, food pantry, or community center. If you're a comrade in the struggle against apathy, hate, and xenophobia, then redouble your efforts for a better world in Prabhjot's name.
Prabhjot's wounds will heal. Knowing him, and the good Sikh that he is, he will get back to work soon. In dark moments like these, and going forward, we must stand alongside him and affirm that we will not be cowed by ignorance and bigotry. Our steadfastness and diligence in the name of peace and tolerance will prevail.
Rahuldeep Singh Gill, Ph.D., is Assistant Professor of Religion at California Lutheran University where he also serves as Director-Elect for the Center for Equality and Justice.
Courtesy of www.washingtonpost.com
[youtube width="650″ height="480″]http://www.youtube.com/watch?v=-6RVMIuroOU[/youtube]
Sept 23 – Dr. Prabhjot Singh's Press Conference at Columbia University – Video Courtsey SALDEF Media's channel