With no Malice, Intellectuals Raise a Toast for Khushwant at Litfest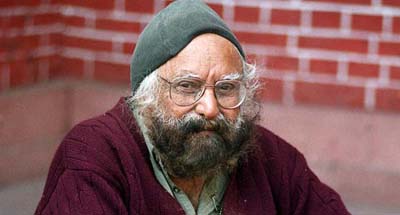 There couldn't have been a better setting for an evening of literature, music, conversations and memories. As the setting sun spread its golden rays on the gorgeous mountains and the cool, crisp air of Kasauli enveloped the senses, it was time to enter the grand ballroom of the Kasauli Club and take your seats for the first Khushwant Singh Literary Festival that kicked off on Friday evening at the Club to pay tribute to Khushwant Singh's contribution to literature. A labour of love of Singh's son, Rahul Singh and a circle of friends and book lovers, the inauguration was a houseful, with people from Chandigarh, Delhi et al driving up for the absorbing literary sessions and a mesmerizing musical evening. "My father could not be here, but he did send a hand-written note thanking all of you who are here for the love of literature. There could not have been a better place than Kasauli for this festival, as my father wrote so much of his literary works, columns et al in Kasauli," said Rahul. Reading out from his father's letter Rahul said, "Kasauli is a diverse place, do look after my Kasauli.''
The first session of the evening began with the screening of Suresh Kohli's documentary 'Till The Pen Falls' on the life of Khushwant Singh, born in 1915 at Hadali village in Pakistan. Kohli describes the work 'as a bolt from the blue'. Shot partly in Kasauli and his home in Delhi, Kohli gets his audience up, close and personal to Khushwant Singh, the writer, editor, journalist, husband, father, friend.In his imitable candid style Khushwant speaks to the camera about the diversity of his work, his life and his portrayal in the media. "I work all day long and then enjoy my scotch, and yes, I compliment beautiful women. There are so many facets about a man, one for the world, one for me," his simple life, nurturing new talent, living life to the hilt, the documentary captures him at ease, replete with wit, humour and thoughts.
The film talks about the diversity of his writings, expressions, and how he enjoys what he does. 'Train to Pakistan' is of course, special, but Khushwant has an interesting remark to make about it, "Train to Pakistan is not a novel, it's a document, it's unfortunate that it has come to be regarded as a novel," Khushwant talks with pride about 'The History of Sikhs' and how he hopes to continue writing.
The author of 163 titles, according to Princeton University, was given fond tributes in an absorbing session titled 'A Nice Man To Know'. The lesser-known facets of Khushwant – his spiritual side, his relationships, generosity.were talked about in an informal session. "He is a secular man, he does not believe in any rituals, astrology, superstitions. He is an open man, who loves to collect jokes from all over the world," reflected Rahul.
Shobhaa De described Khushwant as the original man-child, trusting, honest, curious, one who nurtured and mentored young talent. De recalled some lighter instances, where he would make beautiful women feel loved with his lavish compliments, a man who would absolutely comply with his wife, and a man who has been part of our DNA for decades. De raised a 'Kasauli peg' to the first Khushwant Singh Literature Festival.
"He is definitely a nice man to know," smiles Mani Shankar Aiyar who talked about Khushwant's success as an editor, one who describes India so eloquently in his works. "Train to Pakistan is a classic, one that will live for centuries, "I would have never known Iqbal, if it were not for his translations. Bachi Karkaria, journalist, remembered Khushwant, her first boss, as a mentor and guru. "Start with an anecdote, take your work seriously, but not yourself. He made journalism marketable without turning it into a whore," she smiled.
The evening also saw the release of Khushwant Singh's 134th title "The Freethinkers Prayer Book" by was released by Rahul Singh. The book is a personal collection where Singh brings together precepts, prayers and practical advice by prophets, poets and philosophers and also includes his favourite passages from texts of the world's major faiths. Khushwant also shares some of his own life codes and of those whom he admires the most.
The evening progressed with an absorbing session on how books have inspired movies, and how sometimes a successful movie does not ensure a hit film. Rahul Bose, Bhaichand Bose and Malavika Sangghvi talked about both Hindi and Hollywood cinema. Rahul Bose talked about the process of being a part of films like English August and now Midnight's Children, both based on books and how he reads between the lines and goes back to the books to fill in the gaps and be the character he is playing. Bose also spoke about his first directorial venture North Smoke, based on a book.
The evening ended on a perfect note, with Sonam Kalra and her musicians taking the audience to another plane with The Sufi Gospel Project. Many voices of faith create one voice, as poetry, prayer, music from different religions come together to create one truth.
Saturday morning saw sessions by Mani Shankar Aiyar spoke eloquently and powerfully on Indo-Pak relations and the need to take the relationship beyond confrontation and cooperating with each other to end hostility. Trade, culture, people-to-people contact, relaxed visa rules.it was a ground for more interactions.
The unique Pahari paintings and the art was what Dr BN Goswami deliberated upon, as Nirupama Dutt moderated the session titled Art In the Mountains. Shobha De spoke in length about her new book Seth Ji, while Faiz Ahmed Faiz was remembered by his daughter Salima Hashmi, who is here from Pakistan. Hasmi presented a portrait of the great poet and activist through letters, verses and pictures.The pain of partition came alive here.