By Vidya Pradhan
Bay Area lovers of Shabad kirtan found themselves in heaven at the iconic San Jose Gurdwara one weekend this autumn when ten world renowned kirtanis performed all 31 of the ragas used in the Guru Granth Sahib. This historical event, which ran from August 31st to September 2nd, was the first of its kind in North America.

Shabad kirtan, the singing of hymns (Shabad) from the Guru Granth Sahib, the central text of Sikhism, began in the late 16th century. It is said that Guru Nanak, the founder of Sikhism, travelled around Asia and the Middle East spreading his message through hymns set to music, accompanied by his Muslim friend Bhai Mardana on a musical instrument called the rabab. In his compositions, Guru Nanak used 19 ragas out of which ten are morning ragas, four mid-day ragas, three evening ragas and two seasonal ragas. The following Gurus refined on this by adding their own hymns and additional ragas, till the Guru Granth Sahib, written and indexed according to the prescribed ragas, singing forms, and other guidelines in the script, creates an original and specific musicology. (Source: www.academicsjournal.com/download/1450/3-1-124-835.pdf). It is perhaps the only religious scripture in the world to be set to its own music.
There is some debate about the number of ragas used in the Guru Granth Sahib, with traditionalists opting for 31 main ragas with 28 raginis, while others classify them as 60 separate ragas.
Shabad Kirtan is considered an integral part of Sikh life. Once the provenance of professional singers, the kirtan tradition was brought into laic life by Guru Arjan, who charged all Sikhs to learn kirtan and make it a part of their daily life. One family here in the Bay Area that considers itself fortunate to be steeped in the love for kirtan is that of Navpreet Kaur & Haramandeep Singh, one of the organizers of the Raag Kirtan event in San Jose.
"Our family has had a long standing love for Gurbani in general and kirtan in particular," says Navpreet. "Over the past 20 years. we have had the good fortune to be taught by not just accomplished musicians but amazing souls and we have been blessed to have these wonderful human beings in our lives." Navpreet and her family learn kirtan from Bhai Tajvinder Singh, who has been awarded the "Hazoori Ragi Sri Darbar Sahib" – making him the youngest Darbar Sahib Ragi in history, as well as the first American born Sikh, to achieve this prestigious honor.
About a year ago, Navpreet had a dream, which would bring together the great kirtanis of the world in a single event that could give other members of the community the opportunity to listen to this amazing music form. "Music is universal, and when you add the emotion of music to the wisdom of scriptures, the pathway to the soul is much more direct. The ragas have a way of conveying the message of scripture to the depths of our beings."
She and Haramandeep discussed the idea with mentors like Bhai Tajvinder Singh of Sacramento, Bhai Kultar Singh of Delhi, who conducts kirtan workshops in the Bay Area twice a year, and Dr. Gurnam Singh of Patiala, a world authority on Gurmat Sangeet. Receiving encouragement from these mentors, she formed a team along with local expert Professor Dalbir Singh, the RaagNaad Parivaar to put the event together. The team approached the San Jose Gurdwara as a desirable venue, but the concept was so exciting that Sardar Narinderpal Singh and the Gurdwara decided to partner with the RaagNaad Parivaar in making this event happen. Ten prominent kirtanis from around the world were invited for a non-stop 3-day event beginning on Friday August 31. Each singer was allotted specific ragas and a slot of 40 minutes at a time. Navpreet continues to be amazed at how seamless the scheduling was.
"We were honored to have Bhai Nirmal Singh Khalsa as one of our singers ," she recalls. "He is a Padma Shri award recipient and it was such an honor for us to be able to hear him sing live kirtan. Personally speaking, I was thrilled that our family could develop a relationship with this superb kirtanee."
"It was perhaps a once-in-a-lifetime opportunity for lovers of Shabad kirtan," she adds. The ten kirtanis poured their heart out into this Raag Darbaar and while the hall remained at full capacity throughout the weekend, their efforts were also recognized by many thousands more who listened to the live stream on Facebook. "Most of the recordings are available on our website https://31raagnaad.org for everyone to enjoy – we are working on uploading the remaining recordings." Making and putting up the live recordings, which are of excellent quality, on the website was the domain of volunteer Amanprit Singh, who also worked on the graphic design and social media marketing for the event.
"The whole atmosphere was that of a wedding," says Navpreet. "There was so much joy and happiness in the air. It felt as though there was a constant shower of blessings from the Guru himself as we were all getting wedded to the Guru Shabad."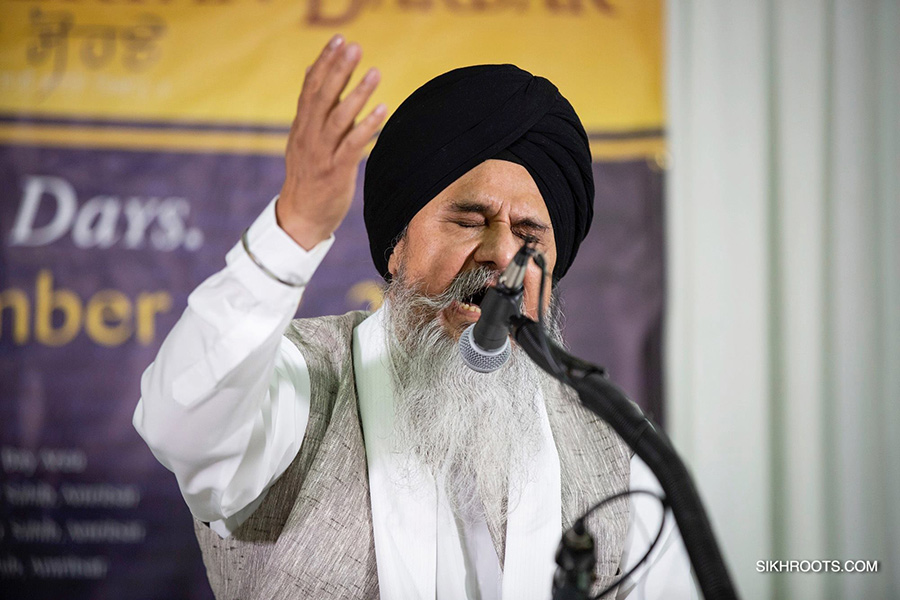 The RaagNaad Parivaar had conceived of this kirtan marathon as a one-off event, but the overwhelming response has made the possibility of future events much more likely. "I can't imagine not having another such program," says Navpreet. "We know there is a lot of interest because we had people coming to this one from as far away as New York, Pennsylvania and Los Angeles. One of our attendees was moved to say that 'The Raag Darbar had a rare diamond-like effect… It was a musical festival for the soul where you just dance in the currents of sound.'"
Click this link to listen to Bibi Guneet Kaur's rendering in Bhairo & Bilaval Raag.
https://www.youtube.com/watch?v=YjnmXegZwxs.
Bibi Guneet Kaur plans to return to the Bay Area this fall to offer Gurmat Sangeet classes for intermediate and advanced students. Please reach out to Navpreet Kaur for more information about this workshop at faareet [at] gmail.com