Magnificent Sikh Art For You!
THE SIKH COURT OF LAHORE:
Classic Reproduction by Artist Sukhpreet Singh
Oil on Canvas; Size 8ft by 6ft;
OFFERED AT : $10,000
This masterpiece of Maharaja Ranjit Singh's Lahore Sikh Darbar is painted by artist Sukhpreet Singh. It is a classic reproduction of the painting by Austrian artist August Schoefft "The Court of Lahore" done over 150 years ago.
The artist has brought to life over 100 portraits from the Sikh kingdom, rekindling the grandeur and glory of bygone eras. Looking at this magnificent painting the saga of the Sikh kingdom with its heroes and traitors comes alive through the 50 identifiable principal personalities
Maharaja Ranjit Singh, the central figure under the chatri, is shown bestowing or receiving gifts. He is surrounded by Kharak Singh, Nau Nihal Singh, Gulab Singh and Bhai Ram Singh. Behind the Maharaja, to his left, standing on the pavilion, is a group of European Generals who were employed by the Maharaja. In the foreground two young war orphans are seen playing while 2 Nihangs are in conversation with each other. In this medley of courtiers arrives the handsome Prince Sher Singh riding his resplendent horse and receiving a salute from Hira Singh standing further across. Flanking Sher Singh is Lal Singh leading the irregular cavalry. In the background the regular cavalry along with some other European officers and Kunwar Pratap Singh can be seen. In the crowd in front of the Maharaja the Dogras -Suchet Singh, Dhian Singh & Hira Singh are shown. Alongside a group of horses brought by an Afghan horse dealer jostle for space.
It is this colorful potpourri of Sikh princes, their flamboyant courtiers, the plumed Europeans, and their glittering extravagance which contributes to the majestic visual of the Sikh Court.
To BUY this MASTERPIECE CLICK HERE
Contact us for more information at info@sikhfoundation.org or call us at 650 494 7454 (9am- 2pm PST)
About the Architecture in the Painting:
The Atth Dwara pavilion, in the Lahore Fort, is the setting for this magnificent painting.
The Fort of Lahore was the seat of the Sikh Empire. Though most of the fort is in Mughal style architecture, this open pavilion called the Atth Dwara (eight doorways) was built by Maharaja Ranjit Singh, who used it as a Court of Justice. The combination of white marble and red sandstone brackets and marble trellis screens with red sandstone posts in the ornamental railing placed on the roof of the building clearly indicates its Sikh origin.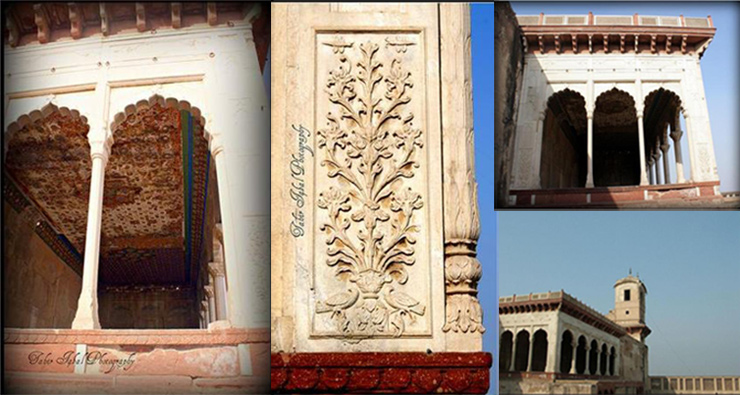 View of the Atth Dwar Pavilion built by Ranjit Singh – (Left) Roof, Column detail, (top) Detail (bottom) View
photo credit: Sabir Iqbal
About the Artists: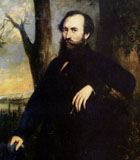 August Theodor Schoefft:
August Theodor Schoefft was born in Budapest in 1809. After formal art training in Vienna Schoefft set out on a great adventure to travel exotic lands and paint foreign scenes. He eventually made his way to the Sikh Kingdom, reaching Lahore in November 1841 during the reign of Maharaja Sher Singh.
Visiting Amritsar and Lahore and preparing preliminary sketches of the locations as well as observations of the Sikh Royal Court and accounts he had heard of what it had been like during the time of Maharaja Ranjit Singh, Schoefft was able to get a good sense of Maharaja Ranjit Singh's Royal Court. He also studied and copied existing portraits by various artists of some of the principal characters who had died before his arrival including Maharaja Ranjit Singh, Maharaja Kharak Singh and Raja Nau Nihal Singh.
After spending over a year in the Sikh Empire, Schoefft left for Vienna in 1842. Here in his studio Schoefft would now spend the next several years working on his grand epic masterpieces using his notes, preliminary sketches, copies of other artist's portraits and some imagination.
His monumental paintings of the Sikh Empire including "The Court of Lahore" were exhibited at the Vienna Salon of 1855, to great critical acclaim. Schoefft included over a hundred separate portraits in this masterpiece. Biographical and other relevant notes on each of the identifiable figures in the painting were included by Schoefft in the exhibition catalogue.
Schoefft died in 1888. Many of his paintings of the Sikh Empire ended up in the collection of Maharaja Duleep Singh living in England and subsequently with his daughter Princess Bamba. She eventually left England and moved to Lahore marrying a British doctor and upon her death in 1957 she bequeathed her property including Schoefft's paintings to her secretary Pir Karim Baksh Supra who in turn gave them to the Government of Pakistan in 1959. They are now housed as part of the Princess Bamba Collection at the Lahore Fort Museum in Pakistan.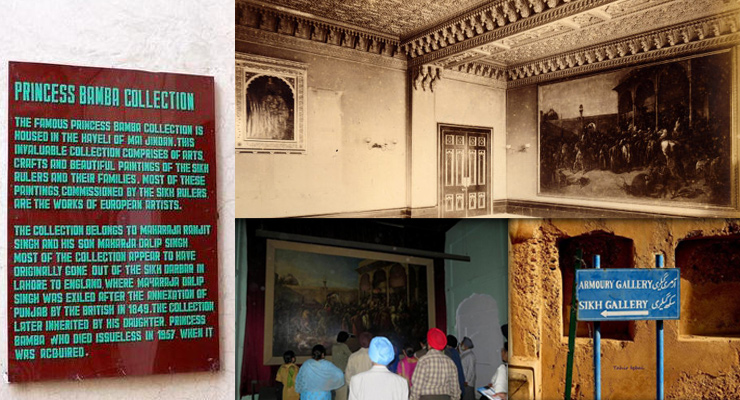 The original painting displayed in the main hall at the estate of Maharaja Duleep Singh in Elveden,UK (bottom right) Sikhs viewing the original painting in the Lahore Fort Museum Photo credit: Tahir Iqbal (right and bottom right) Credit: Tahir Iqbal
Sukhpreet Singh: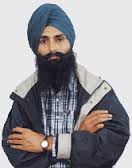 On a canvas 8ft by 6 ft, he spent over a year and many months away from his family, working on this masterpiece. The work for this masterpiece began much before the first brush touched the canvas. Learning from history and art books, Sukhpreet came to understand the personalities of the principal characters and the roles they played in history. This part of our heritage, which many of us have never had a chance to see, was finally brought onto canvas in this classic masterpiece, through which one can retell the whole saga of the Sikh Monarchy.
Since the collections of Sikh Art at various museums are not easily accessible to most Sikhs, it is imperative that efforts are made to preserve and promote this royal Sikh heritage. To bring Sikhs closer to their glorious heritage is the motivation that drives artist Sukhpreet Singh.
This piece has been sold – to see other Sikh Art in our store CLICK HERE
Contact us for more information at info@sikhfoundation.org or call us at 650 494 7454 (9am- 2pm PST)
You may also like...