Maharaja Ranjit Singh at the Darbar Sahib – Magnificent Sikh Art
Valuable Gifts to Own or Give!
We offer you a MASTERPIECE OIL PAINTING of Maharaja Ranjit Singh at Darbar Sahib to adorn your hearts, homes and offices.
Maharaja Ranjit Singh at Darbar Sahib
Oil on Canvas – 50" by 40"
Hand painted Replica OFFERED AT $5000
The painting will be shipped without frame.
To OWN this beautiful painting CLICK HERE
This replica of the original painting by the Viennese artist, August Schoefft, of Maharaja Ranjit Singh sitting in devotion on a balcony overlooking the Darbar Sahib complex at Amritsar is both stunning and full of details. The original was painted over a century and a half ago at the zenith of the Sikh Empire, it is one of the most important paintings from that era. Spending over a year in the Sikh Empire, Schoefft painted portraits and scenes while gathering the material to later produce his two most well-known works. Epics on a grand scale, but also with meticulous detail, Schoeffts paintings of The Court of Lahore and Maharaja Ranjit Singh at Darbar Sahib are widely admired today as the definitive depictions of the Sikh Royal Court at the height of its power under the Lion of Punjab.
What may surprise many is the fact that Schoefft's grand painting is a work of historical imagination and artistic license. Having arrived at the Sikh Empire two years after the death of the Emperor of Punjab, Schoefft never had the opportunity to meet Maharaja Ranjit Singh or witness this scene at Darbar Sahib. Schoefft's painting is analogous to a well written historical novel where the author researches an era to get the details of the times correct and then uses his creative imagination to populate the pages with believable characters in plausible circumstances, all set in historical context. In a similar manner, Schoefft used his vivid imagination to portray a scene that he never saw but one where, as a keen observer, artist and historian, he effectively blends reality with imagination into a cohesive grand epic on canvas that is both believable and realistic in its rendition.
Like many of his Sikh subjects, Maharaja Ranjit Singh seems to have incorporated the reading of the Guru Granth Sahib into his daily routine. Illiterate and unable to read or write, Maharaja Ranjit Singh still made it a point to spend a few hours in devotional prayers each day having the sacred verses of the Guru Granth Sahib read to him.
He was a devout believer in the doctrines, and a punctual observer of the ceremonies of his religion. The Grunth, the sacred book of the Sikhs, was constantly read to him, and he must have been familiar with the moral precepts it incalculated. The Court and Camp of Runjeet Sing W.G. Osborne, London, 1840
Schoefft provides us with an artist's imaginary rendition of what it may have been like when Maharaja Ranjit Singh visited Darbar Sahib, but we are fortunate enough to have an a eyewitness account of a actual visit by Ranjit Singh to Darbar Sahib.
In 1838 George Eden the Earl of Auckland and Governor General of India accompanied by his sister Emily Eden and commander-in-chief Sir Henry Fane had a rare opportunity to enter the Sikh Empire and visit Maharaja Ranjit Singh at Lahore. The aged Maharaja was by now in poor health and partially paralyzed, only a year away from his death, but he still thought it important enough to take his visitors on a journey from Lahore, the political capital of the Sikh Empire to Amritsar, it's spiritual capital to visit Darbar Sahib.
Only a handful of Europeans had ever been allowed to visit Darbar Sahib during Ranjit Singh's reign. We are fortunate that Emily Eden recorded the events that transpired in December 1838 in her journal as the aged Maharaja and his guests entered the precincts of Darbar Sahib.
Eden's account of the Maharaja's humility in rubbing dust on his forehead as he enters Darbar Sahib is remarkable for someone of his status and power and is in line with the Sikh belief that we are all equal in the eyes of God, the king or the beggar are the same. After a visit to the inner sanctum of Darbar Sahib Eden records that 'Runjeet took us up to a sort of balcony he has in one corner of the square.' this balcony is likely the very same one that Schoefft would spend time on years later as he worked on his sketch for his epic painting.
Up the Country, Volume II
Emily Eden, London, 1866
Letter dated: Camp Umritzir, Dec 10, 1838
Runjeet takes off his shoes and stoops down, and puts some of the dust on his forehead; it amounts to taking off a hat, and only answers to the same respect that we should wish anybody to pay on entering one of our own churches.….
The temple is of pure gold; really and truly covered completely with gold, most beautifully carved completely with gold, most beautifully carved, till within eight feet from the ground, and then there are panels of marble inlaid with flowers and birds – very Solomonish altogether. There are four large folding-doors of gold. We walked round it, and then Runjeet took us in.
There was a large collection of priests, sitting in a circle, with the Grooht, their holy book, in the centre, under a canopy of gold cloth, quite stiff with pearls and small emeralds. The canopy cost 10,000l. Runjeet made G. and F. and me sit down with him on a common velvet carpet, and then one of the priests made a long oration, to the effect that the two great ponentates were now brothers and friends, and never could be otherwise. Then G. made a speech to the same effect, and mentioned that the two armies had joined, and they could now conquer the whole world; and Runjeet carried on the compliment, and said that here, the oracle had prompted him to make this treaty, and now they saw that he and the English were all one family. In short, you never saw two gentlemen on better terms with themselves and each other. G. presented 16,000 rupees, and they, in return, gave us some very fine shawls. I think, mine was scarlet and gold, but the Company's baboo twisted it up in such haste that I did not see it well.
When all this was over, Runjeet took us up to a sort of balcony he has in one corner of the square, and by that time the bridge, the temple, the minarets, everything was illuminated. Shere Singh's palace was a sort of volcano of fireworks, and large illuminated fish were swimming about the tank. It was a curious sight, and supposed, by those who know the Sikhs, to be a wonderful proof of confidence on Runjeet's part.
About the Artist: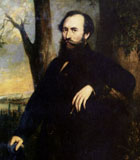 August Theodor Schoefft
Pic Courtesy: Sikhmuseum.com
August Theodor Schoefft:
August Theodor Schoefft was born in Budapest in 1809. After formal art training in Vienna Schoefft set out on a great adventure to travel exotic lands and paint foreign scenes.
Eventually Schoefft reached the capital of the Sikh Kingdom, Lahore in November 1841 during the reign of Maharaja Sher Singh. Once in Lahore, Schoefft was the guest of Dr. Martin Honigberger, the personal physician to the Sikh Royal Court and a fellow German speaker. Schoefft ended up spending over a year in the Sikh Kingdom painting various scenes and portraits of prominent members of the Sikh Court. Although many of these have now been lost, fortunately Schoefft made copies of a few for his own reference. Russian Prince Alexis Soltykoff visiting Lahore in March 1842 tells of finding Schoefft's paintings in the palace treasures:
Five or six portraits in oils without frames, the work of Schoeft, the German painter who has returned to British India. There was also a portrait of the King covered with jewels and holding in his hand a scimitar straight and very broad at the point and a portrait of the chief minister, Raja Dhian Singh, a good looking man, on horseback and wearing that suit of armour which I have already described. The King who admires the armour wished to be painted in it also.
Punjab a Hundred Years Ago as described by V. Jacquemont (1831) & A. Soltykoff (1842) Editor H.L.O. Garrett, Lahore, 1935
While at Lahore Schoefft also studied and copied existing portraits by various artists of some of the principal characters of the Royal Court who had died before his arrival including Maharaja Ranjit Singh, Maharaj Kharak Singh and Raja Nau Nihal Singh and other past members of Maharaja Ranjit Singhs Royal Court. Schoefft had plans to incorporate these character studies of past figures along with his own sketches of current principal figures at Maharaja Sher Singh's court into epic scenes at a later time on his return to Europe.
Visiting Amritsar and Lahore and preparing preliminary sketches of the locations as well as observations of the Sikh Royal Court and accounts he had heard of what it had been like during the time of Maharaja Ranjit Singh, Schoefft was able to get a good sense of Maharaja Ranjit Singh's Royal Court. Schoefft successfully combined reality with imagination to create scenes that he had never witnessed, but which were based on bits and pieces of real scenes that he had sketched along with his imagination of events and details that may have been. Thus Schoefft laid the foundation work for his two most famous epic historical paintings of the Court of Lahore and Ranjit Singh at Darbar Sahib.
After spending over a year in the Sikh Empire, Schoefft left in 1842 undertaking a journey back to Europe via Afghanistan, Persia, and Egypt, spending some time in St. Petersburg Russia before eventually reaching Vienna. Here in his studio Schoefft would now spend the next several years working on his grand epic masterpieces using his notes, preliminary sketches, copies of other artist's portraits and some imagination.
Once completed his monumental masterpieces of the Lahore Court and Ranjit Singh at Darbar Sahib as well as some other paintings from the Sikh Empire were exhibited by Schoefft to the public at the Vienna Salon of 1855. His masterpieces received great critical acclaim. At the time of their unveiling to the public, Schoefft's paintings now represented scenes of a Sikh Kingdom which no longer existed. Maharaja Sher Singh was now dead, the Sikh Empire had been annexed and it's last figurehead ruler the child king Maharaja Duleep Singh was in exiled captivity in Britain.
Schoefft eventually died in 1888. His painting of Maharaja Ranjit Singh at Darbar Sahib ended up in the collection of Maharaja Duleep Singh living in England along with some of his other paintings including the famous Court of Lahore. Upon Duleep Singh's death these important paintings became the property of his daughter Princess Bamba Jindan. Princess Bamba eventually left England and moved to Lahore marrying a British doctor and upon her death in 1957 she bequeathed her property including Schoefft's paintings to her secretary Pir Karim Baksh Supra. Supra in turn then sold Schoefft's paintings to the Government of Pakistan in 1959 and they are now housed as part of the Princess Bamba Collection at the Lahore Fort Museum in Pakistan.
To OWN this beautiful painting CLICK HERE
You can VIEW & BUY Original Sikh Art on our online store. CLICK HERE
Source: The Maharaja in the Guru's Darbar, Online Exhibit
Courtesy: SikhMuseum.com