Sikh Art Watch – Auctioned at Sothebys
Paramjit Singh — Untitled — (B.1935) – Auctioned at Sothebys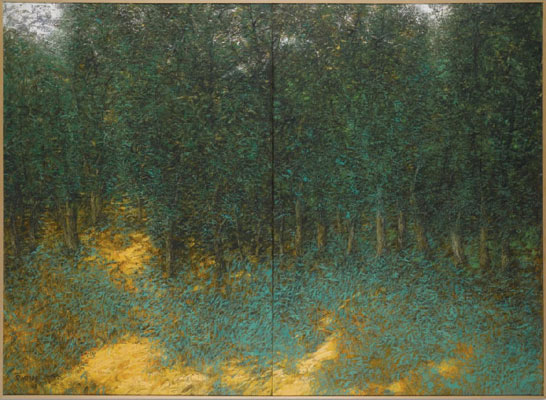 Auction Date: Modern & Contemporary South Asian Art
Session 1: 25 Mar 11, 10:00am Lot#255 Estimate: 40,000 – 60,000 USD
Signed 'PARAMJIT SINGH/ 2006' lower left and signed and dated 'PARAMJIT SINGH '06/ 54×36' on the back of each panel
Oil on canvas. 54 by 72 in. (137 by 183 cm.) diptych
EXHIBITION — Exhibited in 2006 at the artist's one man show Through the Woods with Gallery Maya, London
CATALOGUE NOTE — "At present, the (art) of Paramjit Singh is … a kind of apotheosis of nature. Celebrating the wilderness in nature, its variety of moods in golden yellow, viridian green, vermilion red and purple attract and hold the viewer thunderstruck. A little space in the form of a path, a stream, or a patchy region directs the viewer to further enter these dense landscapes: the call of nature. The artist selects the mesmerizing aspects of nature to present through these works of art." (M. Ramachandran, Paramjit Singh, Vadehra Art Gallery exhibition catalogue, 1995)
---
Arpita Singh — Tuesday Wednesday — (B.1937) – Auctioned at Sothebys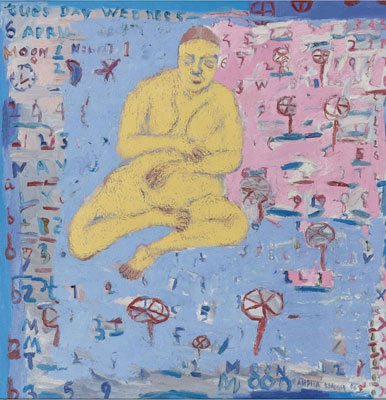 Auction Date: Modern & Contemporary South Asian Art
Session 1: 25 Mar 11, 10:00am Lot#258 Estimate: 50,000 – 70,000 USD
Signed 'ARPITA SINGH 96' lower right, inscribed 'ARPITA SINGH/ TITLE – TUESDAY WEDNESDAY/ OIL ON CANVAS/ 1996,/ 3'x 3''
Oil on canvas
36 by 36 in. (90 by 90 cm.)
CATALOGUE NOTE — Gayatri Sinha notes: "Arpita Singh has pushed the visual lexicon of the [mature] woman further than almost any
other woman artist. The anomaly between the aging body and the residue of desire, between the extraordinary and
the divine and the threat of violent fluxes of the impinging external world, gives her work its piquancy and edge. At
the same time, she critiques the miasma of urban Indian life with suggestive symbols of violence that impinge on
the sphere of the private, creating an edgy uncertainty." (Gayatri Sinha, www.grosvenorgallery.com)
Arpita Singh's focus on feminine motifs, bold use of color and confident control of her medium establishes her
importance among the male-dominated coterie of Indian modern artists. Her bright palette and narrative style are
perhaps the most characteristic features of her work, often creating a female archetype of strength and vulnerability: at home in the midst of cosmic forces, and in the rhythm of daily life.
---
Arpita Singh — Untitled — (B.1937) – Auctioned at Sothebys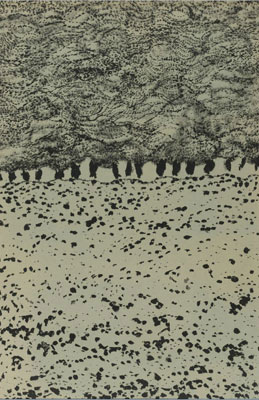 Auction Date: Modern & Contemporary South Asian Art
Session 1: 25 Mar 11, 10:00am Lot#259 Estimate: 10,000 – 15,000 USD
Signed and dated 'Arpita Singh 79' lower right
Ink on paper
18 by 12 in. (45.7 by 30.5 cm.)