Sikh Art Watch – Christies September 15, 2010
Manjit Bawa (1941-2008) – Untitled (Durga)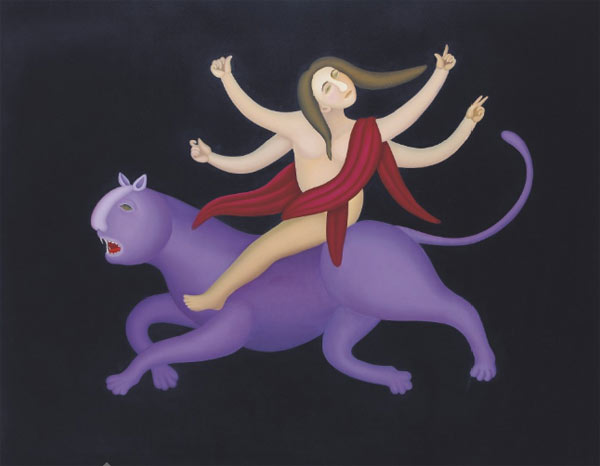 Auction Date: 15 September 2010
Lot# 345 Estimate: $200,000 – $250,000
Measurements: 68½ x 81 in. (173.5 x 206 cm.)
Price Realized: $314,500
Manjit Bawa pared figuration to its most essential elements, giving primacy to line by evoking elements of Kalighat painting whilst simultaneously exploring the saturated and gem-toned hues of miniature painting. The artist's style was further inspired by his experience as a silk screen printer during the mid-1960s, focusing on broad color planes and uncluttered forms. Bawa's oeuvre demonstrates a preference for line and form over narrative, eliminating extraneous detail in favor of an ambiguous, horizon-less space. Inspired by Durga and the Lion, this iconic and monumental painting gathers the artist's vividly graded tonalities in service of a pristine, elegant simplicity rooted in tradition yet fantastically conceived.
---
Manjit Bawa (1941-2008) – Untitled (Shepherd)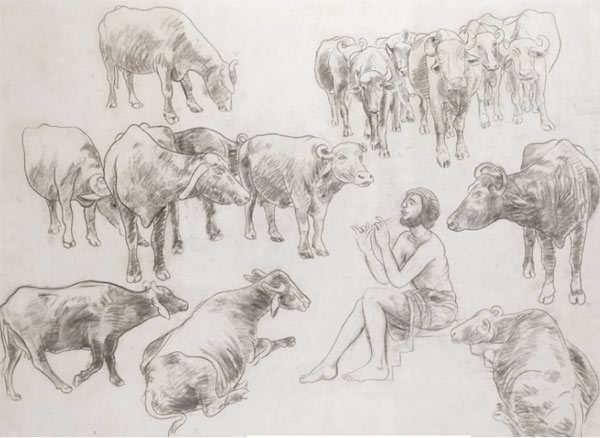 Auction Date: 15 September 2010
Lot# 359
Estimate: $30,000 – $50,000
Measurements: 52½ x 71½ in. (133.4 x 181.6 cm.)
Price Realized: $15,000

Property from a Private Collection, Denmark
You may also like...