Barah Maha – 2013 Sikh Fine Art Calendar
Review by Inni Kaur
The telephone rings…
"Inniji, this is Sonia from the Sikh Foundation. I am hoping that you would be willing to review our 2013 calendar." I hesitate. She senses my hesitation. "Just look at it, before you decide," she tactfully says. The calendar arrives. I'm awe-struck. I find myself turning each page with reverence. A silence settles in. I drift……………… Barah Maha bani cradles me. I wonder….
Am I the right person to review this exquisite calendar?
What can I possibly add to the exquisite Barah Maha series paintings done by Sardar Devender Singh? After all, he is "the man with the golden brush."
Representing the different seasons, these paintings are ethereal. Pangs of separation, longing for Divine Love, intense desire for union with the Over Soul, are emotions I encounter. "The man with the golden brush," has painted with his soul.
Some may consider these paintings a trifle abstract. But not I.
Lines crystallized in the Gurmukhi script are the jewels that elevate these paintings to another dimension.
"What is a work of art if the Creator has to wax eloquent over it for half an hour to make the viewer fathom his creation? A painting must speak for itself," says the artist.
And he is right. The paintings speak:
Magh/January – Stillness permeates. Tranquil waters. Pastels submerge. Ik Oankar pervades.
Phalgun/February – Hues of crimson engulf. Divine yearning. Crescent moon hungers.
Chet/March – Nature blooms. Koels sing. Joy surpassed.
Vaisakh/April – Restlessness, shyness. Watching, waiting. Leaves adorned.
Jeth/May – Fire rages. Orange hues.Watchful eyes.Yet, shielded.
Asarh/June – Darkness. Turmoil. Fires raging.
Savan/July – Zephyr blows. Lightning strikes. Torrential down pour. Home distant.Pensive state.
Bhadon/August –Terrain submerged. Fauna cries. Lost, dejected. Beseeching bleakly.
Assu/September – Earth quenched. Hope. Light emanates.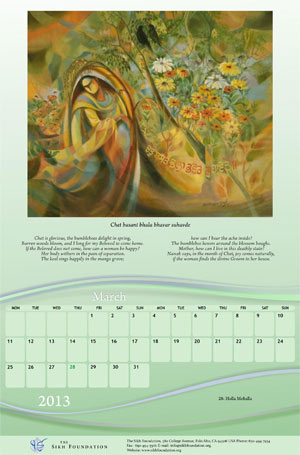 Kattak/October – Diya lit. Flame steady. Fervor ignites.
Maghar/November – Tranquil pirouettes. Shabad resounds.Nearing abode.
Pokh/December – Cosmos twinkles. Grateful supplication. Realized – The Divinein all.
A beautiful meditation…………….
Dr. Nikky-Guninder Kaur Singh's sensitive translations of the Barah Maha verses grace in each painting.
What would a calendar be without a calendar grid? Dates of Sikh significance and public holidays in the United States are included.
"Barah Maha" is no ordinary calendar. It has "no expiration date." Framed images of this calendar will adorn the walls of my home – as I know they will in many other Sikh homes.
Since 2000, the Foundation has produced calendars highlighting Sikh Art. I confess…I have every calendar and have framed many of the images. Therefore, it would be remiss of me not to personally thank the Foundation for educating me in Sikh art.
I am reminded of a quote, "The meaning of things lies not in themselves but in our attitude towards them." I absolutely love Sikh art. And Dr. Kapany, I owe you a debt of gratitude.

Devender Singh, b.1947, is an internationally renowned artist and the recipient of numerous awards and honors. A master of both realistic and abstract, his art brings alive the glorious moments of Sikh history and Punjabi culture. Amongst his best works is the Bara Maha Series of oil paintings which are based on the compositions of Guru Nanak. He is respected for his much loved illustrations for the Sikh comics of Amar Chitra Katha and countless books. His works adorn acclaimed museums and hold a place of pride in private collections worldwide.

Inni Kaur serves on the Board of the Sikh Research Institute. She is also the author of a children's book series, Journey with the Gurus.