Daniel Connell's Art Examines Cultural Identity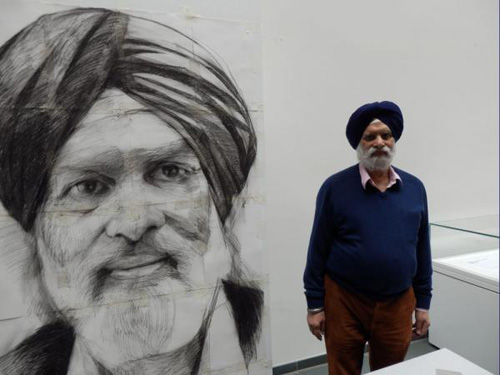 Mr Surinder Dhillon, a representative of Sheffield's only Sikh temple, or 'Gurdwara'
Australian artist Daniel Connell spent a week exhibiting his work and doing live drawing at Sheffield Hallam University, as part of an international touring exhibition to highlight multiculturalism and diversity.
Featuring six-foot high portraits of members of the Sikh community in Adelaide, Daniel's work is intended to encourage discussion around art, identity and society.
He said: "The idea of drawing in public is it allows interaction, and people can see how long it takes to make a picture, how it's constructed. It demystifies the art process.
"If somebody's having their portrait done, you'd think they might be someone important. What I like to do is draw people who are not necessarily 'important', apart from the fact that they're important. They share the one thing we've all got: humanity."
During his visit Daniel invited members of the local Sikh community to the exhibition in the University's Cantor building. He also drew a portrait of Mr Surinder Dhillon, a representative of Sheffield's only Sikh temple, or 'Gurdwara'.
Daniel said of the people he met: "They came to it from a perspective of giving them a place and a voice in the public realm, and that's a good thing. If they feel it's giving them a sense of belonging, or providing an opportunity to discuss issues of who they are, to counter ignorance or racism – if that's the perspective that they bring to it, then that's a wonderful thing."
The visit was organised by the University of South Australia and Sheffield Hallam University. Daniel's work will return to Sheffield on 27 May, when it will be exhibited in the Gurdwara on Ellesmere Road North.
View more of Daniel's work www.danielconnell.net
Courtesy of www.shu.ac.uk