Punjabi Baroque: Statues are status symbols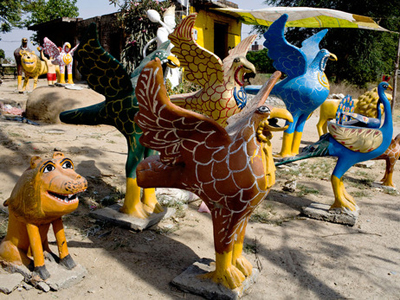 It is only natural. If you see an amiable, pot-bellied bird by the highway, standing six feet tall from talon to beak, you'll probably stop the car. The odds rise further if standing next to that bird there are two bright-orange, open-mouthed lions that look as if they have escaped from a Dr. Seuss children's book. Throw in a big turquoise peacock, a long-haired male weightlifter in orange spandex shorts, a dumpy airplane, a swordsman on a horse, and a lizard covered in pink spots, then … well, even if you're in a rush, any self-respecting journalist has to stop.
So we do.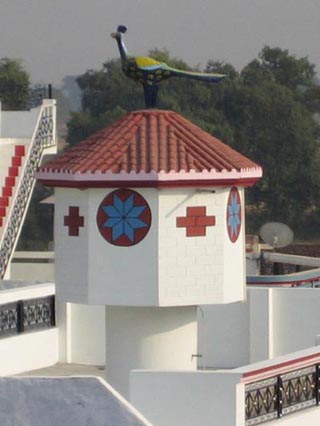 We're on the last leg of our 1,200-mile journey, tracing the ancient route of the Grand Trunk Road from the eastern city of Kolkata (Calcutta) to India's border with Pakistan. From there, Morning Edition's Steve Inskeep and NPR Correspondent Julie McCarthy will continue traveling the road until they reach the Hindu Kush, the gateway to Afghanistan. This strange collection of men and beasts by the roadside caught our eye some eight hours after we drove out of India's capital, New Delhi, and began heading north.
During our journey, we have spent much time crossing through an impoverished rural landscape that hasn't altered greatly in centuries, and is far removed from India's cities, and its growing consumer society. But now we're deep into Punjab, one of India's most prosperous states; the world around us has changed.
The highway's fast and new. There are actually signs apologizing for delays caused by roadwork where the road's being widened. Indians have a genius for inventing new verbs. The hold-ups are because of "six-laning", the signs explain. We have driven past modern-looking industrial plants, dealerships for Nissan and Honda, some big billboards advertising stretch limos for hire, and two drive-thru McDonald's. 
Old India is still present. We also see water buffalo, rickshaws, horses hauling back-breaking, over-laden carts, and some numbingly abject rag-pickers' roadside slums. But overall, Punjab exudes a different mood from the central northern plains. It feels brash, confident, and successful.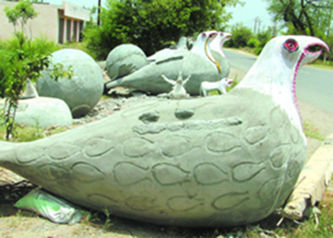 Which brings us back to that big fat bird.
We got of the car and went to investigate. The bird, the weightlifter, and the rest of the menagerie were the handiwork of a group of craftsmen from the Indian state of Bihar. One of them, Apdesh Kumar, showed us around the collection. He explained that they were made of concrete. The lions cost $220 for the pair. The "eagle" (the fat friendly bird) would set us back by $110. We asked Kumar who buys this stuff. 
"Rich Sikhs with money from abroad," came the reply.
They plant them on top of their roofs, he said. "It's to show that you are a rich man… a big man."
Sure enough, after we resumed our journey, we began to notice them. In each town we passed, there were several tall houses crowned with concrete eagles and airplanes (I saw one with "USA" painted in in big letters on its tail fin — but spotted no weightlifters)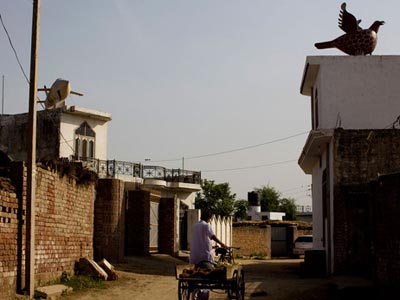 When we reached Amritsar — the holy city of the Sikhs — we asked people what these symbols meant. These were mainly for show and decoration, we were told.
Many families in Punjab have at least one member working overseas — often in the U.K., Canada, and Australia. The planes and the birds were emblems of the wealth these expatriate workers had brought their families.
This flashy art form serves another useful purpose. During our journey we have often had difficulty persuading people we are going to visit to give us directions to their homes. They prefer us to ask on the streets.
You can waste a lot of time in India doing that. But any home with a seven-foot concrete weightlifter on top of it should be easy to find.
For us, it's too late. We don't need any more directions. After investigating the statues, we move on again, to our journey's end. We've now reached India's border with Pakistan, after more than two weeks of traveling and talking.
During this time, we have met many inspiring and generous young Indians. Some are full of hope and confidence for their future in South Asia. Some are far less sure that they can seize the opportunities in this changing world the face of huge and intensifying competition. And some have given up.
You will hear from them soon, and from others too, on Morning Edition's journey along the historic Grand Trunk Road.
Courtesy of www.npr.org
NPR correspondents are taking The Two-Way with them along the historic Grand Trunk Road that stretches from the Bay of Bengal in the east to the Hindu Kush mountains in the west, across the Indian subcontinent. They're preparing an upcoming Morning Edition series about life along the route, and we've been getting reports from them since April 14. Click here to see all of the team's posts.
As Morning Edition host Steve Inskeep says, "a new generation is growing up along that ancient road" and the show will be telling the stories of those young Indians and Pakistanis who face vast opportunities — and vast problems. Meanwhile, Philip Reeves presents the team's latest dispatch, as they reach the end of the Indian side of the trip.