Sikh Artists Boost Auction Results
Click images, for details and larger view
100 works by 51 Modern and Contemporary Indian artists attracted collectors across the world to Saffronarts, winter auction, setting a global price record for Manjit Bawa's untitled canvas at $362,250 against an estimated price of $152,175.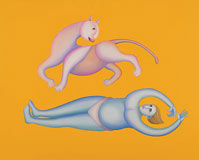 This untitled canvas of epic proportions, by Manjit Bawa, features the artist's figures of men and animals, suspended wondrously in colorful space, rendered with a simple fluidity that borders on the abstract. Rather than brushstroke and texture, Bawa relies on chiaroscuro and subtle shading to deliver depth to his canvases; and rather than developing a narrative, the artist focuses on perfecting form by paring it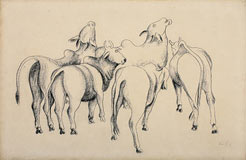 down to its most basic essence. Together, these characteristics give the artist's paintings an arresting luminosity, and his characters a dreamlike presence.
Other artists whose works were sold above the estimates were Parmjit Singh and Rajnish Kaur.
Singh's brush charts a course onthe canvas that gives the viewer panoramic visions of mysticlandscapes.The bush, coated with thick pigment, does not rest before it has filled the entire surface; before the paint has ensured that all the natural forms in the frame have been given a colorful, tactile presence. The lines etching out the grass, the leaves, the peduncle, seem to be possessed by a mysterious, lyrical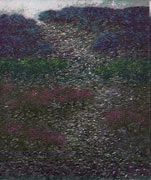 musicality. The artist's paintings create a continuum or series, evading the risk of self-duplication. Working both in the realist and the representational style, Singh's canvases are gentle explorations of the possibilities that lie beyond the urban world that surrounds us; beyond the noises and sounds and streets packed with vehicles. Singh's art is significant in its creation of a space for itself, and of an aesthetic haven for its viewers.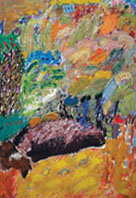 Rajnish Kaur's paintings embody a youthful play of colors. Her bold application of paint on large surfaces reveals her expressionistic tendencies. The artist also seems to draw on the two-dimensional tradition of Mughal miniatures in the arrangement of her forms. Her oils on paper and canvas are an interesting confluence of spontaneity and deliberation. This dichotomy is also present in the way she handles colour – one of the most important aspects of the artist's work. To arrive at a desired hue she builds it up by applying paint in multiple layers, creating rhythmic structures of lines and forms, which give momentum to the canvas.
The other top five artworks sold in the auction were M.F. Husain's untitled canvas at $ 2,94,400 and Subodh Gupta's untitled work at $ 2,53,000, F.N. Souza's 'Profile of a Woman' sold at $ 2,15,625 and S.H. Raza's 'Temple' at $1,81,125. These auction results mark a surge of confidence among collectors across the globe who is seeking out exceptional and rare works with impeccable provenance to add to their collections.
Saffronart is the only fine-art auction house globally to offer a mobile bidding application for devices such as the iPhone, Blackberry and Nokia phones.