November 8th, 2011 | Published in Sikh Arts & Heritage, Sikh Arts Forum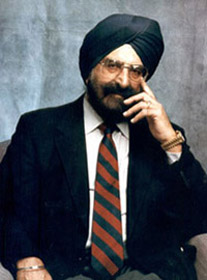 Approximately a year ago the Sikh Foundation announced the launch on its webpage of the series "Opportunities & Challenges for Sikh Academics", under which 22 articles by Professors of Sikh Studies and sophisticated intellectuals were published. While more articles on this subject shall follow we have now decided to publish another series of articles on SIKH ARTS. This series will cover articles on Sikh paintings [oil, water color and lithographs], sculptures, ivory paintings, arms and armaments, textiles [phulkaris, romalas, baghs and dresses], coins, stamps and other display items. For this series we plan to invite well known artists like Arpana Caur, Twin Sisters, Devinder Singh, Sukhpreet Singh, Manu Saluja and others. Leading curators like Forrest McGill, Sue Stronge, B.N Goswamy, Paul Taylor, Caron Smith, Nimma Smith, Daljit Kaur, Amin Jaffer, F.S Aijazuddin, Qamar Adamjee, Shivi Singh, Frank Ames; historians like Gurinder Mann, Nirvikar Singh, Pashaura Singh, Jaideep Singh, I.J Singh, Peter Bance and Sikh Arts collectors such as Maharaja Amarinder Singh, Dr. Kartar Lalvani, Arpana Caur, Dr.Anmol Mahal, Satjiv Chahal, Pushpinder Singh, Parmjit Singh and many others will also be included. We urge you to stay in touch to learn more on Sikh Arts through these first person accounts and literary articles.
Mary-Ann Milford-Lutzker, Professor of Asian Art History, holds the Carver Chair in East Asian Studies. She is also Provost and Dean of the Faculty at Mills College. She received her Ph.D. in 1984, from the University of California, Berkeley. Her early work focussed on traditional Indian and Indonesian art and she curated exhibitions including The Image of Women in Indian Art in 1985, and Myths and Symbols in Indonesian Art, in 1991. Her most recent exhibition is Love & Betrayal: Bollywood Summer at Mills, 2006.
Milford-Lutzker was born in England and has lived in India.

We start the series with this joyous article by Prof. Nikky G. Kaur Singh. This paper was presented at the Asian Art Museum in San Francisco, celebrating the opening of the Satinder Kaur Kapany Gallery of Sikh Arts.
Nikky Singh is the Crawford Family Professor of Religious Studies at Colby College, and the Chair of the Department of Religious Studies. Her interests focus on poetics and feminist issues. Nikky Singh has published extensively in the field of Sikhism, including The Feminine Principle in the Sikh Vision of the Transcendent (Cambridge: Cambridge University Press, 1993), The Name of My Beloved: Verses of the Sikh Gurus (HarperCollins and Penguin), Metaphysics and Physics of the Guru Granth Sahib (Sterling). She has published over 45 Journal Articles and Chapters in books, and has given over hundred lectures in North America, England, France, India, and Singapore. Her views have also been aired on television and radio in America, Canada, and India. Over the years her scholarship has been recognized with numerous awards and honors.