The Kapany Collection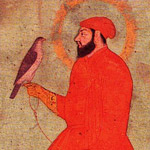 A Presentation at University of California, Santa Barbara
Presented by Sonia Dhami
on Nov 14th. 2009
The Center of Sikh and Punjab Studies at the University of California, Santa Barbara hosted a two day conference on the 13th and 14th of Nov. 2009, titled "Expanding Horizons: Sikh Studies at the Turn of the 21st Century." During this conference some twenty scholars from the USA, UK and India presented their papers on varied subjects of Sikh religion, history, literature, music, architecture, and archeology and diasporas studies
View the detailed program of the conference at the UCSB page.
During the conference, glimpses of the spectacular works of Sikh Art from the Kapany Collection was also presented. The beginning of this collection lies in the legacy that Dr. Narinder Singh Kapany inherited from his family. One of his ancestors, who served as the head of the Patna Sahib Takhat in India, commissioned a Janam Sakhi of Guru Nanak. The inheritance of this single piece of history instilled in him a deep love and pride for his Sikh heritage. And over his lifetime, with the full support of his wife, Satinder, it has developed into this magnificent collection, having over 300 artworks ranging from paintings, manuscripts, textiles, armor, coins etc. Looking at these works of art, there are many stories that can be told of times past and present. Through this selection, one can get a good understanding of the manifestations of the varied circumstances that shaped the different phases of Sikh history leading to the development of its traditions and arts.
[st autoplay=off scale=ShowAll transition=blur fullscreen=off width=780 height=540]
Move your mouse over the Slideshow to see options, Click play to Start slide show, or just use the arrow to move Forward or Back
Full screen option as well.
These and other creative endeavors are reminders to Sikhs and to the wider world that there is more to Sikh culture than turbans and swords, more even than agricultural, professional and entrepreneurial success & literary works; there are the artistic achievements that are the mark of a healthy, thriving, thinking and evolving community. Art has the power to educate and inform. We overlook these at our own peril. These lie behind us but they are also what will take us forward.