Global Potential of Our Community by Dr. Narinder S. Kapany
* Read the Introduction to this Feature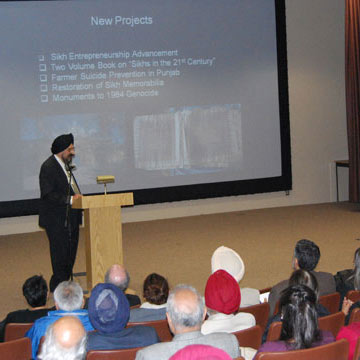 As the third part of our series on the Transnational Punjabis in the 21st century, we feature Dr. Kapany's keynote presentation at the University of Fraser Valley Conference entitled "Global Potential of Our Community."
The last time Dr. Kapany had given a speech at the University of Fraser Valley, it was the fall of 1984, soon after the crisis created by the government of India attacking the Golden Temple under the direction of Indira Gandhi. There was a senior member of the Canadian Parliament present at the conference who was so moved by this speech and learning the plight of Sikhs in India therefore requested a copy of the speech to be distributed to all of Parliamentarians in Canada.
History of Punjab and Sikhs
Almost three decades later, things have changed considerably. Setting the stage, the address began with the rich history of Punjab and Sikhs which goes back thousands of years with great wars, beautiful arts, great cultural developments, phenomenal agriculture, charming poetry, and new religious heritage for which Sikhs are known.
As many are aware, our ancestors fought the last war of Alexander the Great. They also fought numerous other wars when raiders have come to India and have stopped them. The earliest educational system came from Punjab. The earliest religious systems of the world were born in the Far East including the birth of our 10 Gurus who taught us the oneness of God, equality of mankind and womankind, hard work, and charity. Extremely important was mandated the respect for all other religions, as opposed to most other religions that are interested in converting you to their food of thought. In fact if you look at our Guru Granth Sahib, you'll find a large number of translations from Hindu and Muslim saints.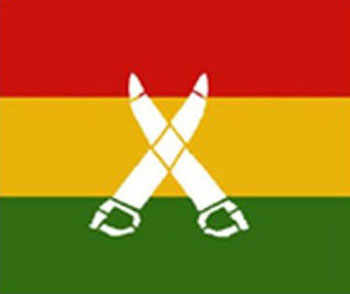 The Gadar Movement
After that came the magnificent period of Maharaja Ranjit Singh at the end of the 18th century and early 19th century. He built in an incredible empire in Punjab and according to some scholars he is considered to be the best Maharaja India ever produced, highly secular, very generous, great collector of art, credited as the father of the Sikh Arts and naturally a great conqueror. Assimilated in Punjab are the languages of different cultures, Persian and others.
In recent years, our ancestors fought many wars in India, Europe, and Far East and even a number of them received Victoria Crosses. We undertook the Jalinwala Bagh gathering where the British massacred a number of Sikhs and non-Sikhs and that was the beginning of India's independence movement. Our ancestors started the Gadar Movement in Northern California in the early 20th century. From the Canada area, we marked history with the Kamagata Maru. In the east coast approximately 50 or more years ago, there was the Indian League of America and J.J. Singh and a number of his colleagues actually got together and tried to convert Churchill to talk to Roosevelt to give independence to India and in part they did succeed. Our role in the independence of India has been dominant.
What's Happening in the World Today?
Looking at the world in the last century or so, there have been some fascinating changes. Independence of India, Pakistan, and Bangladesh, two great wars and many smaller wars, even now the United States is involved in three wars. The ascension of China, India, and Brazil is a spectacle of all natures. And the west is going through some serious issues from financial issues, to discrimination against people, and religious intolerance- all of that is happening here in this part of the world.
The latest revolution in Egypt, Libya, and the Middle East and the economic rise of Africa and South America is absolutely amazing yet we suffer seriously from an energy crisis and population explosions, responsible for destruction of large number of animals, and recently an earthquake in Haiti, BP Oil Leak, the Tsunami in Japan, nuclear concerns in Japan, killing of Bin Laden, and riots in England.
Challenges of the Sikhs
While all of this has happened, the Sikhs have gone through major changes. Some not so good and some of outstanding quality. As a community, we do have some serious problems. The influence of 1947, the independence and division of India largely accepted by the leaders of India led to killings of huge number of Sikhs and Muslims. In 1984, the attacks on the Golden Temple and many other gurudwaras in Punjab have led to disastrous effects for our community, incredible loss of life and millions killed in India and Pakistan. There is deep corruption in our religious and political leaders. The drug use in Punjab has trickled on to the West and impacted many young Sikhs who are now in jail because of drug involvement.
There is a general degeneration of our ethics and over enchantment with the so-called modernization. There is also a desire to integrate with the majority community. Furthermore to many uninformed masses, they confuse us as Muslims that has led to some killings of the Sikhs in United States and other places. We know Sikhs suffer from job discrimination just because they are Sikhs. This is getting considerably less than it used to be but it still exists. We have serious issues and continuing problem with our gurudwara politics all over the world. What we need today is to innovate daring approaches in education and providing job opportunities and improving the ethical standards. Nonetheless, our community has made fantastic progress globally.
Sikhs Spread All Over the World
The Sikhs have been spreading all over the world since the beginning of the 19th century. The numbers are somewhat uncertain but they believe there are 23 million Sikhs living in India. There are approximately one and half million Sikhs living in the U.S. and Canada. About 1 million Sikhs in Britain, then we're spread across Burma, Australia, Kenya, Thailand, Germany, Pakistan, Arab Emirates, France, Netherlands, Spain, Singapore, you name it and we are there.
How the Sikhs Got Transferred to this Part of the World?
Khuswant Singh had an interesting story about how the Sikhs got transferred to U.S. and Canada. At the turn of the 19th century, Queen Victoria was having her jubilee and the British brought these tall, handsome Sikh soldiers for parading around in London and there were magnificent pictures taken of these people. The British were so impressed with them and decided they were going to send them to other colonies and in particularly Canada. Sikhs came to Canada and viewed the country and countryside and were extremely impressed by it and decided when they retire from the army that they will come back. In those days, the British were strong in Canada and highly influential in the U.S. Sikhs had a great deal of difficulty coming here so they actually came to Mexico and then tried to come up north and a lot of them liked California once they arrived. A number of them stayed in California and others went to Canada. They suffered severely because of illegal immigration and some very sad stories have been told about their struggles. But the beauty of their hardship is that their descendants now in both California and Canada are multi-millionaires as farmers and business owners. They managed to create a very positive life for themselves and their families.
Dalip Singh Saund – First Asian Congressman in the United States Congress
Celebrate the Sikhs from All Around the World
Let us consider and celebrate the Sikhs around the world and what they have achieved. The past President of India Giani Zail Singh was president for a number of years, the present Prime Minister of India on his second term has led India through phenomenal success up to the point that it's emerging as one of the major world powers. People like Montek Ahluwalia, Tarlochan Singh, Amarinder Singh, and Badal have had great influence through their services. We celebrate Sikh soldiers like General J. J. Singh, General Jagjit Singh Arora, the conqueror of Bangladesh, General Harbaksh Singh, Air Marshal Arjan Singh, Mehar Singh & Shiv Dev Singh.
In the U.S. and Canada, Sikhs are in very highly elected positions. In California, Dalip Singh Saund, who was the first Asian Congressman in the United States Congress, is now followed by numerous other Sikhs in United States and Canada. Recently two expatriates and Punjabis are governors in the United States. Sikhs have numerous knighthoods in England and winners of Victoria Crosses. Sikhs are major in all types of businesses, and there is not a university in the U.S. and Canada that you won't find a Sikh professor. Doctors are specializing in all types of medicine all over the world. As engineers, there are Sikhs in every field including software, hardware, chemistry, physics, biology, you name it, they're in there.
In the Silicon Valley area within the radius of 50 miles, in the present time there are 50 Sikh Presidents of their own companies running their businesses and succeeding extremely well. Artists, dancers- there is not a single university that does not have bhangra. We have directors like Gurinder Chadda who produces some of the finest movies. Painters like Amrita Sher Gill, Kapur Singh, Sobha Singh and many others young Sikh artists in United States, Canada, England, and of course in India. Then we can't forget the farmers in California and the farmers in Canada which are absolutely superb and hard-working.
When people ask what are the key qualities to becoming a successful entrepreneur, here is the following factors that I've come up with: a perpetual learner, highly optimistic, a belief in truth, charitable, always looking towards the future, knowledgeable, ability to move forward, trustworthy, having sweetness and humility, strong work ethics, rule of law, group working relationship, ethical, and equality for men and women. These are the criteria that make any person successful whether it be Sikh or Non-Sikh- it is what is necessary as basic principles. And finally with chardi kala and progress of the future, we can survive globally.
[showtime autoplay=on scale=noscale exactfit transition=blur fullscreen=off width=660 height=440]
Move your mouse over the Slideshow to see options.