UC Santa Cruz to Come Up with Institute of Excellence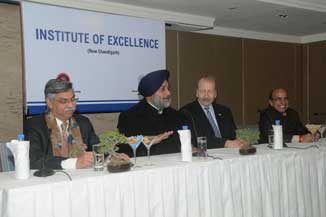 Report by India Education bureau, New Delhi: Punjab Technical University (PTU) has announced that it has signed a Memorandum of Understanding (MoU) with University of California, Santa Cruz (UCSC) for setting up an Institute of Excellence (IOE) at Chandigarh. The MoU was signed by Dr. Rajneesh Arora, Vice Chancellor, PTU and Dr. George R Blumenthal, Chancellor, UCSC.
Sukhbir Singh Badal, Deputy Chief Minister, Punjab, said, "I welcome this initiative. Besides, I invite University of California to set up their campus in New Chandigarh Education City that we are coming up with in 2000 hectares that shall have well known education institutes of national and international repute. I assure foreign institutes of all possible help – be it permissions, sanctions and clearances; or infrastructure including land. The state government shall bear all the cost. As of now Delhi is the education hub in the North however we wish to change this and present Punjab as a better alternative. If we are to export manpower to developed countries which have largely ageing population, our youth should be competent enough to contribute in this globalized atmosphere. For this we need institutions here that impart quality education."
According to Dr. George R Blumenthal, Chancellor, UCSC who also happens to be an astrophysicist and astronomer, besides being an academic administrator, "Academic ideas should have no boundaries. The objective is to create a world class technical education institution to support advancement of aspirations of people of Punjab and India. This is in accordance with UCSC's strategy to expand its role in education and research outside US."
Mr. Sunil Kant Munjal, Chairman, Board of Governors (BoG), PTU (Joint Managing Director, Hero MotoCorp) said, "India is a great opportunity for foreign universities as we have the largest number of students – 54% of country's 1.3 billion population is below 25 and 30% is below 15 years of age."
Dr. Rajneesh Arora, Vice Chancellor, PTU who has been working steadfastly for making Punjab a global hub for higher education and innovation informed, "This is not a Memorandum of Understanding but a Memorandum of Commitment. It is in fact one of the finest examples of Indo-US collaboration when it comes to furthering technical education. There is a sense of urgency to fulfill the human development needs of the people and, therefore, we intend to start, albeit in a limited manner, as early as June 2014. Both PTU and UCSC have agreed to assign empowered officials to take decisions rapidly. We expect active collaboration from the industry too."
In steady state, IOE expects to be self-financed for operating expenses. It will focus on high quality technical education and grant degrees in streams like Bio-Engineering, Bio-Informatics, Computer Engineering, Computer Science, Electrical Engineering, Network & Digital Technology, Robotic Engineering, and Technology & Information Management. Till IOE attains the authority to grant degrees, PTU shall do the same. Students can choose to transfer to UCSC to complete their undergraduate or graduate education and get a degree from UCSC provided they meet UCSC's admission and other criteria in place at that time.
"The long term vision of IOE is to enable any student who otherwise qualifies on merit to attend the institution even if he/she is unable to afford the cost. For this purpose, IOE intends to raise funds via grants and donation to finance scholarships for needy students and also to meet other obligations," added Dr. Arora.
PTU shall provide resources to set up IOE as legal entity; get approvals from central or state government bodies including those necessary to grant degrees; hire consultants; arrange for physical infrastructure; admit students; hire faculty and pay all operational costs including housing and other incentives for the visiting faculty etc. After the creation of IOE legal entity, all PTU obligations shall be transferred to IOE.
UCSC shall provide free teaching curriculum, methodology and test/exams similar to its current material at US; permit IOE to use its name in the name of the institution itself as an educational partner, curriculum partner and faculty training partner, and as a potential transfer destination; cooperate in media and other publicity to create a positive brand for IOE etc. UCSC also intends to encourage its faculty and that from other campuses of University of California to travel to India to teach courses besides training and hiring faculty for IOE, wherever appropriate. UCSC will also cooperate in remote live video instructions by its faculty as and when required.
IOE will be governed by a seven member Board of Trustees or Governing Council comprised of eminent academicians, UCSC representatives, industry representatives and government representatives. The first Chairman of the Board of Trustees shall be appointed by the Governor of Punjab on recommendation of the state government.
Courtesy of www.indiaeducationdiary.in