Academia and Sikh Tradition: Unique Opportunities Dr. Rahuldeep Singh Gill
* Read the Introduction to this Feature
Note-Mouse over images for description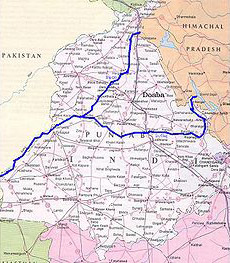 I am the grandson of a small farmer from the Malwa region of Punjab, and the son of working-class immigrants to the United States. Although I was taught from an early age to adhere to the core principles of my ancestors' Sikh faith, I was also supposed to pursue the highest levels of worldly success. According to the odds, I don't belong on the academic stage as a religion professor.
Perhaps I should have followed an efficient, lucrative career path more like my highly educated, first-generation, South Asian peers. Despite the difficulties and hardships, I have found that only the pursuit of learning, knowledge, and wisdom make life worth living, and all the richer. Lasting achievements — equality, justice, or the fulfillment of cultural legacies — require travails on untrodden paths.
My education has led me down such trails. After growing up in the Boston area, I studied religion at, and graduated with Honors from, the University of Rochester (NY). Designated fellowships helped me to study religious identity in India, where I worked with Sikh historian Dr. J. S. Grewal. A special scholarship from the University allowed me to earn a certificate in Political Science. My work in Punjab and my success in college earned me a generously-funded spot at the prestigious Religious Studies program at the University of California, Santa Barbara. Studying under Dr. Gurinder Singh Mann, my research on the life and works of the Sikh savant Bhai Gurdas earned me the first Ph.D. in Sikh tradition from a North American center of Sikh Studies.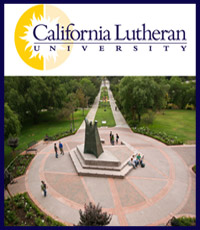 Early in my career at California Lutheran University, I have enthusiastically commenced my professional, academic life. It has been instructive to see how Protestant Christian immigrants from Scandinavia have built a lasting legacy across the United States. Making inroads with interfaith groups beyond the Lutheran church is proving to be quite a rewarding challenge. I would love to work with young Sikhs and Punjabis on campus, but my University does not have sizeable populations. I am excited to have begun work with other religious groups as well as non-religious seekers.
In my department, I am responsible for teaching Global Religions and will be teaching Sikhism as part of a broader course on South Asian religions this semester. I am thrilled to announce that I will commence a regular Religion class on Sikh Tradition next year, presenting it as a case study in global religions. The course will begin with a deep analysis of the ideas on which the Sikh community was founded, move through five centuries of Sikh history, and end with the issues facing the global community.
I seek opportunities to participate with Southern California Sikh communities, like the community in Ventura County that we worked with during my time at UCSB, as well as several in Los Angeles County. The University community is very excited about expanding its relationship with other religions. Sikh and Punjabi youth from the area may also find CLU a welcoming place to spend the formative years of their academic lives.
Why academics? And why the study of religion? Coming out of my baccalaureate experience, I felt there was so much work to do in Sikh and Punjab studies, and I felt I could contribute! Moreover, there was so much I wanted to learn about my people, their culture, and their history.
There is an under-representation of members of the ethnic and religious groups to which I belong, especially in the humanities. There continues to be a lack of knowledge about the geographical region from which I draw my ancestry, its people, and its cultures. In my graduate work, I employed my particular skills sets and interests to plug those gaps. Studying religions provides insight into a broad range of human institutions and behaviors, requires us to compare data across cultural and national boundaries, and forces us to use a variety of approaches to apprehend ever-evasive truths. The study of religions is an exciting and developing field of the human sciences that is keenly aware of its own limitations, while boldly pursuing knowledge of the human world.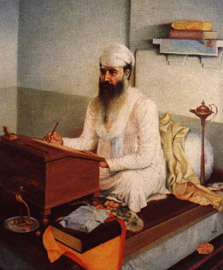 Studying Bhai Gurdas's life and works was something I had commenced at the University of Rochester, and proved a great complement to Dr. Mann's work on Guru Granth Sahib. Bhai Gurdas was the scribe of a landmark copy of the Sikh scripture, and penned over 1500 stanzas of his own poetry on Sikh life in the seventeenth century. Reading this poetry in light of the context in which it was written opens up new possibilities of meaning for its interpretation today. From Bhai Gurdas's works we can learn much about how early Sikhs practiced, where the early congregations were based, as well as how that great thinker inspired his co-religionists to be better Sikhs.
Colleagues and students at my university ask me how I find it being both a scholar and a religious person. For me, there is no distinction. As Nirvikar Singh has pointed out earlier in this series, to be a Sikh is to be a pupil of the entirety and continuity of divine revelation. Sikhs have employed science to effect India's Green Revolution and feed that nation. We have birthed leaders in high technology and medicine. We are not afraid of confronting issues head on, and putting knowledge to work for us.
We are a successful community with strong literary and historical traditions. Moving that tradition into the twenty-first century, we will build on the foundations that have been laid. My vision for Sikh studies incorporates a comprehensive approach to Sikh education, entailing (1) the preservation of Sikh, and Punjabi, heritage and historical sources; (2) the dissemination of Sikh heritage, history, and values to young Sikhs; as well as (3) the fostering of the general education of those who identify as Sikhs.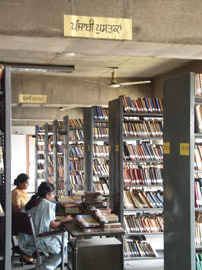 1. I believe that the most important work that needs to be done is in the preservation of Sikh texts — we are lucky that members of U.K. and North American communities have commenced this work. It will be important to edit and translate Sikh writings from the sixteenth century onward, and provide means to approach them in their primary languages. We must create a series of standardized vocabulary lessons for new scholars to apprehend these texts. Only this kind of groundwork will birth authentically Sikh philosophies and ethics that will pave the way for another, very much needed, Sikh renaissance. Moreover, the texts must be prepared for widespread reading and interpretation. Efforts must be made, like Kulbir Singh Thind's for the Guru Granth Sahib, to provide universal and centralized access to the texts and translations on the worldwide web.
I believe we can build much on I.J. Singh's vision for supporting Sikh research through centralized institutional scholarships, fellowships, and research funding. No valuable Sikh project should go unfunded, but imagine how many great projects are dissuaded by the difficulties of funding research! The University of California heavily funded my own scholarly work, and several smaller grants from the UCSB Center of Sikh and Punjab Studies helped me to return to Punjab to conduct research and share my findings.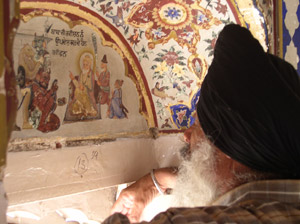 Sikhs and Punjabis, like all once colonized peoples, must claim their history for themselves. In the past, Sikhs were portrayed as indistinct from the Hindu masses, or told that our tradition was a mere product of syncretism. More recently, we have been told that our identity is the product of the British colonial project. And yet we haven't been given much chance to speak for ourselves. I have begun to reverse this trend through my translations of Punjabi folk songs, my dissertation on Bhai Gurdas Bhalla, and my work on the var of Gurdas Singh (forthcoming).
For example, my work on Bhai Gurdas opens up new avenues for me as I think about Sikh growth in the global world. I am most excited by the doors my research opens for questions of contemporary Sikh philosophy, ethics, and community expansion. In his 1600s context, Bhai Gurdas articulated a clear Sikh code of conduct and wrote for Sikh communities across North India — from Kabul to Kartarpur to Kashi. We have a lot to learn from such endeavors as his. Efforts at studying such texts will bear fruits for our own self-representation. Historical and textual studies will lead to the elucidation of Sikh philosophies, ethics, and religious practices.
2. From heritage preservation, Sikhs will be able to build a new intellectual culture that will address the global and diasporic issues while being rooted in their history, traditions, and texts. This intellectual culture will have certainly, in part, be the product of academic research. But a Sikh intellectual renaissance will also require scholarly engagement at the congregational level.
Sikh educational goals should not be left only to universities. In her article on this site, Ajeet Cour has asked much of us in Sikh Studies. She charges us with the investigation of how Sikhs have fallen away from the religion's core principles, resistance of the tyranny that robs us of our heritage, and education of a new generation of young Sikh university students. I agree with all of these things.
But why wait until the students are at university to commence this? Every week, if not more regularly, Sikhs must address these issues in their local communities, from the ground up. Every school vacation, young Sikhs ought to attend camps where these issues are addressed at the regional level. Each set of parents must be called on to reflect on what they are doing to forward our community's heritage causes.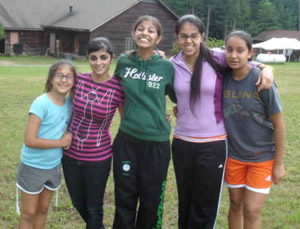 Moreover, it is the responsibility of Sikhs who study their tradition, like myself, to guide and assist such grassroots efforts. I am ready to help! I have begun this highly rewarding work in New York State at Camp Chardi Kala, and also at Camp Khanda, an excellent youth camp under the auspices of Syracuse Sikh Foundation, World Sikh Council executive Kirpal Singh Nijher, and Binghampton University Dean Upinder Singh Dhillon. At Camp Khanda, we are committed to engaging young Sikhs in their own spiritual development, as well as providing the preparation and encouragement required for success in all aspects of life.
We must train as many young Sikhs as possible to be able to read and interpret Sikh sources in the primary languages of the texts. This task is distinct from, though not unrelated to, training a generation of Punjabi speakers. The challenges of each task must be better assessed and addressed.
Furthermore, Sikh educational institutions must continue networking and sharing their efforts. The increasingly global Punjabi and Sikh communities will build the infrastructural resources to interact with their own culture and heritage. Centralized sources of information will have to inform community members as to which Sikhs are doing what, and where. Such efforts will bear fruit especially for Sikh educational institutions like youth camps, which could collaborate on syllabi and procedures. Sikh schools and camps in the diaspora should be encouraged to standardize or benchmark their syllabi and teaching. They should advocate the education of their attendees and prepare them for that education as best as possible.
3. Education of all young Sikhs should be encouraged to the highest level that any individual can achieve, whether that be vocational, liberal arts, or professional. Funding opportunities should be available so that no Sikh student should ever have to suspend his or her education for financial hardship.
When I was traveling and studying our heritage in Punjab, I met a young Gurmat Sangeet (Sikh music) instructor who impressed me with his ambitious goals for young Sikh musicians: he wished to build the reputation of a generation of Sikh youth so knowledgeable about music that their very presence at a classical music recital pressured the musicians to perform at a higher level! Recently, a colleague at another Southern Californian institution told me that the brightest, most sensitive student in her world religions course was a young Sikh woman. We should all strive for such high standards! More generally, Sikhs have an opportunity to contribute to the American, if not global, discourse on the topic of religion (in particular), as well as culture, ethnicity, and difference (more generally).
I encourage students at colleges and universities to take a course on some aspects of the world religions or culture if a course on Sikh tradition is not available at their institution. Historical study may provide opportunity for reflection, and inspire them to advance causes for their own tradition. Interaction with the ideas of others is something that Guru Nanak himself encouraged. A Sikh student can even try to identify a professor at his or her institution to help conduct an independent study in Sikh tradition. This is one of the activities in which a group of students at the University of Rochester had engaged while I was studying there. I would be happy to help in this process. At least two excellent summer programs provide opportunities to heritage seekers and scholars to study Punjab history and language. One is associated with the U.S. government, and the other with the University of California. I hope that I can contribute to both of these programs in the future; they have already achieved great success in encouraging understanding about Punjab and its people.
It is heartening to see that Sikh groups at institutions of higher education are building on Guru Nanak's statement about knowledge and reflection leading to good works (vidia vicari tan parupkari). As these organizations continue to spread and grow across the diaspora, they will have ample opportunity to build cross-campus networks. Perhaps they will also continue to build relationships with advocacy groups like the Sikh Coalition to see how they can help with ongoing efforts. Or perhaps they can volunteer for sewa at their local Sikh community centers, as well as non-Sikh organizations to raise awareness about their faith while engaging in benevolent service. Building a small but strong network of Sikhs and Punjabis added a unique dimension to my own university experience, and I hope to have the good fortune of working with such students outside of the classroom, as well as in it.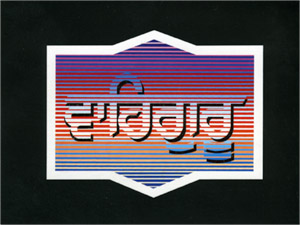 The challenges facing the Sikh community are not minor. We are the fifth largest religious group in the world, yet are left out of most of the religion textbooks except as afterthoughts. Not even a ten percent minority of our population lives outside of India, and we form a majority in no region outside of Punjab. There are more than fifteen times more Buddhists than Sikhs, and ninety times more Christians. Compared to a little over 20 million Sikhs, there are well over one billion Muslims and about another billion Hindus. We are not currently a proselytizing tradition, though we are the youngest of the larger world religions.
Do we belong on the world stage? Are we living up to the core principles that our founders set out for us? I believe that the only way that we can confidently answer in the affirmative is to blaze new paths at global institutions of higher education. Academic institutions have the resources and staying power to help our community achieve its intellectual, educational, and cultural goals.
Rahuldeep Singh Gill, Ph.D.
Assistant Professor, Religion
California Lutheran University