1984: The Anti-Sikh Violence and After – Interview with Author Sanjay Suri

Akali govt did not speak up for justice for 1984 riot-hit Sikhs, says author Sanjay Suri
By Sukhdeep Kaur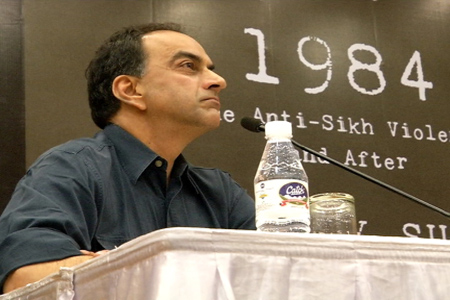 Author and senior journalist Sanjay Suri, launching '1984: The Anti-Sikh Violence and After'
Those killed in the Delhi riots were poor Sikhs. They were carpenters, auto-rickshaw drivers. They were not owned up by any Punjab government or Sikhs of Punjab. Had over 3,000 Jat Sikhs been killed, it would have been a different story, says author and senior journalist Sanjay Suri, whose book '1984: The Anti-Sikh Violence and After' has just been released, and claims the involvement of the Congress in the carnage. Excerpts of an interview with Sukhdeep Kaur
Why did you wait for over 30 years to write the book?
That is how I begin it. I have explained that it was circumstantial. During a conversation in January 2014, my then colleague Sagarika Ghose suggested that I write a book on the 1984 riots. I had a ringside view of the riots as I had covered them as a reporter. When prompted to write a book, I started connecting all my accounts and also connecting to police officers who were at critical posts at that time and lawyers who fought cases of riot-hit families. I realised they all had something to say about what I knew in a fragmented manner. It all added up to a picture I had not anticipated. That is, all pointed to the involvement of the Congress in this organised violence. But I did not wait for 30 years to say something. Whatever was happening, I was reporting the next day in the newspaper. My affidavits to two commissions of inquiry (Justice Mishra and Nanavati) were based on those reports. It has taken 30 years to take the form of a book.
Much has been written on the riots. How does your book break new ground?
There is no book that is based on eyewitness accounts and relates it to the law. It gives the versions of frontline police officers who were at critical positions then. What happened on the streets of Delhi was not just a moral but criminal failure. I also visited Punjab and linked what happened in Delhi in 1984 to what happened in Punjab in June 1984 (Operation Bluestar). There is no other book that puts all records and facts together.
The book is critical of the Congress and has been released when there is a BJP government at the Centre?
There is an undeniable linking of the Congress to the killings. The commission set up under former Delhi police commissioner Ved Marwah was asked to wind up when he was close to filing his report. The interviews of top police officers such as Maxwell Pereira raise some disturbing questions. While several top cops connived in the violence, those who wanted to stop it did not get any response from the government of the day. I have just given an account of what I saw. I have not diluted it with hearsay. I started piecing the book together in January 2014 when there was no inkling of the BJP coming to power, leave alone with a simple majority.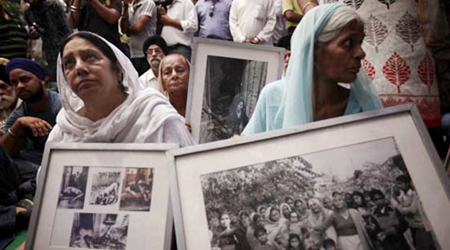 Is it possible to bring a closure to the massacre?
Bringing closure would mean bringing all guilty to justice. Even FIRs were not registered in many cases. For example, I know that for over three days, many were killed in the Delhi Cantonment area. But just one FIR was registered each day and only three in all. What is still possible is to launch prosecutions, make arrests and sentence the guilty. Prosecute officials who failed criminally. Taken together, even if you achieve factional and delayed justice, it will help. It would be fairly substantial. There is far more information on record with the police. Certainly, action is possible and the law demands that it be taken.
Do you think the Shiromani Akali Dal, with a primarily Panthic agenda, did what it could for the riot-hit Sikhs?
This surprises me. No Punjab government spoke up for justice for the riot-hit Sikhs. The Akali government did not speak for them, nor did it exert pressure on the earlier NDA governments at the Centre for action against the accused. Ask those who suffered. They keep asking this question. They say they got no justice, not even when the NDA came to power. The mob broke into the house of one Mohan Singh of Trilokpuri and killed his two brothers. He was chased and could not go to police as they were a party to the killings. He came to our newspaper office. Around 10 days ago, during the launch of my book, Mohan Singh said nobody was speaking up for them. Even the NDA government has been in power for a year. What has it done? A lot of survivors say they had hoped for a lot more help from the Punjab government and its people than they got and they are still hoping. One reason these deaths did not evoke that kind of reaction in Punjab is that those killed in the Delhi riots were poor Sikhs. They were carpenters, auto-rickshaw drivers. They were not owned up by any Punjab government or Sikhs living in Punjab. Had over 3,000 Jat Sikhs been killed, it would have been a different story.
But Arvind Kejriwal formed an SIT to probe the riots after coming to power in Delhi. Was it a populist move?
It may not have been populist but it was certainly misplaced. You do not need more commissions of inquiry. These things are good for headlines. The government needs to launch prosecutions based on the evidence lying in the police records. You just need the will to do so, based on evidence and there is enough.
Does your book give an estimate of the number of killings?
The official figure given by the Ahuja committee was 2,733. But there were instances of bodies thrown into the river and not accounted for. Some people tell me that 30,000 people had died. I understand that anger. I understand where it is coming from. People will think the worst. But you cannot hide that many deaths. The figure I am taking is approximately 3,000; it may be more, but certainly not less.
What do you have to say to your readers in Punjab?
Even Punjab did not speak up for the 1984 riot victims. If people of this state cannot support the survivors struggling to live and fight for justice, then who will? I do not know which caste among Sikhs the Delhi riot victims belonged to. In Punjab, the Jat Sikhs are the politically powerful and dominant community. The Delhi victims were distant and poor. Otherwise people of Punjab would have reacted differently to the tragedy.
Courtesy of www.hindustantimes.com