Games We Play – A Review by Gurmeet Kaur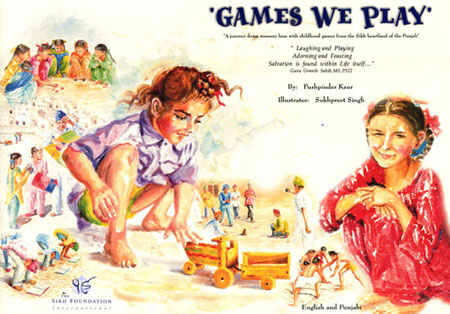 "Laughing and Playing, Adorning and Feasting
Salvation is found within Life itself…"
Guru Granth Sahib, M5:P522
Click here to View in our store
A child's laughter and play are divinity visualized.
"Games we Play", a latest gift to the lovers of Punjab by the Sikh Foundation is a magical rendering of a child's plays from the Punjab of yore; A Punjab that is still alive in our minds, blood and soul. This keepsake is an attempt to keep a part of culture alive in our hearts and memories, to piece together its scattered shards into a pottery that our children can comprehend and relate to. It does its part well.
This 40 page glossy colored book illustrated by one of the most loved Punjabi landscape artist, Sukhpreet Singh and narrated by a dedicated children's author and educator, Pushpinder Kaur, will take you down the memory lane of your childhood days and will give you yet another tangible tool to share your past with your future.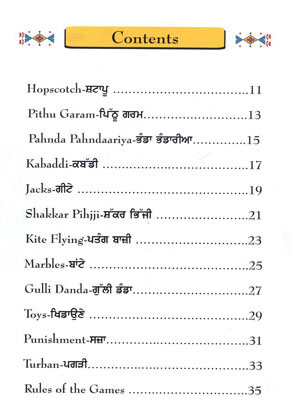 Table of Contents
A few years ago, the Foundation published a calendar around Sukhpreet Singh's art with scenes of the children of rural Punjab immersed in their favorite games. It caught everyone's breath. Beautiful scenery of villages embellished with jades, garnets, turquoise and rubies of children, alive with enthusiasm and ecstasy brought immense joy to the beholders. It would be injustice to the artist and the admirers alike to stow away that calendar for good. That work needed to be immortalized. This book is one brilliant revival of that historically significant artwork.
Pushpinder Kaur has done an absolutely fantastic job of taking those illustrations and wrapping them around with a cozy shawl of her memories of those games. She talks about how she and her friends played them, what they used for equipment and fondly reminisces related anecdotal gems from her own childhood. The end of the book provides step-by-step instructions to retrace the games. Both the Punjabi and English narratives reflect the sentimental attachment that we have and the life lessons we derived from these games that we grew up playing.
This book refreshed my memories of Shtaapu (Hopscotch), PithhuGaram (Seven stones) and Gettay (Jacks)that occupied much of my own childhood and I have already started retracing these games for my daughter, thanks to this book. The Bantay (Marbles) brought back the memories of many jar full of marbles my baby brother triumphed toiling around in sun for many summers. He held those jars as his priced possession, guarding them with his life, until one day; when he gave them all to other children – starting from scratch one more time. The look on his face that day was that of a true winner.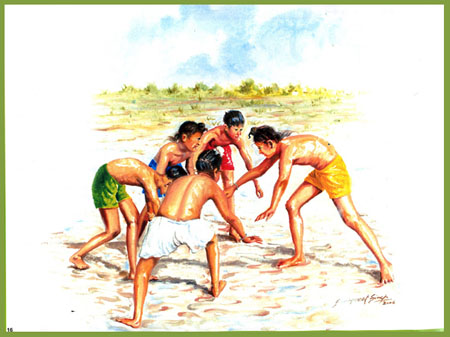 The narrative and pictures from this book are bound to set your own wheel of memories into motion and within no time you will be spinning a beautiful yarn of your life stories with your family. The joy on my daughter's face imagining her mom as one of the little girls in the "PahndaPahndaria" illustration is hard to describe. She can't wait for hair to grow out and be braided the Punjabi way; thanks to Sukhpreet's details and true to life characters.
Before the world of organized sports took over, beautiful folk games and rural sports have been a part of our rich culture and lives; many of them still breathing their last in rural Punjab. But they don't have to dissipate away. Much like Kabaddi has kept its strong hold, these games too, can find a place in our households, social gathering and festival celebrations.
This book is a reminder, that there is much to be cherished, preserved and passed on. Without such efforts our heritage risks being destroyed even from our memories. "Games We Play" is not only a historically relevant piece of heritage to have; it's enjoyable and heart warming.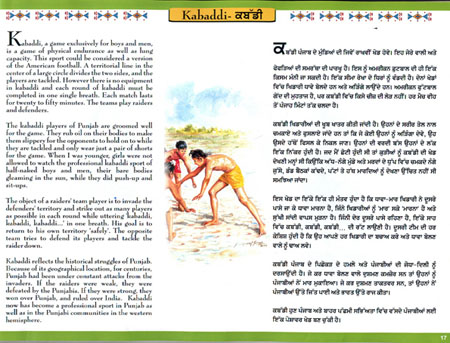 Although, the book is very aesthetically designed and laid out, I wish that it were hard bound to last longer and had a printed spine to be able to easily stack among our precious books. I hope that this work will receive a very positive response, so the Foundation is encouraged to commission the paintings of other games and sports of Punjab that have been left out and is able to develop a comprehensive hard bound collection.
That will be an exceptional and unprecedented treasure for all times to come and a desire fulfilled.
Visit our Online Store to order this book for yourself or as a gift
Gurmeet Kaur is a Sikh issues writer and the creator of Fascinating Folktales of Punjab, illustrated board books that bring back to life the disappearing folk tales of Punjab for all generations to enjoy. Visit www.folktalesofpunjab.com for more.