The Olympic Medal
Reviewed by Prabhjot Singh

An Olympic Medal: The Colonel's Deadly Scoop.
An Autobiog-raphy of Colonel Balbir Singh.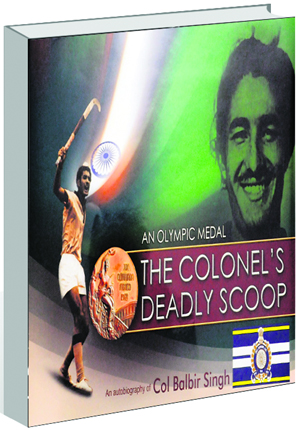 One of reasons India has lost its supremacy in hockey is its failure to keep pace with the changes and developments taking place in this wonderful sport that gave India not only eight Olympic gold medals but also a foothold in world sports. This is one of the observations Colonel Balbir Singh (retired), Olympian, coach and national selector, has made in his autobiography that is all set for release. The book is a treasure-trove of rare photographs, some of which date back to the days of the Wizard of Hockey, Major Dhyan Chand. In places, it reads like a thriller, at others like an intimate autobiography.
Balbir Singh (Services), as he is known in the Indian hockey fraternity, not only comes from a family of soldiers but also belongs to the Mecca of Indian hockey, Sansarpur. His grandfather fought World War I, while his father fought the World War II. He, himself, fought many an Indian battle on the playfields of hockey while his son, Lieut-Colonel Sarfraz Singh, is a parachute.
Balbir Singh's association with Indian hockey has been for over four decades, starting from the playfield of Sansarpur. His contemporaries, including Ajit Pal Singh, Balbir Singh (Police), Jagjit Singh, and Tarsem Singh represented India while Jagjit Singh and Hardial Singh represented Kenya. In Mexico, a record seven players represented Sansarpur.
Though Balbir Singh was a member of the Bronze medal-winning Indian team in the 1968 Olympic Games, he has the distinction of scoring India's controversial goal by pushing the ball into an empty goal after Japanese, protesting against a penalty stroke award, walked out. Since it was a pool (league) match, the jury later awarded India five goals for the win, a decision unprecedented in the annals of hockey.
He was also witness to a wordy duel between three-time Olympic gold medalist Balbir Singh Senior and the then chief of Indian Hockey federation, Inder Mohan Mahajan, at New Delhi's National Stadium on the eve of the 1982 Asian Games. Balbir Singh (Services) was a coach of the Indian team, while Balbir Singh (Senior) was the leader of the Indian hockey squad.
Incidentally, Balbir Singh Senior was the second triple hockey gold medallist, after Major Dhyan Chand to pen down his biography — The Golden Hat-trick. Major Dhyan Chand's autobiography — The Goal, was fondly called the Bhagavadagita of Indian hockey. Now Balbir Singh (Services) has joined the select band of those hockey Olympians who have written their biographies. Aslam Sher Khan, Dhanraj Pillay, Dilip Tirkey and Mir Ranjan Negi are among the others to have done the same.
Courtesy of www.tribuneindia.com