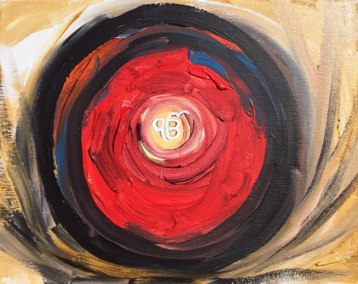 Size:11 in by 14 in
Medium: Print on Paper
About the Artist:
A major focus of Tanya Momi's work is the celebration of the sacred Sikh texts and that give meaning and guidance to her life. With bold brush strokes and feathered lines she releases traditional meanings into the contemporary world. Her message is directed to young people, in their language. Initially Tanya painted for herself to have the scriptures present in her daily life. Soon others began commissioning paintings. Today her work is enjoyed by people from many different backgrounds.
As a child in India Tanya experienced three wars. As an adult she paints this pain and suffering. Rigorous training allows her to move with ease across styles: cubism, realism, abstraction, social realism. This assurance is reflected in her paintings of women, capturing as they do the subtle strengths and gifts that her bi-cultural life has given her.
She was honored to speak at the White House in the Sikh Leadership Briefing for Vaskhi this year, quoting Guru Nanak, "So ko manda aakhiye, jit jameh rajaan" Why speak ill about women, who have given birth to kings and queens?
www.Tanyamomi.com
Prints will be shipped unframed in a shipping tube. If you would like to buy the originals painted in Acrylic please contact Ms. Momi directly at tanya.momi@yahoo.com